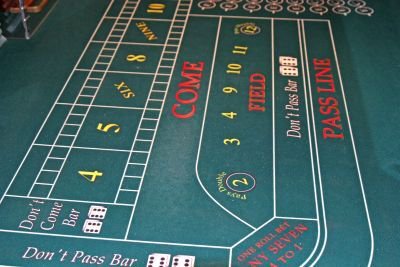 Gamblers who crave action and who want it fast almost always add dice to the casino games they play.
A lot of my friends refuse to go to the dice tables because they think craps is too complicated for them to understand. Although there are some plays at the dice table that are complex and understood only by a sophisticated player and the stick men who pay you off or take your money, basic craps is relatively easy to comprehend.
A while back, I developed a strategy designed to help me win at the dice. It involves an investment of around $100, it's fast moving and you will either end up a quick winner of up to $1,400 in less than an hour -- or you will lost the $100. I can attest to the fact that I have won far more with this system than I have lost. You'll have to take my word for that.
Before I reveal my strategy to you, let's talk about how dice games operate.
People gather around a dice table and lay out their chips in individual sections. The person to the far right of the craps table is given the option of being the shooter. He can either toss the dice for all the players or pass the dice on to the person to his or her immediate left.
Before throwing the dice, you must make a bet. The minimum wager is usually $5, although some casinos when the place is crowded may raise the minimum to $10 or more.
Once you place your bet on the 'come' line, you pick up two dice from four that are placed in front of you. The other players make their wagers and you throw the dice. To be a legitimate throw, the dice must hit the felt and bounce against the cushioned end of the table.
If you toss seven or 11, everybody wins unless they bet against your successful throw. If you throw two, three or 12, everybody loses, with the same exception.
If you throw four, five, six, eight, nine or 10, that is the number you must hit in a subsequent roll to win the true odds on the bet. You must roll the number before you roll a seven. If the seven comes, the game is over -- you lose and you must start all over.
Now you can do an Internet study or find a book on dice to discover the odds against throwing a seven or any of the other numbers. I have neither the time nor the inclination to go into those particulars here.
My $100 strategy that I mentioned at the start of this column works like this. You buy $100 worth of chips at the table, place a $5 bet on the come line, and after rolling a point -- say a six -- cover the five, six, eight and nine with bets. This comes to just under $30. You can also place a bet behind your original wager that would bring your total bet to about one-third of your $100 bill.
Now the fun begins.
Your objective is to roll any number with the two dice except a seven.
Every time you toss a five, six, eight or nine, you get paid. My strategy is to collect a couple of wins, and then start pressing or doubling my bets. To get true odds, for example, on the six or eight, you must bet a minimum of $6 on those numbers. By pressing the wager, your bet doubles to $12. If you roll that number again, your win is $24 and you can also press that.
Eventually, of course, you will roll a seven which is a loser. But one evening at Binion's Horseshoe, I held the dice for 55 minutes without throwing a losing seven. I tossed sevens, of course, but did it on the come out roll, making it a winner. That night, I ran my beginning $27 investment into over $1,470 because of the pressed bets.
If you crap out (throw a losing seven) after three or four rolls, no problem. Just make another $27 bet and go through the same process again. If you lose twice, you'll still have enough money left for a third similar wager. That's how easy it is.
Just one final tip. If you are winning, it's always nice to tip the casino employees at the table. You do this by tossing a chip onto the table with the comment, 'Bet one for the boys.' You'll see smiles from the stick men, nods of approval, and they will be plugging for you to win.
That's my strategy for dice. Good luck. Tell me how the system works for you. Let the games begin.