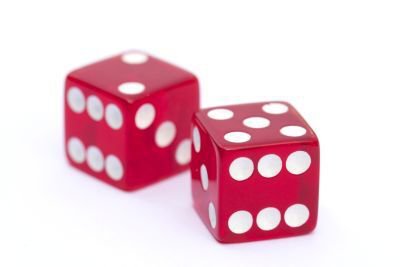 Have you ever seen a mirage?
I have, many times. Mirages occur in the desert where I have made my home for the better part of my life. They happen after a rainstorm when the heat from the desert sands collides with the cooling rain. They spring up like dust devils in the distance after you've spent too much time in 100-plus temperatures without water or without a hat.
Dice players have their own mirages in the confines of an air-conditioned casino. Their version of a mirage where they control their own reality -- or at least think they do -- is the controlled roll.
I compare the controlled roll in dice to a curve ball in a baseball game. Some experts claim a baseball doesn't curve -- that it is the motion the pitcher gives it that makes the ball seem to curve.
Real baseball fans don't believe that, of course. We know some pitchers are capable of throwing a ball that can almost curve like a boomerang. At least that's our perception of a curve ball, and we're sticking to it.
A controlled roll is a controversial theory put forth by some players who believe that by setting the dice and throwing them in a certain way they can influence the outcome. Some proponents of the controlled roll are so convinced it works that they compare it to certain games of skill like golf or pool.
Most dice players hate sevens. When a person rolls a seven except on a come out roll, you lose unless you have made an exotic wager against the shooter.
On a random roll, a pair of dice has 36 different possible combinations. Six of those combinations will result in a seven which means your probability of throwing a seven is one in every six rolls.
Now let's say you could influence the dice to be kind to you and not roll a seven as often as they should under a random roll. Even a small edge in your favor would result in more six's and eight's being rolled. This gives you rather than the house the edge and puts more money in your pocket.
While some dice players put no stock in a controlled roll, others are not so sure..Sanford Wong, one of the world's most skilled blackjack players, a man who has been banned from playing in many casinos, wrote a book called 'Wong On Dice' which teaches players how to throw a controlled roll.
Chris Pawlecki is another successful gambler who wrote a book whch he titled, 'Get The Edge At Craps: How To Control The Dice.' Jerry Patterson developed something he called the Patterson Rhythm Roll in 1997 and wrote a book about his technique. The book sold well and many dice players adopted his system.
I began learning how to throw a controlled roll a couple of years ago. I spent many hours in the privacy of my home tossing dice on my carpet against the wall. For a dice roll to be legal, it must hit the back wall of the craps table. Otherwise, the stick man can declare a no roll and the shooter must try agan.
The trick is to throw the dice hard enough so they bounce off the back wall, but soft enough so they don't bounce all over the table. It also helps in my opinion if you set the dice. I like the three 'V' set, where you set the threes to face away from each other.
This seems to produce more six's and eight's than a random throw would produce. It has won me money in Las Vegas, Atlantic City, Kansas City and the Caribbean.
Other players who use the controlled roll use some of the following sets: to roll a hard way, they set two five's together. If you are doing a come-out roll, they set a five-two. If you throw a four or five as your number, players recommend a two-two V; and if you wish to hit a 12 or 11, try crossing your six's.
Since players throw the dice with different strengths, it really pays to practice at home before you go to the casino. While the controlled roll may indeed be just a mirage, like the curve ball, it sometimes gets the batter out. And isn't that what influencing the gods of chance is all about?