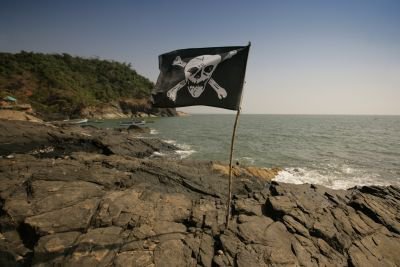 Pirates and sharks make strange bedfellows in today's Caribbean.
While modern buccaneers no longer sail tall ships with cannon and a black flag, they prey on the innocent with the same kind of ruthless vengeance of the pirates of old. And while some islands are more dangerous than others, tourists are at risk wherever they go, whether they are on a private yacht or just strolling through a downtown market place.
I worked as a journalist on three islands for a total of five years. I also did a lot of gambling in casinos in places like St. Kitts, Aruba, San Juan and St. Maarten. I have witnessed attacks on shop owners and tourists, often within two blocks of a police station. Boldness is a trait of a modern pirate, and they can hit an unsuspecting victim from the back of a moped or on a crowded street while hundreds of people are window shopping or looking for a restaurant or bar.
During my five years in the Caribbean, I never experienced an attack on my person. However, I did have two cameras stolen and my company-owned car stolen and stripped twice on an island of 40,000 permanentresidents.
I don't write this to frighten anyone. But people who visit the Caribbean whether on holiday or business should be aware that danger exists and they should always be alert to counter-act anyone who makes them a target.
The Caribbean is a beautiful place with bargains galore for the aware visitor. But like all places where wealth and poverty co-exist, danger can strike when you least expect it!
My publisher was a native of Trinidad. His younger brother owned a fleet of taxicabs and tour buses. Over dinner at the Circus, a popular restaurant that overlooked the square in downtown Basseterre, they described some of the things I would experience in their twin island paradise.
'The people are very friendly here,' said George, the younger brother as he reached for another piece of jerk chicken. 'There is no such thing as road rage. If another motorist flicks his lights or blows his horn, he is only telling you that you have the right of way. And he will generally do it with a smile.'
But a warning went with his laudatory phrases about the islands. Many people in the islands were poor and a certain percentage were poverty-stricken. They knew tourists had money, cameras and jewelry. They often targeted rented cars which have an easily identifiable license plate and casinos.
My publisher cautioned, 'Don't leave anything valuable in your car and don't carry your wallet or purse where it can be snatched.'
During my years in the Caribbean, I made side cruises to Dominica, Costa Rica and the Dominican Republic. The island countries were pieces of tropical paradise with their miles of dazzling white sand beaches, rain forests, green monkeys and friendly people.Dominica was nicknamed 'Little Tahiti' becase of its resemblance to the island in the South Pacific. All three island nations have casino gambling as well as reasonably priced resorts and time shares.
Nevis is a tranquil round-shaped island with a dormant volcano that still warms up on occasion. While there hasn't been a major eruption in a long while, the volcano sometimes blows off steam at your feet while you are trudging up a mountain trail or riding a rental horse from The Hermitage Resort, owned by Richard and Maureen Lupinacci. Hot baths are even available at a resort for more affluent visitors.
St. Kitts has a number of casinos that cater to visitors. The Marriott Hotel and Resort in Jack Tar Village about six miles from Basseterre has a casino with all the major table games, including dice, roulette and poker. An exclusive gourmet restaurant is available for the hotel's guests and the service is superb.
As editor of a weekly newspaper, I was partial to stories the general public did not know about. On a daily basis, I would drop by the Basseterre Police Station and read the police reports about couples or singles that were robbed by masked men on mopeds. The MO or method of operation was generally the same: a couple would be strolling along a beach or along a road when a moped with one or two riders would suddenly appear. Usually it would be a snatch and run robbery, but sometimes the occupants would flash a machete or a weapon and demand cash and whatever valuables the victims were carrying. Resistance would be foolish -- these pirates are serious -- and a perfect vacation was ruined.
On the island of St. Maarten where I lived and worked as a magazine writer, I witnessed a tragedy. A friend of mine from Chicago won $1,100 one night playing poker at one of the island's dozen casinos. As he left the resort to head for his car, two men on a moped came out of the darkness and demanded his money.
My friend had been drinking and foolishly tried to resist. Although two security guards were standing nearby, they did nothing to stop the robbers from shooting my friend in the back and stripping him of his money. Under Dutch law, security guards are not armed -- only police can carry weapons -- and tourists are pretty much at the mercy of criminals. My friend survived the shooting, but he left the island for medical treatment in Miami and will never return to St. Maarten.
Jack is a friend of mine who owns the Peg Leg Pub, a popular restaurant and lounge on the Dutch Side of St. Maarten. Like me, he had his car stolen a couple of times, but he is quick to defend the vast majority of the island people as honest.
'Sure, I've had some things happen here that I wish hadn't occurred,' said Jack, a native of Phoenix, AZ. 'I have had my car stolen on a couple of occasions.' On an island that is maybe 40 miles long and 20 miles wide, that seems to be a high ratio and it is. But the majority of the people in these islands are honest and hard-working if they had a job. The problem is, a lot of them are not working, especially in these tough economic times.
'The more visitors the islands receive, the better off the people are. Tourism creates jobs. When my restaurant is busy, I can afford to hire more people and I pay my help well.'
'The police and government officials work very hard to keep visitors safe. I have a great respect for their efforts. You just have to use your street smarts and keep your eyes open. A Caribbean paradise is lovely and tranquil, but nothing is perfect.'