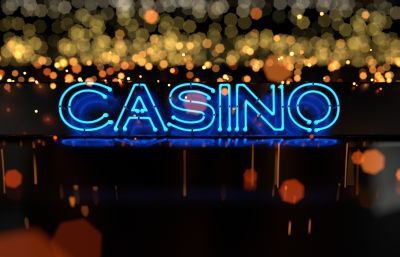 One of my favorite westerns is 'Support Your Local Sheriff,' starring James Garner. I think it was in that movie that Garner had a gambling addiction. Every time he walked through a casino and passed a roulette wheel, a sudden urge swept over him to bet every dollar he had in his pocket on number 36. He could not control himself.
A glazed look on his face, Garner would walk up to the croupier at the roulette wheel, pull our all his money, and say firmly, 'Thirty-six! All of it.' Whereupon the croupier would summon the casino owner, a short balding man in a vest, who would stand there, say, 'Spin it, boys,' and then shut his eyes and grit his teeth.
If you remember the movie, Garner never hit his number until the final reel. While the habit of emulating the actor never caught on, I still find myself occasionally doing something similar to Garner.
When I am ahead on poker, I like to take a break from the poker tables and amble through the casino until I find a dice table or a roulette wheel. If I pass a roulette wheel first, I will place bets on five numbers and play them three times -- 11, 16, 22, 36 and 0-00. Then like the casino owner in 'Support Your Local Sheriff,' I will put on my best gambler face and say, 'Spin it, boys.'
The idea behing my strategy is to have the roulette wheel turned three times, betting a dollar on each number. If I hit one of the numbers, the payoff is 35-1. I then bet $5 on each number to try to win a repeat.
Over the years, I have probably made this bet a dozen times. I hit it only once, collecting $175. So I am basically even for those dozen excursions. It has been fun and even exciting and I plan to continue it until I hit three in a row, which would pay me off with box cars.
Another exotic bet I like to make from time to time also happens after I rack up a big win at the poker table. I will take a break from poker and find a dice table, where I will wait until I see a gambler set the dice. I'll take $30 and place a bet on the 'come' line. When the shooter sets his point, I will cover all the good numbers -- five, six, eight and nine. I will follow the shooter for 10 rolls, collecting each time he wins, and at the end of 10 rolls, will start pressing the rolls. If I get through 20 rolls without the shooter throwing a seven, I will have a substantial profit and will be able to have a little fun at House expense.
This high style of gambling works better when you're in a relaxed mood.. If you are winning, of course that enhances your mood and puts you in a winning frame of mind. Should you lose your initial investment, you've only lost $15 on roulette or $30 on dice. But if you win, you have substantially increased the size of your bankroll. It's worth a try. Just remember it's gambling and don't go overboard.
The third exotic bet that appeals to me when I am ahead is to find a big dollar machine that the Hoouse uses to attract slot players. This machine will generally be in a high traffic area. If the maximum bet is $5, take a $100 bill and run it through the machine for 20 different spins.
If your payoff at the end of those spins is more than $100, pocket the profit and run the $100 through the machine for another 20 spins. Keep doing this and pocketing the profits until you come up with less than $100. Then collect your balance and return to your game for some real poker.
The slot machine bet worked for me really well at Downstream Casino, Quapaw, OK., a while back when I was making weekly bus rides from Springfield, MO. to the casino near Joplin. For some reason, that dollar slot machine near the sports bar just seemed to fall in love with me. It got plumb embarrassing. I could not lose on the machine.
For something like three months I went to the casino twice a week and won anywhere from $200 to $900 each time. I told my friends about my incredible run of luck, and I'm not sure they believed me, but I enjoyed my bragging rights. And then one day, as mysteriously as it had begun, my lucky streak ended. From then on, no matter what I did, I could not persuade the machine to give any more money, so I simply gave up and moved on to other things as you should do if it happens to you.