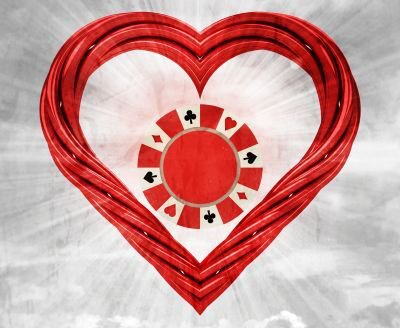 The title of this article says it all. Romance and gambling simply do not mix. And it doesn't matter if you are married, divorced or single. It just does not work out.
When I got married, my wife Nan and I honeymooned in Las Vegas. That, my fellow Americans, is not the best way to start out a marriage. Nan is a red-haired beauty from Cullman, AL. where that devastating tornado struck.
One of her many virtues is patience. She put up with a stubborn Taurus Italian who wanted to be Ernest Hemingway, F. Scott Fitzgerald and Bet A Million Gates all wrapped up into one.
We sipped champagne, interviewed the Everly Brothers Phil and Don who lied to me, said they were related to Jesse and Frank James, and I embarrassed my writer's reputation when it was published as fact. Phil later apologized to me, by the way, saying, 'I never thought you'd take any of that crap seriously.'
I have dated gamblers, including a blackjack dealer who worked at Treasure Island. I went in there one night determined to have an evening sorting it out with 280 proof Barbados Rum. Part of the night included meeting a brunette vixen with kittenish eyes whose name was Velvet. She proved to be as smooth as her name and we had a lovely time enjoying Las Vegas after dark.
We stayed together a few months. She played blackjack and wanted me to teach her poker. I was playing poker and writing for a magazine owned by Chuck DeRocco. Every day was an adventure because we were living on the edge and we knew it.
The relationship was too good to last and it didn't. I'm still not sure who was responsible for the breakup. I suspect it was me because the male animal is usually responsible when a relationship ends.
No, if you are determined to gamble, I would urge you to get someone from the country to be your wife or significant other. The less the other person knows about your profession, the better. You had better learn to carry your wins and losses with the same aplomb.
Now there is one kind of romance that can work with a gambler and that has worked for me. That's meeting a total tourist who has little or nothing to do with gambling. It happened to me when I worked as editor of a weekly newspaper in St. Kitts, one of the Leeward Islands in the Eastern Caribbean.
I worked a 50-hour week editing a newspaper that served the island federation of St. Kitts and Nevis, three miles away by ferry boat. St. Kitts was a tranquil tropical paradise discovered by Christopher Columbus on his first voyage to the new land in 1492.
When I was not supervising a staff of three reporters and a photographer or answering to my publisher Kenneth Williams, a native of Trinidad, I would be found either at a beach or at the Jack Tar Villiage Marriott Hotel and Casino.
The casino had all the usual table games and a poker room. A secluded bar just off the poker room provided the right atmosphere for romance. St. Kitts and Nevis were owned by the British government before the citizens voted for independence, an action they now wish they had never supported.
There I met several attractive women from the United Kingdom. They were in St. Kitts to gamble and have fun, and I thought both goals were wonderful.
If you get the gambling bug and crave a tropical setting, try St. Kitts. It's a great place to play in the sun. The food is terrific, especially the island pizza at a small shop in downtown Basseterre -- the name escapes me but ask any native where the best pizza is and you'll get the proper directions.
As for the gambling, the slot machines and video poker machines were surprisingly generous during my two years in St. Kitts. The poker games were a lively match between locals, tourists and a journalists such as myself. If you got tired of gambling, there was a secluded nearby beach in a copse of coconut palm trees where you could enjoy the warm Caribbean waters.
Even if a permanent relationship rarely happens in a gambling atmosphere, they are fun to pursue. Good luck and let the games of life begin.