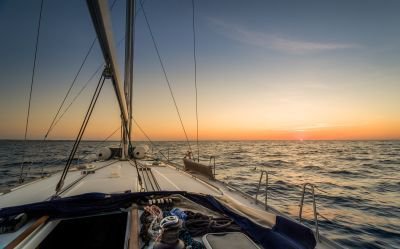 Have you ever had a situation develop that you knew -- just knew -- you should have gone in a certain direction and done a certain thing. But you didn't. You blew it and it forever haunts you because you know it should have been done.
I don't know about you. But I have been there. And, alas, I failed.
Somebody once said every man should own a horse and a boat sometime in his life. A man needs a horse in order to learn to care for something that extends beyond himself. As for a boat, all of us need a bit of foolishness every now and then. A boat provides just that as well as a dream of freedom and independence that every individual experiences.
Jimmy Buffet wrote an incredible song that remains one of my favorites, 'A Pirate Looks At 40.' The words include 'Mother, mother ocean.' When I hear that song, I kind of mist up and think back to the boat I almost bought in Ft. Lauderdale, but it got away. Here's how the story happened.
I had won a poker tournament in Tunica, MS. and collected over $42,000 in winnings. Along with that, I won a couple of smaller tournaments on those gambling cruises to nowhere that South Floridians love. Those are the ones where you pay a ridiculously small amount of less than $20 and it buys you an evening on a casino cruise ship along with a free buffet and Las Vegas style entertainment.
After paying off all my debts, buying a good used Oldsmobile that still had a lot of zip and taking a trip to Costa Rica, I still had a pocket full of cash. I wanted something -- but what?
I leafed through a Sunday copy of the Miami Herald. I had gone through a divorce and was staying at the Walnut Inn, a lovely secluded beach motel 300 yards from the ocean in Hollywood, FL. As I searched the classified pages of the Herald, I saw a bold-face ad advertising a boat for sale.
It was a 40-footer, powered with twin diesel engines. The owners were two females who lived on board. The boat was anchored just a couple of miles away down I-95 and the girls were asking $32,000 cash.
I called the number in the ad. We set up an appointment for the next day for me to inspect the boat. That night, I went on the Vegas Express out of Hollywood, won $450 at poker, and felt like I was on a roll.
As the Vegas Express cut through the warm waters of the Caribbean sea and flying fish dashed against the lights from Hollywood and Ft. Lauderdale, I thought about what owning a boat would mean to me.
I could live on it, I thought dreamily. No more apartment rent. I could just dock the boat in pleasant surroundings, cruise where I wanted, fish when I wanted and even head down to Paradise Island or the Bahamas when I felt like playing poker or shooting dice. The images were very enticing.
Next morning, I met the owners of the boat. The girls were Jessica and Audrey. Both were para-legals who worked for attorneys. They were pleasant, well tanned and independent free spirits.
'Would you like to take a short cruise?,' Jessica asked. Sure, I said. Let's go
The 40-footer cut a fine figure as the twin diesel engines powered it into the mouth of the Gulf of Mexico. The girls had done a good job of taking care of the boat which slept four. It was the perfect size for a fishing or party boat. I was impressed.
They told me why they were selling the boat. Audrey wanted to enroll at a private college in Michigan, her home state, and she needed the money for tuition and to cover her other expenses. Jessica planned to take her share of the money and travel to Spain.
The cruise was pleasant and when we docked I told the girls I would get back to them in a day or two.
'I love your boat,' I admitted. 'It would mean changing my lifestyle, but I think I could manage it. Give me a day or two to think about this.'
Jessica grinned. 'Better think fast,' she warned. 'We already have two prospective buyers who are pretty serious about wanting to buy our boat.'
I pondered their offer. On Monday morning, I called the phone number listed in the ad and received a recording. It went something like this:
'If you're calling about our boat, sorry. It's been sold. Have a great day, Jessica and Audey.'
Now if only I could find a good horse that had an easy gait......