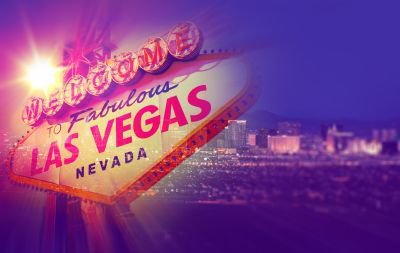 Las Vegas nights are part fantasy, part reality. Anyone who has experienced one will never forget it.
It's just a minute past 10 p.m. I have driven just under 200 miles through the desert and mountains of Arizona, Hoover Dam and am entering the Las Vegas city limits.
The lights of this American gambling mecca explode in front of me. In the darkness of the night, I feel I can see forever. The glittering neon lights of casinos, hotels, restaurants, night clubs, delis, and the Strip set the horizon on fire. I am excited beyond belief.
For one, I am young (this was 30 years ago). For another, I am driving a new white Impala convertible with a red interior that I just bought a week earlier. The Impala still has that new car smell and I am in love with it and savoring life.
I am wearing an outfit that is a takeoff on Jimmy Dean in 'Rebel Without a Cause' -- black slacks and a black jacket with a pink collar. A car full of girls passes me on the Strip. They blow kisses my way and honk. I honk back and shout, 'What's your phone number?' One, a fetching blond, throws me another kiss and says, 'We're staying at the Thunderbird. See you later in the bar,' and they are off like a comet vanishing into the endless Strip traffic.
I am on my way to the Showboat, a glittering casino on Fremont Avenue. I have never been there before, but the management tells me it is shaped like a huge boat with a paddle wheel -- a showboat. That's where I will be staying the next couple of days while I test my new system for playing blackjack.
In the 1970s, I was just beginning to play poker. However, I knew and liked blackjack. I had just read a book, 'Beat The Dealer,' by Prof. Edward O. Thorpe, a math professor at the University of Southern California who had come up with a computer-driven strategy that he claimed could win at blackjack. I had tested his system which required counting cards, splitting certain pairs, and doubling down on almost any two cards when the dealer showed a 'bust' card and it worked. I had tried it out in my apartment in Phoenix and wanted to give it the real test in Las Vegas.
The night was as soft as black velvet as I pulled up to the valet parking at the Showboat. A young uniformed man dashed to my car.
'Welcome to the Showboat,' he said, winking. 'That's a sharp outfit you're wearing. Looks like a winner.'
I knew he probably gave a similar line to anyone who parked a car, but no matter. I winked back and slipped him a tip -- in advance.
The Showboat had been constructed in 1959 by two partners. One of the managers was Moe Dalitz, a colorful gambler who was part of the Desert Inn. The management had built a large bowling alley as part of the infrastructure in 1959. It proved so popular with the patrons that the Showboat began hosting nationally televised bowling tournaments, drawing bowlers from leagues in Phoenix and Las Vegas with their promises of free round-trip flights and lodging for the winners.
One of my cronies at the Phoenix Gazette where I was a reporter had told me to contact a man named Bill 'Bulldog' Sykes, a fellow journalist.
'Bulldog is a colorful character and an excellent Las Vegas contact,' my friend Dave said. 'He knows everybody in town. He's a humor columnist for Poker Player Magazine. Anything you want to know about Vegas, you ask Bulldog. He'll tell you.'
After checking into my room, I took the elevator to the casino and wandered into the poker room. The room was small with a single limit game going. I immediately recognized Bulldog Sykes. He had the tough face of a bulldog and was wearing a black Stetson and colorful suspenders with card symbols to hold up his jeans.
I waited until he was out of a hand and introduced myself. Bulldog was chewing a toothpick and nodded.
'Dave told you about me, huh?, ' he said in a heavy Tennessee twang. 'When's that SOB gonna pay me back that $20 he borrowed from me last year?'
One of the other players, a toothless gent in his 70s, cackled. 'Bulldog, you ain't ever loaned anybody a dollar. You're the one probably owes him money.' The rest of the table roared.
Bulldog grinned good-naturedly. 'That's probably true,' he said. 'Sit down. Don't make yourself a stranger. Most of these players are fairly honest 'ceptin for the two at the end of the table. I think they got warrants out on 'em. They'd check-raise their own grandmother.'
'How'd you now that, Bulldog?' the toothless one roared. 'You been peeking on me.'
That was how I met Bulldog Sykes and his friends.
Suzy Isaacs was a cute blond from Tennessee who was a staff writer for Card Player Magazine. Like Bulldog, she was a native of Tennessee. She and Sykes were good friends -- she called him a real cowboy and a gruff teddy bear -- and she had a zillion stories about him.
Once she complained to him about all the players who told her bad beat stories. 'I'm tired of listening to them, Bulldog,' Suzy said. 'What can I do to stop them?'
Bulldog removed the toothpick from his mouth. 'Next time one of 'em comes up with a bad beat story, girl, you just interrupt and say, 'Brother, you can't unfry an egg.'
One night Bulldog was at the San Remo having dinner with a dealer named Tom. Their wives were playing the slot machines. Just as a waiter approached their table carrying a large tray of food, someone ran into the room and shouted, 'Bulldog, your wife just hit a jackpot and it's big!'
Sykes rose out of the chair like a Chinese rocket and collided with the waiter, covering himself from head to toe with hamburgers, pickles, French fries, chili, ketchup and soft drinks. .
He stood there brushing himself off and said, 'Tom, it looks like dinner is on me tonight.'
Over the next year, I got to know Bulldog as a friend. I would always stop by the Showboat for a drink and a couple of hands of poker or blackjack before I went to my favorite gambling casinos like the Gold Coast, the Orleans, the Silver Slipper and Binion's Horseshoe. He always treated me graciously and always had a story to tell.
One night he removed his Stetson and poked his finger through a hole in the crown.
'That's a bullet hole, Son,' he said, replacing his hat on his head. 'A Mexican bandit tried to drill me with a Derringer one night after I called his bluff with pocket sixes.'
One of his buddies nodded. 'That's the truth,' he said. 'That fella was sure a bad shot. He missed Bulldog twice from across the table.'
Sykes nodded. 'Nobody knows where the other bullet went. I learned a lesson that night. Never make fun of a Mexican bandit who has been drinking tequila and mescal brandy. It don't pay.'
Las Vegas lost one of its most colorful characters on Sept. 28, 1994 when Bulldog Sykes got the Golden Handshake. Today the Showboat is no more. It closed its doors in 2000 and was taken over by new management that renamed it The Castaways. After four unsuccessful years -- most of the customers found the new mega-casinos on the Strip to be more appealing -- the owners imploded it and brought a final end to a legend that will live long in the memories of players like myself.
You're probably wondering what happened to the girls in the car that invited me to meet them at the Thunderbird. I'll save that for another column.