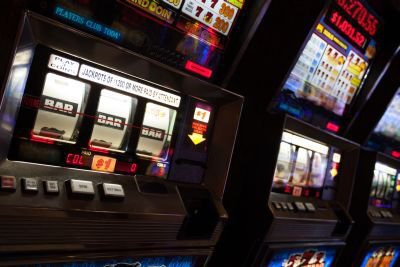 Las Vegas, Atlantic City, Reno, Monte Carlo and the other casino meccas of the world could not exist without slot machines.
There. I said it and I'm glad.
Yes, there has always been an ongoing war between people who play the skill games like poker and blackjack -- games they can control at least to some extent by the way and amount they wager -- as opposed to the pure games of chance like slots or keno.
My younger brother refuses to play any other gambling game but slots. I have tried to get him to add poker to his recreational gambling, but he says nothing doing. He loves the slots, they love him (or so he claims) and that is that.
One of my favorite casino jokes is the one about the couple who went to Las Vegas. He played poker and blackjack, she stuck to slots. After a day, she came to him for some money.
'Honey,' he said, 'I gave you $200 to spend. What happened to it?'
'I lost it on the slots. But I feel really lucky and want to try some more.'
He reluctantly handed her some cash. She slyly asked, 'Are you winning or losing?'
The husband shrugged. 'I'm down a little,' he said.
'How much?'
'About four hundred,' he said.
She grinned. 'And you get upset with me because I lost only two hundred on the slot machines,' she said. 'How can you justify that?'
'I know what I'm doing,' he said.
Years ago when I lived in Naples, FL. and worked as associate editor of a national lottery magazine, I met a woman from London. Jill owned a condo in Bonita Spings and we began dating. She was in America on a Green Card and wanted to visit Las Vegas before she had to return home, so I rented a camper and we travel across the United States.
She marveled at the bigness of the country. We spent time in Louisiana and Texas, and rolled through the prairie country of New Mexico. She loved the Grand Canyon and Painted Desert, my old stomping grounds, and when we pulled into Las Vegas, she was in ecstasy.
'This is wonderful,' she said in her delightful British tone. 'When I get back to London, I must tell all my friends about this.'
We checked into our room at Sam's Town and I took her on an unforgettable tour of the city that never sleeps. Naturally we stopped at Binion's Horseshoe which at that time ran one of the most popular poker rooms in Las Vegas.
She told me she wanted to play the slots. I said that would be fine and that I would be in the poker room. I sat down at a limit Omaha High-Low game. After an hour or so, I was up about $300.
Somebody tapped me on the shoulder. It was Jill and she wore a smile as wide as the Grand Canyon.
'I won,' she cried. 'Sixteen hundred dollars. On the dollar machine!'
She dropped a $100 bill into my chips and hurried back to the slots. As I tucked the money into my pocket, Randy, the dealer, grinned and said, 'Nice woman.'
'She's British,' I said.
'I rather expected that,' said Tony, doing a bad job of faking a British accent. Tony is Italian-American and hails from New Jersey.
I kept playing poker and fluctuated between $300 and $400 winners. Somebody tapped me on the shoulder. I turned and it was my sweet blond friend from the United Kingdom.
'I won again,' she said, practically shrieking. 'Sixteen hundred dollars on the same dollar machine I love Binion's. I love America.'
Jill is back in England. I miss her. And one of these days when I find that lucky dollar machine that paid her off for her efforts, I'm going to give it my best shot and try to figure out how she did it.