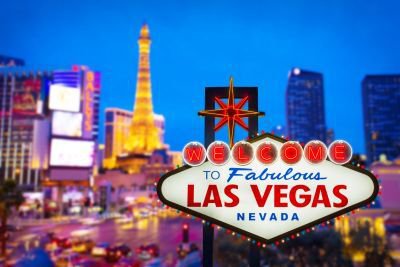 Allow me to share this very touching email that I recently received.
'Dear Geno,' the letter begins. 'My fiancee and I have enjoyed your columns about your experiences in Las Vegas. Well, after a long engagement we have decided to tie the knot. We're getting married in a church wedding in our home town in Iowa and after that we are planning on spending our honeymoon in Las Vegas.
'We got a great deal at a resort on Las Vegas. Burt is a fireman and I work as a secretary for the school district. Please give us your guidelines for Las Vegas. It is our first time to visit this famous city, and we want to gain the full Las Vegas experience without jeopordizing our bankroll. Think you can swing that? Sincerely, Pam and Burt.'
First, let me offer my congratulations. A church wedding is a great way to begin your life together. It certainly beats getting married in one of the dozens of Las Vegas wedding chapels that are available.
You asked my advice so here goes.
Plan on arriving as close to sundown as you can. Las Vegas at night with the sun just settling below the horizon is a surreal experience that still thrills me every time I experience it.
The colors of the desert and the mountains surrounding Las Vegas will remain with you long after you leave this vast valley of fire, both natural and man made. Once you get settled in your honeymoon suite, throw open the shutters. Hopefully the resort will provide you with a balcony so you can have a view of the sunset and the endless casino resorts.
Don't worry about gambling your first night in town. That can come later. This is your time together and the two of you should make the most of it.
After a restful night in your air conditioned suite, it is time to enjoy Las Vegas. Instead of renting a car, I would just take a walk along the Strip. There are enough colorful characters and stops along the Strip to keep the average person busy for a week.
If you see a slot machine that appeals to you, try your luck on it. You probably won't win, but beginner's luck does exist and fortune may smile on you.
Give Las Vegas a chance to entertain you. The city is famous for its entertainment value, and you will not be shortchanged if you maintain the right attitude.
A noon swim in your resort's swimming pool, followed by a tropical drink at poolside, is in order. The resort probably filled your hands with the listings of dinner shows. Pick out one that appeals to both of you and make reservations.
You mentioned your fiancee is a fireman. Well, most firemen that I know are poker players. If he has any skill at the game, the two of you might want to check out the poker room at the resort where you are staying. Find a good limit game with a reasonable buy-in and go for it. But set a time limit and stick to that limit. You don't want to let a poor choice mess up your Las Vegas honeymoon.
There are restaurants with views all along the Strip. Find one for a special honeymoon dinner. If you let the waiter or waitress know it is your honeymoon, I can almost guarantee you special treatment.
Rent a car and take a drive to the top of Mt. Charleston. This is a ski slope less than 30 miles from downtown Las Vegas. The Mt. Charleston Inn is a charming romantic restaurant complete with hummingbirds playing around the window next to your table.
Hoover Dam is certainly worth a visit, as is Circus Circus and Caesar's Palace. You won't want to miss stops at those locales.
Enjoy your Las Vegas honeymoon. Don't leave too much of your money behind in the slot machines or other gambling devices. Las Vegas is just a mirage in the desert that will remain a memory long after the two of you have returned to the reality of life in Iowa.