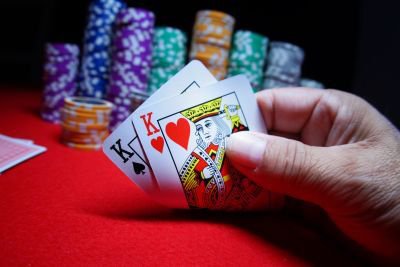 There is no question that Harold Smith was one of the most successful Nevada gamblers to ever emerge.
Son of Pappy Smith, Harold and his younger brother, Raymond, helped their father establish Harold's Club in Reno as the place to gamble.
Pappy Smith had operated carnivals in Southern California, mostly in the Long Beach area. Although not a gambler himself, Pappy had an eye for the whimsical. In the early days of building Harold's Club, for example, he came up with the idea of placing a live mouse in a roulette wheel. Wherever the mouse decided to stop was the winning number.
Pappy would also hire famous singers and other entertainers to perform at his casino and when they weren't working, he would have them deal blackjack in the casino. One of the performers was Kay Starr, a vocalist whose recording of 'Wheel Of Fortune' sold millions of copies in the 1950s. Pappy added another gimmick that went over well with his players -- he would have the singer turn up her hole card so the gamblers could see what they had to beat. When it came to showmanship, Pappy Smith had no equal.
Growing up in the shadow of his father was no easy task, but Harold Smith did his best. He married a local beauty, he lived riotous days and nights helping promote Harold's Club. He became a drinker as well as a big-time gambler and would ride his horse into Harold's Club while the other gamblers smiled and applauded.
Life was good for Harold Smith. Too good to last.
In his best-selling book, 'I Want To Quit Winners,' he wrote about his life and how his marriage was destroyed. Although Smith didn't pinpoint the reason, his gambling and wild ways certainly could not have contributed to a stable marriage. In one revealing statement, Smith writes that when a woman looks at another man, 'It's all over.'
While Harold Smith's life was floundering, the casino flourished. Pappy Smith came up with the idea of spreading signs reading HAROLD'S CLUB OR BUST and placing them at remote locations around the world. Since many members of the military trained in Nevada and visited Harold's Club, it was fairly easy to have them set up those signs in Alaska, Guam, the South Pacific or wherever their new assignments would take them.
The Smiths had to fight to keep their casino. When a rival casino operator arrived in Reno determined to put Harold's Club out of business, Pappy Smith and his sons knew how to handle the opposition. They armed all their employees with guns. The word got around Reno quickly and the threat was averted.
Being a gambler can be a lonely life. After Harold's divorce was final, he became friends with one of his supervisors in the club. The man was a gambler as well as a drug user. Harold didn't mind his gambling but warned him to keep the 'H' out of the casino and the employee followed his instructions.
One night the employee, who was a dice player, went on a tear and won over $100,000 at Harrah's Casino just down the street. When he returned to Harold's Club after midnight, he was excited.
'Harold, let's you and me take a cruise to the South Pacific,' he said. 'I'll pay for everything. We'll just forget about gambling for a little while and do some dancing with those gals in their hula skirts. What do you say?'
Harold loved the idea.
He told his secretary he would be leaving Reno for a week or so, and lined up everything so he could take his leave of absence.
The following day, he looked for the employee who had won the money and couldn't find him. It turned out that the man had gotten into a stash off heroin and had gone on a gambling tear. He lost all of his winnings in a relatively short period of time. The cruise to the South Pacific was cancelled.
In his book, Harold Smith wrote, 'He never won after that. When a gambler doesn't keep his word, bad things happened. I never remember him winning anything significant after that time and we never talked about it again.'
Harold Smith did not quit life a winner. I actually traveled to Reno one weekend to find him in the 1980s. I wanted to interview him for one of my magazines. His family had sold Harold's Club to another corporation and nobody could tell me where he is.
One employee at the casino said, 'Harold is in a bad way. Drinking and gambling. You're liable to find him anywhere. Reno has a lot of bars, you know.'
I failed to complete my mission and returned to Phoenix without the interview. I kept a copy of Harold's book for a long time.. His life was a sad commentary of a man who could have had it all but who lost everything to the winds of time.