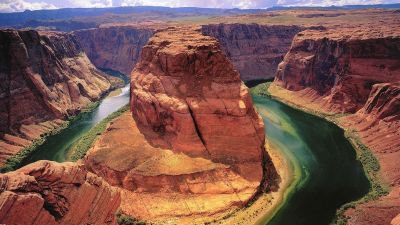 From the highway it wasn't much to look at. Just a narrow crevasse between two mountains that make up the spectacular scenery on the long drive between Phoenix and Las Vegas.
But I was curious. As a gold panner who made a practice of carrying my equipment in the trunk of my car, I wondered what secrets the canyon held. Since it was just off the highway, I thought I might delay one of my usual forays to Glitter Guch and spend a little time prospecting for gold.
I realize, of course, that most gamblers search for their gold in casinos. That's all well and good. But I have a bit of the western outlaw in my makeup that tends to bring me to less traveled roads. I figured the mysterious canyon was one of those roads.
It was located north of Wikieup, which bills itself as the 'rattlesnake capital of the world'. And so one Saturday I decided to drive to Las Vegas early Saturday morning rather than after work on Friday.
It was a perfect day for traveling. Arizona sunshine is something people take for granted. I never do. I like the moods of the desert, the changing colors, the deep shadows that envelop the distant mesas and that make me feel a part of the immense desert country that has become part of my existence.
As I topped a rise, I saw the narrow fissure between the two hills off to my right. I pulled my car off the road, cut the engine and popped the trunk. Gathering up my green plastic gold pan, a small sledge hammer, my Ruger .22 caliber revolver with the mini-mags, a chisel and a plastic vial for the gold, I made my way down into the canyon.
The desert is alive with movement and life.
I watched my step as I eased my way down the rocky trail. Something slithered off into the rocks -- either a Gila Monster or a sidewinder, I suspected. I was glad I had the Ruger just in case.
It's hard to pan for gold without water. As I walked through the canyon, I searched for water and wasn't disappointed when I found a pool of it a couple hundred yards up the trail. Perfect, I thought.
Gold is trapped in bedrock, and that was what I was searching for. Sure enough, there was a flat fissure of rock that represented the bedrock and it was partly submerged by water.
It was cooler in the canyon than on the highway, at least 10 degrees cooler. I took my chisel and sledge hammer and began peeling away the layers of rock, wiping away hundreds, thousands, maybe millions of years in the process.
As the rock broke apart, I placed the broken pieces into my gold pan. Insects buzzed around me. A slight movement off to my right was a cottontail rabbit peering at me from the safety of a creosote bush.
When my gold pan was filled, I began swirling it in the couple of inches of water. It would have been better if it was a flowing stream, but I was content to do it this way. Back and forth I tilted the pan, separating the larger pieces of rock and tossing them away.
And then I saw it. Gold.
It wasn't a large nugget. Less than the size of a pea. But it was real. No fool's gold for me on this Saturday morning in an Arizona canyon.
Detecting a small movement on a rock shelf, I adjusted my eyes. It was a Gila Monster just sitting there with slithering tongue. The orange and black reptile seemed to be part of the rock. I saluted it and continued panning.
I worked the canyon for a couple of hours. The small gold nugget was all I found, but that was enough. I put it away in my plastic vial, collected my equipment and headed back to the car, ready for Las Vegas.