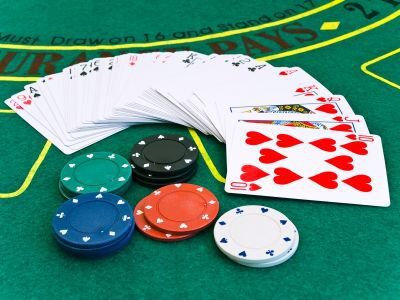 From the moment you enter a casino, the casino has an edge on you.
This 'edge'' is built in by the natural odds against our winning in any particular game. Without going into a lot of detail, you are facing long odds when it comes to winning at Keno. The odds are lengthy against you hitting a jackpot on a slot machine. And when you play a table game like 'Let It Ride' or 'Caribbean Stud Poker' or one off the many other House games, the odds favor the casino in percentage points that have been pre-determined by oddsmakers.
If a player wants a level playing field, he must take steps to change the odds in his favor. In blackjack, for instance, by doubling down on certain cards or splitting pairs, you can give yourself a small edge on the hand. When casinos restricted the number of card decks to one or two, the edge was considerably more than it is with the six and eight-deck shoes now being dealt.
Poker and blackjack are really the only skill games where a player can take steps to increase his edge. Here are some of the methods I use to maintain that edge.
PREMIUM HANDS: any time you start out with a premium hand in poker, you have a temporary edge on the other players. This is when you should push your luck to increase the money in the pot. The late Chip Reese, one of the best seven-card stud players who ever lived, called it 'getting in the extra bet.' Chip used his chips to make sure the other players paid a price for staying in the hand and outplaying him when he had that edge.
If I have a lot of 'outs' in a hand -- the possibility of a straight as well as a flush -- there are implied odds existing that I must take advantage of, and I always do. Those premium hands don't come that often. When they do, if you don't take advantage of them, you a playing the role of a fool.
Here is another example. You are playing a high-low game and you have made the nut low. You also have a draw for the nut high. This is when you must push the hand as far and as hard as you can before that final card is turned over..
It isn't easy winning at gambling, but it can be done if you know and understand the edge. Wait for those moments to happen, and then push hard. If you don't push, somebody else will and you will be the loser.
One way to take advantage of the other players is to make sure you have sufficient chips to back up a good hand when you hit it. That means buying in the maximum and matching the other players bet for bet when you know you have the 'nuts.' Good luck. Let the games begin.