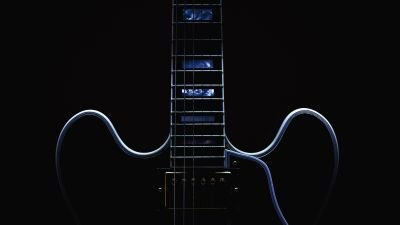 B.B. King was in town and I had received permission from his road manager to interview him.
The blues legend from New Orleans was scheduled to appear at Buster Bonoff's Star Theater in downtown Phoenix. I showed up at the side door to the theater around 7 p.m. and was ushered into King's dressing room. He welcomed me with a handshake and a big smile and the interview went well.
Before I left to join the crowd that was converging on the theater, King handed me two gold passes.
'These will let you sit wherever you want,' he said, winking. 'Enjoy the show.'
King and his 10-piece band put on an incredible performance for the packed house. The band warmed up the crowd with his new singer, a sultry vocalist who belted out the blues with lyrics that would make the modest blush. At intermission, the road manager came up to me.
'B.B. would like to talk to you,' he said. 'Go on back stage. He's right behind the curtain.'
King was standing there strumming Lucille, his big guitar. He greeted me with a big grin.
'Hey, reporter,' he said. 'Do you know any after-hours joints? I'd like to show my new singer around Phoenix.'
Hesitantly I said, 'Well, sure, B.B. I know a place at Fourth and Monroe. But it's in a pretty rough section of the city.'
He laughed. 'Boy, you ain't been to New Orleans, hve you?'
He finished the show around 11 p.m. After taking care of all the particulars, King, his vocalist and the road manager climbed into their limo and they followed me to the after-hours bar.
We arrived there around midnight. An eye stared at me through the peep hole. I knew it was my friend Willie, the big bouncer.
'Good to see you, Man,' he said as he opened the door. 'Who you got there with you?'
'B.B. King,' I told him.
Willie grinned. 'We'll show him a good time,' he said. 'We got a dice game going on in the back. I'll make sure they put in the honest dice. We had Ike and Tina Turner in here a couple of weeks ago. Ike wasn't very nice -- he was on one of his coke highs. The dice didn't treat him very well. Ike don't respect nobody, and the dice didn't respect him. Know what I mean?'
I knew very well what he meant.
'You'll use the honest dice?,' I said.
'With pleasure. We'll treat B.B. like royalty.'
We stayed in the after-hours joint until the sun rose over South Mountain. We drank, I danced with the singer, and B.B. rattled the bones. Willie and the other people who ran the place treated him with respect. As I recall, King won something like $6,000.
As we left the place, Willie said, 'I kept my word, didn't I? That made up for what we took off Ike.'
'You sure did,' I said. Respect goes a long way.