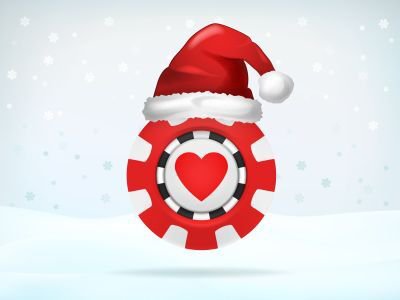 'Scrooged,' the wild takeoff on Charles Dickens' 'A Christmas Story' starring Bill Murray, is my favorite yuletide movie.
I have made a practice off watching it each year just before Christmas to put me in a mood of giving. Now admittedly sometimes it works, sometimes it doesn't. When you live a gambler's life, as I have for the past 30 years, sometimes you're up and sometimes, alas, you are down.
But with Christmas just two days away, I'd like to reflect on a few things that matter. I'll start with the passing of two friends, Eddie Rack, a professional golfer, and Gerald Staines, an economist and investments banker I had the pleasure of meeting on a Caribbean island.
Eddie was a friend of Arnold Palmer. He owned two golf courses and was one of the most generous men I have ever known.
He hired me to ghostwrite his life's story, 'Just Call Me Lucky: The Eddie Rack Story,' which was published in book form several years ago. The story tells about his growing up poor in Western Pennsylvania just a stone's throw from my home town and how he became a tax collector and millionaire owner of two golf courses, one in Pennsylvania and the other in Florida.
Eddie didn't live just for himself. He lived for others. He was a gambler who loved to play poker, blackjack or gin, and who took frequent trips to Las Vegas. On one trip after losing a bundle at blackjack, he was returning to his room with a friend who owned a Cadillac agency in his home town. As he passed a black porter, Eddie gave him a smile and flipped him a green $25 chip.
His friend, Lou, was perplexed. 'Eddie, what'd you do that for? You just lost $600 playing blackjack.'
Eddie smiled. 'Lou, I'm in my 90s and still walking around,' he said. 'You and I are both pretty lucky with the way life has treated us. That $25 will mean a lot to the guy. Next question, please?'
Gerald Staines was in his 80s when I met him on the island of St. Maarten. We became friends and he hired me to write his life's story. The book, unfortunately, was not published before his death, but Gerald, who had earned an estimated $30 million as a currency expert and investments banker, gave it a good try.
He wanted to publish a book that would help the average person learn how to invest. Eddie blamed the banking industry for taking advantage of poor people and wanted to give them the benefit of his knowledge of what true wealth really represented.
Our last meeting together before he returned to London, the city of his birth, was in Naples, FL. There he treated me to a scrumptious steak dinner with good wine and we discussed economics, religion and life. He died a year later, an honorable moral man who saw and understood the big picture as few people do.
Christmas is just two days away. Remember the story of Christmas past, present and future. Remember the lesson Bill Murray learned about having a generous spirit and practice it the next time you enter your favorite casino.
Remember the lesson with your family, friends and an occasional stranger. Have a merry prosperous Christmas.