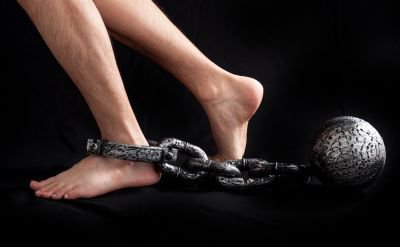 One of our members from Michigan sent in a question about working in a gambling casino. I published his email and my response the other day, but left out a key ingredient that every casino employee must take into consideration before reporting for work.
Shoes.
That's right. Shoes. A large percentage of jobs in a casino require a lot of walking, sometimes carrying trays or other objects that add to the weight. If you don't have the proper pair of shoes, life can become quite miserable.
When I became a change attendant at Don Laughlin's Riverside Casino in Laughlin, NV., engineers and designers had not yet invented those change machines to keep slot players supplied with cash. That would come later.
After reporting for work, my supervisor equipped me with a money vest that carried coins of all denominations. When I was properly outfitted, I was weighed down with about 80 pounds of silver. For the next eight hours, I trudged around the casino floor making sure slot players were supplied with cash to keep feeding those machines.
The first two days, I was fine. But on day three, all that weight began taking a toll on me.
My feet began killing me. Pam, one of the cocktail waitresses, noticed my obvious pain. She had been working as a casino waitress for eight years and shook her head in sympathy.
'You need to invest in a better pair of shoes,' she said. 'It took me quite a while before I found the right pair to take the weight off my feet. Good luck. You're going to need it.'
I only kept my job for two weeks. Fortunately, a writing position opened on a gambling publication and I turned in my change vest for a typewriter -- the best swap I ever made.
For any members on this site who decide to work for a casino, I strongly recommend doing some shopping for shoes first. Find a pair of shoes that cushions your feet and that will carry you through an eight-hour shift, day after day, without crippling your arches.
As for the casino employees who need to do all that walking, my heart goes out to them. They earn good money in tips, but believe me, they work for the money. Somehow most of them manage to keep smiling, joking with customers and maintaining a civil attitude despite those long hours on their feet.
It's tough enough for a player like myself to negotiate between those rows of slot machines. When I return home after an evening in a casino, I am tired and -- yes -- my feet hurt. To the dealers, the chip runners, the cocktail waitresses and the other personnel who keep the casinos running, more power to them. You deserve all the tips you can gather.
I called Pam aside the other day and asked her what she wanted for Christmas.
'A cruise to the Caribbean, a diamond bracelet and a foot massage,' she said. 'I would give anything for a good massage to help my aching feet.' She smiled and gave me a wink.