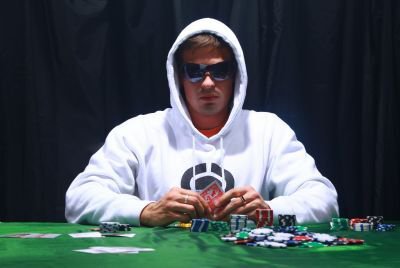 There is only one word to describe a poker-playing friend of mine who lives in Las Vegas. Eddie is cool.
He lives in an apartment off the Strip that has an Olympic-sized swimming pool with an artificial waterfall. His girl friend is a designer who works for a major department store. And Eddie is never without money.
''I play poker three times a week and I play to win,' Eddie told me happily. He is never without a smile. That is part of his winning personality that makes him welcome at any of the poker rooms where he plays.
Eddie, who is in his 30s, has movie star good looks and an extensive wardrobe, all paid for by his poker winnings.
'I never sit down at a poker table without a goal in mind,' he says, sipping a glass of Robert Mondavai chardonnay. 'In this case, I was playing at the Bellagio and my goal was to replace my wardrobe. Each poker hand I played had that goal in mind and when I played my final hand at midnight, I had achieved my goal.' He winked.
Eddie comes from a wealthy family background. He has a college background with a degree in liberal arts with a minor in pre-law.
He could have joined his father in a family business, but chose not to.
'I have always been good at cards,' he says. 'I discovered blackjack was an easy game to beat and started playing when I turned 19. Next came poker. I saw the flaws in the games of other people and managed to avoid them. The results were rather amazing. I once had 13 winning sessions at the tables before recording a loss.'
And what are some of those flaws that other players exhibit.
Eddie sipped his wine. 'Oh, there's so many off them I lost count. They play too many hands. They raise, miss the flop and become timid. This encourages their opposition to get bold and they end up losing the hand. Things like that.'
I persisted. So what makes you game unique, I asked.
'That's a good question,' he said. 'One thing that I do which is different is I know exactly how I am going to spend my winnings before I sit down at a poker table. My story about my wardrobe, for example.
'A couple of months ago I decided I wanted to take my girl friend on a cruise to the South Pacific. Neither of us had ever been there, so I was determined to win enough money that night for the cruise.'
'And?'
Eddie smiled. ' I did. The following week, we boarded a sleek windjammer and visited four beautiful tropical islands in 10 days. I even managed to get a tan.'
He plays poker for a day and takes the next day off to do other things. He never plays two days in a row.
'Concentrating on the cards is a brain-drainer,' he admitted. 'I think it's asking too much of the brain to win two nights in row. Besides, I'm kind of lazy and prefer to do it my way. It's cool and it goes me quality time to do other things than gamble. My girl friend Jan and I like to take road trips, for example. We visit lost mines or the Valley of Fire. We even drove to a dry lake in New Mexico where we found pre-historic dinosaur bones.'
It was time to go. Before leaving, I asked Eddie if he had any advice for my readers.
Eddie shrugged. He draped his arm around Jan who looked devastating in a bikini. 'Don't take life too seriously,' he said. 'Learn what other people do wrong at the tables and avoid those mistakes.' He winked. 'And be cool.'