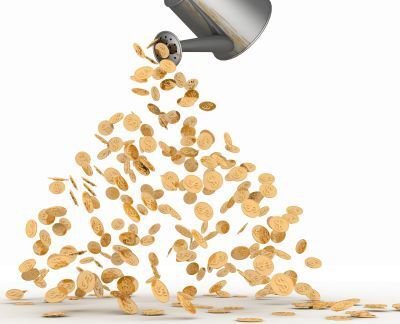 Football season is a happy time of year for poker players (Baseball season, too, but that's a matter for a separate column). That is when many poker rooms splash the pots to keep those tables filled.
Casinos all around the country do it pretty much the same way. On Sunday when the National Football League teams play, poker rooms like Wild Horse Pass and Talking Stick in the Phoenix area where I live will splash an extra $100 into the pots each time a team in a designated game scores a touchdown. If it's a field goal, the management adds $50 to the pot.
I played at Wild Horse Pass Sunday. In one designated game, both teams scored 60 points. Each time a touchdown was scored, the House picked three tables for splash pots. Talk about excitement! Everybody played in a splash pot, even with the worst of cards -- and sometimes that seven-deuce off-suit flopped two pairs and won.
Special promotions like splash pots are common, especially when two casinos are competing against one another. Wild Horse Pass, for example, will designate certain seats at selected tables to win cash money taken from a special promotions pool.
The casinos also award a ticket for each full house and the winner's name goes into a basket for a drawing for cash. If the person whose name is drawn is not present, the House adds another $100 to the pool and the money can add up pretty quickly. All the tickets are discarded after a week and a new pool is started.
Splash pots add a lot of excitement to a poker room. Of course, it's disappointing when your table is not called. And when the game is a low-scoring one that is tied 3-3 at the half, that can be a bummer.
Benny Binion, the late founder and owner of Binion's Horseshoe in downtown Las Vegas, was the best casino owner at special promotions that I ever met.
Benny loved to give away money.
He made sure his slot machines paid off generously and you could hit more royal flushes on his video poker machines than any other casino in Las Vegas with the possible exception of Sam's Town.
Binion also would award a ticket for each each full house, but he didn't wait a week to get rid of the tickets and begin a new pool. He would throw out all the old tickets every 24 or 48 hours. I remember staying awake 48 hours one time and hit the jackpot twice, winning something like $2,400 for my longevity at the table.
Most of the poker players had wives or girl friends who played the one-armed bandits while they were laboring away at the poker tables. And nobody was happier than when one of those women came rushing up to the table with a pile of money they had just won on a dollar slot machine.
When I asked Benny about his generous policy toward his players, he just shrugged.
'Son, in this business, you gotta spend money to make money,' he said. 'My slogan is good food, good booze and good gambling. It's working for me and that's enough said on the subject.' With a wink and a whistle, Benny walked away, the captain of his fate.