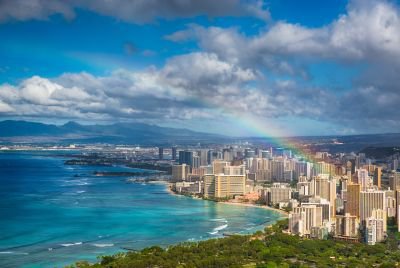 Ever since my first trip to Hawaii in the 1970s, I have been mesmerized by the beauty of the Hawaiian islands.
I made my first flight to Oahu in 1978 in a Flying Boxcar, a lumbering four-engine plane that carried a company of Arizona National Guardsmen. The military men were involved in a joint training exercise whereby they would learn jungle warfare while a contingent group of Hawaiian troops would study desert warfare in Arizona. I was along for the ride after being assigned by Phoenix Gazette editor Vic Thornton to cover their activities.
To make a long story short, I fell in love with the chain of islands that Samuel Clements nicknamed 'The Rainbow Islands.' From scenic Pali Point overlooking the Pacific Ocean, where the warm trade winds were so powerful they kept you from falling over a cliff to Diamond Head and Waikiki Beach, I found myself wanting to live and work there.
My stay in Hawaii, during which I visited Hilo on the Big Island, was much too short. Since then, I have made two more journeys to Hawaii and am just as interested in relocating there as I have been in the past.
One reason I have not made my move is that gambling and specifically poker is not legal in Hawaii.
Growing efforts are underway in the Hawaiian Legislature to legalize the construction of a casino in Waikiki. And a prominent Hilo restaurant owner has been polling Hawaiian residents for years to see if they would support legalized gambling on the islands (In every case, he discovered they would by a large percentage). But so far the efforts of the pro-gaming enthusiasts have not achieved their desired results.
Not that Hawaii doesn't have gambling. There is a huge underground gambling industry on the island that siphons off many millions of dollars annually to syndicates that are mostly criminally controlled.
Hawaii's permanent residents are made up of many nationalities -- Koreans, Chinese, Filipinos, Vietnamese and others, many of whom have a passion for gambling. I see this in Las Vegas, Reno, Phoenix and Florida where I have lived and enjoyed a game of poker.
Statistics show that Hawaiians often travel to Las Vegas to gamble. In fact, the California Club in downtown Las Vegas specializes in attracting people from Hawaii to its games and often offer discount packages to draw Hawaiians to its premises.
Although Hawaii is one of the premiere tourist destinations in the world, there is little to do in Waikiki, Hilo and the other towns and cities after dark. A casino with top entertainment and gambling would fulfill that gap and bring in a lot of fresh money from tourists.
As gambling gains support in Hawaii, it seems only a matter of time before the Legislature will approve casino gambling in the state. Only Hawaii and Utah have banned all forms of gambling. All we can do is wait for it to happen. If Mark Twain were alive, you can bet that the author of all those great stories about Virginia City would vote in favor of the change.