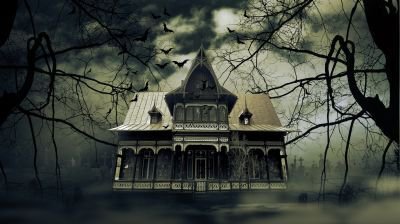 'How'd you like to spend Christmas in a haunted hotel?'
The question was posed to me by by Rene. I was working as a reporter in Deming, N.M. and she lived in Albuquerque. We had started dating a couple months earlier after I met her at a singles party at the Holiday Inn. She was a native of Mississippi, a former model who worked for a department store.
'Where might this haunted hotel be located?,' I ventured.
She pored over a map that covered a glass table. 'Cripple Creek, Colorado,' she said. 'It's a kind of ghost town with casinos. I figured you'd like it because they have poker and you could do all the gambling you wanted.'
The proposition intrigued me and we made reservations at the Victor Hotel in Victor, Colorado. for Christmas Eve.
Cripple Creek is a small community of less than 1,800 people that is located in the shadow of Pike's Peak about 40 miles from Colorado Springs. It is the home of several operating gold mines as well as long abandoned tailings that were part of the Colorado Gold Rush in the late 1800s.
It took us several hours of driving through scenic mountain terrain before we reached the outskirts of Cripple Creek. When we drove into town, I felt like we were back in the days of Wyatt Earp and Bat Masterson. Old wooden houses with lace curtains sat against a backdrop of spectacular mountain scenery.
You could walk to some of the gold mines from the downtown area. The town was filled with gambling casinos that looked like the setting for a Hollywood western.
While most of the games were low limit, I liked the feeling the town gave me. We did a bit of shopping around, I played a few hands of poker, and then we drove to the Victor Hotel to check into our room.
The desk clerk at the 200-year-old hotel was a bright young man named Gerald. When he learned I was a writer, he smiled.
'You may want to write about Charlie,' he suggested.
'Maybe. Would you mind telling me who Charlie is?'
Gerald said Charlie was a gold miner in Cripple Creek who got drunk one night and fell into an open mineshaft.
'The mine is just a couple of blocks from here,' said the desk clerk. 'I guess Charlie was a restless sort because he took up residence in this hotel. Guests keep telling of seeing him. There's a portrait of Charlie in the bar if you'd like to see it.'
That interested Rene and me. We followed him to the bar and he pointed to a portrait off a smiling man with a red beard.
'That's Charlie,' said Gerald cheerfully. 'Keep an eye out for him. You might just see him during your stay at our hotel.'
Rene was tired from all the driving and decided to stay at the hotel while I went back into Cripple Creek to play poker. I promised not to stay too long and left about 30 minutes later.
That night I drank with the miners and played low-limit poker. Around 1 a.m., I decided I had enjoyed myself enough for the evening and took my leave. I arrived back at the hotel around 1;30 a.m., unlocked the door and entered the room.
Rene was sitting bolt upright on the bed, a terrified look on her face.
'Did you see him?,' she said in a shaky voice. 'Charlie! He was here. He just appeared in the room, woke me out of a sound sleep -- and threw warm water on me!'
I hurried out of the room and peered down the hallway. No Charlie.
Well, I calmed her down as much as a could. We made sure the door was locked and finally fell asleep without further incident.
In the morning, we had a scrumptous breakfast in the restaurant. I mentioned the incident with Charlie to the waitress.
'You saw Charlie?,' she said, grinning. 'That's so cool. So many of our guests see him that it doesn't surprise me any more and I've been working here the past two years.'
When I checked out of the hotel, Gerald said, 'Are you going to write about our resident ghost?'
'I'm thinking about it,' I said. 'Thank goodness the water was warm.'