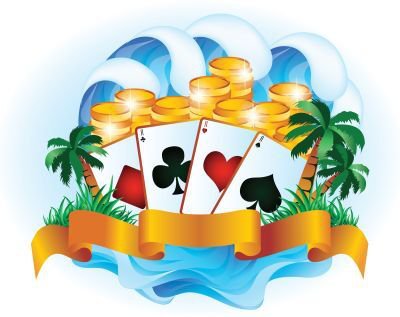 When I share my tales of living on a tropical island and gambling in paradise, people sometimes don't believe my tales. At first, this would hurt my feelings. But then I got to thinking about it. Maybe they're right to be skeptical.
It costs a lot to be free. You have to pay a price for anything you accomplish in this world that deviates from the norm.
I have always been fascinated with the desert and tropical islands. An artist who paints desert landscapes once told me that the undulating lines of the desert and the ocean are very much the same.
'I can move easily from painting an ocean scene to painting the desert,' he said. 'I grew up back East and became very familiar with the ocean. Then I moved to Arizona and began painting desert scenes. The change was very natural and it lent itself to my talent./
About 10 years ago, I responded to a classified ad in a journalist's magazine for an editor to work on an island in the Eastern Caribbean. Lo and behold, the publisher chose me out of all the people who responded to his ad.
After some back and forth negotiations, we set a starting date for me. I flew from Miami to San Juan, Puerto Rico, had a riotous time in the lounge with some Congo dancers, and then boarded an American Eagles aircraft for the flight to St. Kitts.
When you have spent most of your life in a small coal mining town, moving to a tropical island is a big thing. At least it was for me.
Each morning, I would fix my cup of coffee and spend some time on my porch next to the hammock staring at the same extinct volcano that Christopher Columbus had viewed when he discovered St. Kitts and Nevis on his first voyage to the New Land.
I would sit on the hammock gently swaying while feeling the trade winds from the ocean caress my face. Absorbing the new culture of the Caribbean, the people, the food, the music and the politics, was a challenge that delighted me.
My days were consumed by covering governmental meetings in the 'pink palace,' a governmental building that housed the offices of the Prime Minister and his department ministers. They were very helpful to me and provided me with story ideas for which I was grateful.
Nighttime would generally find me searching for a new restaurant or night life experience. There was a major casino on the island, Jack Tar Village, owned by the Marriot Corporation. The casino was elegant and featured a large number of slot machines and table games.
Under island policy, the government pretty much reserved the casino for tourists. Sometimes the local residents would visit the casino, but usually in the company of a tourist.
I had met a girl living in Keys Village, a town made up of sugar cane workers about six miles from downtown Basseterre. Lynnette was attractive and adventurous. Her mother would prepare an island meal for us and then I would take Lynnette to the casino where she played the quarter video poker slot machines. She became quite skilled at winning and often picked up $80 or $100 at the machines.
For a while, I toyed with the idea of staying in St. Kitts and Nevis. Why not? The weather was fabulous except for the short-lived hurricane season. There was a piece of land next to the ocean where you could build an incredible poker room to provide the ultimate gambling in paradise. It was next to a dump where poor people lived, but that could be changed and jobs could be offered to them.
The idea was tempting. It still has not fled my dreams.
Living in the Caribbean changed me as a person. It slowed down my inner temperament and helped me appreciate the small moments of life.
At the end of two years when my work permit expired, I had to leave the island federation. It was sad parting with some of my new island friends. We shook hands and I promised to be back. That beach with those coconut palm trees undulating in the trade winds is still there, the green monkeys still scamper through the trees and throw half eaten bananas or coconuts at you and life is still free for those willing to pay the proper price.