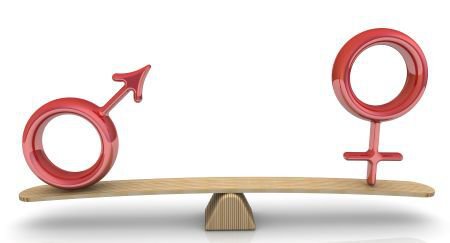 Eve has been in contention with Adam since the Garden of Eden. The Bible tells about her sampling the forbidden fruit and getting mankind into all sorts of trouble.
While I will leave those Biblical discussions up to theological experts, I am intrigued about one thing about the gender war: will a woman ever win the World Series of Poker?
Now I come from a rather conservative generation. Men and women played traditional roles. While marriage was supposed to be a 50-50 proposition, women were expected to do the traditional things that...well...women were expected to do. Get married. Stay at home. Support the male. Be feminine.
Then the feminist movement came along and changed things. Suddenly, overnight, it seemed, women were demanding to be treated equal to men. There were no exclusive arenas that men could occupy without giving a woman a chance to enter. That included military schools like West Point, invading the locker rooms of NFL and major league baseball players -- and playing poker.
When I started playing poker, it was strictly a male game. I would estimate 90 percent of the people I played against in those early days were men. Now and then a woman would come along who could hold her own, but she was a rare bird.
We had weekly poker games at the American Legion Post in Phoenix where I was a member. Carl Collins, an employee of Salt River Project, hosted the game which was played in a back room just off the bar.
During my first year of membership at the Post, that back room was off-limits to females. The only woman who entered it was the cocktail waitress. We kept her pretty busy as most of the players, including yours truly, were alcohol imbibers.
Then slowly but surely, things began to change. Two women who belonged to the American Legion Auxiliary decided they wanted to play poker. There was some resistance at first -- some of the guys felt 'uncomfortable' playing poker for money against women -- but eventually they won the battle and became regulars in our games.
I won a World Poker Open tournament in Tunica, MS. some years ago. The Omaha High-Low tourney attracted nearly 300 players, including a top player from the East Coast.
At the final table, I put that woman all-in at least three different times. On each hand, she somehow came up with a miracle play and would up with half the pot. Finally, in exasperation, she exploded.
'Don't you LIKE me?,' she said, making the table explode with laughter. 'I mean, what do you have against me?' I shrugged. It was just poker, I thought, but I didn't take time to explain.
Today, of course, poker is an integrated game with many women playing in tournaments or cash games. The World Series of Poker has exploded into a true international event. Players come to Las Vegas from all over the world to compete for those prestigious diamond-studded bracelets and millions of dollars in prize money. And a lot of those players happen to be female.
While the males still outnumber the females in sheer numbers, the playing power of women has increased sharply. Players like Annie Duke, Vanessa Selbst and others have made their mark in major poker events. They have come close to the big prize, but so far have fallen short of the mark.
I think a woman has a good chance of winning the WSOP.
It will be a major breakthrough when it happens. Think of Dr. Jonas Salk discovering a vaccine for polio, or Jackie Robinson gaining acceptance as a major league baseball player. You could go a step farther and even compare it to an American astronaut walking on the moon.
Eve has come a long way from that satanic encounter in the Garden of Eden. There's no telling how much farther she will go in her search for equality. Shuffle the cards and let the games begin.