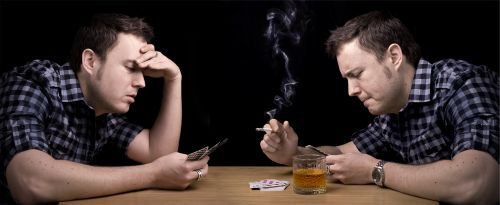 In one of his books, Ernest Hemingway wrote that a man could not make it by himself. That man always needed a partner in order to make his existence complete.
A gambler needs a partner. He or she may not admit it, but it's true.
Gambling is a lonely business regardless of how successful you are at doing it. It requires discipline, long hours of preparation and practice, and a single-minded dedication to the duty of winning.
I have partnered up with gamblers in the past. One was my late buddy Dave Molina. I had the distinct pleasure of introducing Dave to three women whom he would marry and later divorce.
Dave and I were born partners. He was married to a high-strung wife and mother of his three children in Clovis, N.M. The publisher had just appointed him managing editor, the first Hispanic to ever reach that height in Clovis.
As the newly hired reporter, I was delighted to find out that Dave loved to gamble. His favorite idea of fun was to drive non-stop to Las Vegas for a wild weekend of gambling, wine and women.
Our first gambling escapades involved blackjack or 21. Prof. Ed Thorpe had written a book, 'Beat The Dealer,' which purportedly offered the reader a new system of winning at blackjack.
The book sold millions of copies and forced the casinos to change their rules on blackjack or 21. From now on, there would be no more single deck games. Casinos increased their decks from two to four and then a six deck shoe. It made it more difficult for the player to win by counting cards and lessened the player's chances of winning.
After Dave and I parted trails, I partnered with a building contractor and showman. Paul was a concert promoter who lived in Branson, MO. We met at Indigo Sky Casino near Seneca, MO. and discovered we had an affinity for poker.
Soon we began driving to the various casinos. It seemed that I played well with a partner since afterwards we could share our laughs and war stories. Paul was a cautious person who played a skillful game of poker. Never flamboyant, he would sit back in the bushes and catch other players who got out of line.
Since moving to Arizona. I have been looking for a partner. I thought for a while that my daughter, Rossana, might fit the bill. She's smart, has guts of steel and would make an excellent poker player with a little training. But she has gotten herself caught up in other things, so I am still looking.