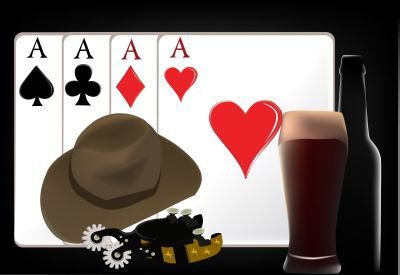 He rode tall in the saddle and was always ready for a fight. Although he played an American hero, he rarely died in his movie roles, saving that privilege for the bad guys. In his later film roles, directors allowed scriptwriters to let him die and movie fans around the world had mixed reactions to the endings.
John Wayne was the ultimate American hero. He and his friend, director John Ford, were a team that worked well together. They also were drinking buddies who made playing poker an art on the set or in Wayne's boat, which was equipped with a poker table.
When Wayne released 'The Alamo,' a movie he directed and starred in as Davy Crockett, I was stationed on a Nike-Hercules Missile Site in Angeles Crest National Forest between Pasadena and Palmdale, CA.
Along with 5,000 other GI's, I was invited to attend the premiere of the movie at a theater in Hollywood. That night Wayne strode onto the stage carrying a flintlock rifle and dressed like Davy Crockett. He surrounded himself with beauties from the Silver Screen including Jayne Mansfield who wore a shimmering white gown that left the soldiers, sailors and Marines gasping for breath.
Wayne shot several of his movies in the New Mexico Badlands in Eastern New Mexico. At night he and the cast -- Ward Bond, Strother Martin, Montgomery Clift, Ben Johnson, and Pappy Ford would head into towns like Tucumcari or Clovis for dinner and drinks. Especially drinks.
I was working as sports editor of the Tucumcari Daily News when Wayne filmed one of his western movies just across the Texas border. There was a restaurant in town called La Cita that served the best Mexican food in the terriltory and Wayne had developed a friendship with Maurice, the colorful owner.
One day when I was having lunch at La Cita, Maurice came to my table.
'I'll be closed tonight at 9 p.m.,' he said, smiling. 'John Wayne and his crew are coming by and they rented my place for the evening.'
'Can I come?,' I said, taking a bite of the excellent cheese crisp.
Maurice shook his head. 'Afraid not,' he said. 'These guys value their publicity. Maybe if you met him...' He left the rest unsaid. I didn't go but I always regretted the lost opportunity.
When Wayne, a handsome rascal who stood six-foot-four, made his westerns, he developed a habit of playing poker on the set. He played against his fellow stars like Maureen O'Hara and Dean Martin and he played for real money. One actress who co-starred with him in a film said, 'I got involved in an all-night poker game with him. When I left in the morning, I was practically bankrupt. I'm not a very good player.'
Wayne paid $110,000 for a yacht and equipped it with a bar and a poker room. He often took his friends on cruises to San Juan, Puerto Rico and the Caribbean islands where they would eat, drink, snorkel, fish and play poker to their heart's content.
Toward the end of his life, he filmed 'The Shootist,' a story about an aging gunfighter who is dying of cancer, in Carson City, NV. Wayne was suffering from cancer himself when he made the movie.
He was drinking and gambling heavily both at poker and dice. Friends recalled him losing $11,000 on a single roll of the dice at a casino. When a friend asked him what he wanted his tombstone to say, Wayne smiled and came up with a Latin phrase that said in effect 'He was big, ugly and he had dignity.'
Strother Martin, who starred as the sadistic warden in the Paul Newman movie 'Cool Hand Luke,' graciously granted me an interview while filming another movie, 'Slap Shot' in Johnstown, PA.
'I liked John Wayne,' he said. 'When he made a film, he would gather his old friends around him, Ward Bond, Ben Johnson, Dean Martin and the others. Then he'd hire me to hold his horse.'
It has been more than 30 years since I lived in Tucumcari, but I am still upset with Maurice for not inviting me to that festival in his restaurant. La Cita still operates but it has new owners and a new menu. I stopped by for old time's sake while traveling back East some months ago. Maurice wasn't there to regale me with his tales, but the cheese crisp, hot sauce and chimichanga were just as good and the memories were even better.