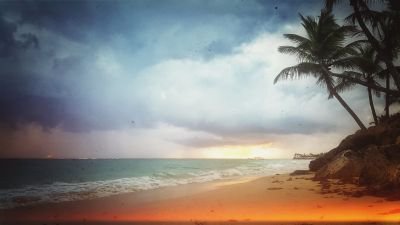 This is a fun column to write and your emails make it work even better. David W. from Dallas, TX. writes, 'Dear Geno: You make living in the Caribbean sound like so much fun, I am wondering why you ever left.'
Good question, David. Sometimes I find myself asking the same question.
Living in a foreign setting, especially a tropical island, has its good points as well as its drawbacks. The good part about living in the tropics is that it really is living in paradise.
The culture is different and so is the air. You find yourself responding to different things than you would if you were home in America. A tropical rainstorm, for example.
Those sudden rainbow showers could happen any time, even under a cloudless sky. They came in swiftly from the sea and you would be drenched in a matter of seconds.
How did we react to those sudden downpours? We laughed them off as part of being in paradise.
The food is different. Pork, rice, black beans and plantains. Fish. Chicken, especially jerk chicken with the spices. Coconut soup. Yummy and fulfilling. Chocolate mousse. And more.
The entertainment is outstanding. Beach parties featuring a concert by Ziggy Marley or Bankie Banks, my old friend who owns a piece of Anguilla called Dunes Preserve.
Bankie is a one-man band who does reggae and calypso. He grows his own ganja, eats one meal per day -- generally fish that he caught in his boat.
His home defies description. Pretend Bankie is Tarzan and he lives in the trees because Bankie's sprawling castle home sits in the banyan trees a short distance from the beach. He has an outdoor arena where he stages concerts and when he hosts one, people come from nearby islands, Miami or elsewhere to participate.
There are also negatives that go with living on a tropical island. Most of the food is imported. That means when the weather turns poor, some ships will not sail and the island runs short of milk, eggs, bread and other food supplies. I found myself drinking powered milk more often than I cared, but that was part of living in paradise and I tolerated it.
You miss the taste of America. Although the islands have some excellent restaurants, their food just doesn't taste the same as American food. The coffee tastes different as does the pizza, even though the pizza on St. Kitts was superb.
You drive on the wrong side of the street. Instead of being on the right, you drive on the left, and that takes a little adjusting. You need to be careful about leaving valuables in sight in a parked car. Thievery is common in the islands, and you need to be prepared.
Then there is the Work Permit. Every alien who works in paradise must adhere to a work permits that limits his stay to two years. When my two years were up, I had to leave -- my job supposedly would be filled by a qualified islander.
I miss the Caribbean. Actually, I just miss island life. And I expect that some day, perhaps in the not so distant future, I will return to the land of sun, surf and trade winds.