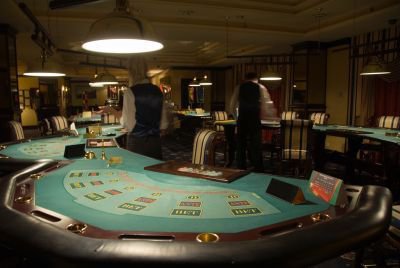 One of the most profitable strolls I ever made through a casino worked like this. I was in Las Vegas for another enthralling weekend. With the top down on my white Impala Convertible with the red leather interior, I tore into Las Vegas just as the sun dropped in blazing color beneath Lake Mead.
I knew it was going to be an exciting weekend. I could feel it in my bones. My bankroll was ready and I hoped my skills were on a high enough level to challenge Las Vegas.
The Orleans Casino and Resort is my stopping place. I valet park the car and walk into the air-conditioned casino. As I pass a dice pit, I notice that the gentleman about to shoot is setting the dice.
This tells me that he practices the controlled roll. I immediately drop a bet in the 'pass' line and the shooter rolls an eight. I back up the eight bet four times and place bets on the five, six and nine.
The shooter hits my points and I keep doubling my money. By the time he sevens out, I have collected $460 in winnings. I pick up my chips and continue through the casino.
I pass the sports bar where wagers are taken on the horses and sporting events. Race number three is one minute to post. I notice that the grey horse looks in good shape and the odds are 7/2. I hurry to the window and bet $60 to win, $40 to place on the number four grey horse.
The grey leaps to the front and keeps up a steady pressure to win the race by three lengths. I collect over $400 in winnings and leave the seller with a tip.
My next stop is the poker room. A $4-8 Omaha High-Low game has a seat open which I accept. A noon tournament is about to start. I change my mind and enter the tournament, paying the $60 entry fee.
The cards fall well for me and by the second break, I am one of the chip leaders. I make the final table in third place chip-wise.
WHOOEEE! This is Vegas at its best.
I play as well as I can and wind up in third place with a $13,750 payoff.
That was one of my best strolls through a casino. Now tell me your story.