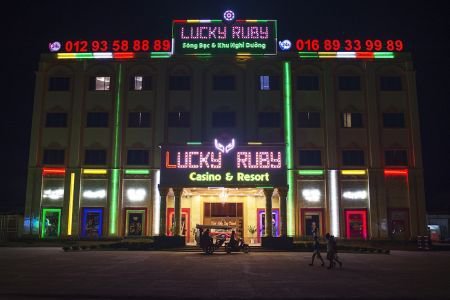 I had the privilege to interview Lucky Ruby Casino & Resort in Cambodia. It is located in Kâmpóng Roŭ in the region of Svay Rieng Province. The property features 100 hotel rooms, spa and gaming tables.
1.What is your position at Lucky Ruby Casino?
Answer: Online Support
2.The grand opening was June 25th, 2015. What type of celebration took place for this big event?
It was a Big Celebration held in front of Casino itself the opening ceremony is Telecast on TV3 Cambodia Channel. Attended by some tourist and high roller players.
3.Are Casinos widely available in Cambodia?
Yes Ma'am
4.Highlighted table games include: Baccarat, Tiger & Dragon, Tai Xiu, Fan Tan and Bai Buu. Are these popular among Cambodian players?
Yes it is popular here on players specially Vietnamese and Cambodian
5.Tourists visiting the Casino may not be familiar with some of the table games offered. Is there a tutorial to learn?
Yes were also available to assist our clients regarding games tutorials for them to enjoy variety of games available.
6.Cash currency and chips are available in VND and USD. Is there English speaking staff to communicate with international tourism?
Yes we have English Speaking Staff to assist foreigner clients.
7.Is there Blackjack or Roulette?
Unfortunately we do not have Blackjack but for Roulette we only have it on our Online Casino (Coin178.com).
8.Mean players can only play our Roulette online.
9.Will Lucky Ruby expand to include Slots?
Slots is also only available on our Online Casino (Coin178.com)
10.Is there a player's card or loyalty program where members to the Casino can earn rewards?
Unfortunately we dont use cards.
11.There are over 100 hotel rooms available. Is there a presidential type suite?
We only have a regular rooms suit simple yet elegant.
12.Do high rollers receive any special comps?
Yes some promotions like a raffle draw.
13.Is there a restaurant on the premises?
Yes we have a restaurant which players can avail free meals on scheduled time breakfast,Lunch,Dinner
14.Is there any sightseeing or special attractions nearby for tourists to visit?
Here tourist can also enjoy on our casino have a massage service, Sauna , and Karaoke were just near Vietnam - Cambodia Border.
15.Has there been any plans in the future to include an online Casino?
We currently have an Online Casino given above its Coin178.com
you can also visit our website if you want to see more about our online casino.