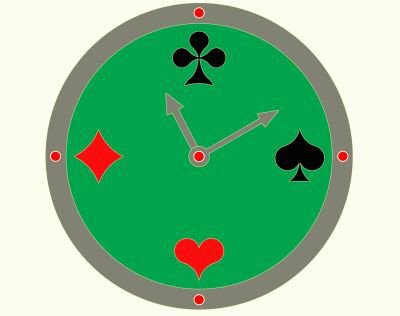 It always amazes me when I return to a casino after a period of absence and realize nothing has changed.
Let me start with Las Vegas and The Orleans, a well established casino resort just off the Strip on Tropicana.
Las Vegas casinos don't have clocks and it's tough to gauge the passage of time. But when I walk through the wide doors of The Orleans, I know exactly what to look for.
The faces of the casino employees are the first things I am drawn to. For the most part, the supervisors never change. They have grown a bit older, but they are in their same places. Jimmy running the horse room. Stan in the poker room. The guys in the dice pit and operating the blackjack games.
It always delights me when they recognize me.
'Where you been, Man,?,' one will say, smiling. 'Haven't seen you in a while.'
I explain where I have been. I note their hair is thinning, their skin has a casino pallor that is hard to explain. They are older and still doing their job of operating a gambling casino to entertain the public.
Many of the poker players are the same. I recognize faces that I played against 10 or even 20 years ago. Some know who I am, and some can't place me. That's okay. It goes with the territory.
Casinos never close. They slow down in the early morning hours. That is when the clean-up crews come in to freshen up the place. Some players can be found asleep in the cushioned lounge chairs. Security guards are supposed to keep them awake but some of them turn their heads, knowing the players need a little rest. That's part of the casino experience.
When everything is going well for a player, he can pay his bills, tip properly, and add to his or her bank account. The old timers understand this and play by the rules. If they have the money, they book a room. If they don't, they do the best they can.
Some say the oldest profession is prostitution. I say it has to be gambling.
Time stands still in a casino. Some people come and go, but most remain in place. There are no clocks on the wall but time keeps ticking, the players keep playing, and Lady Luck remains in charge of the never-ending show.
There is a spot in Las Vegas at Fremont Street and Las Vegas Boulevard where, it is said, if you stand there long enough you will meet every person you have ever known. Almost everyone I have known visits Las Vegas, some more often than others. And when you take a bus downtown, it stops at that location and leaves you off to enjoy the Fremont Street Experience beneath the canopy that hovers above Fremont Street.
I asked an old-time casino employee how he handles life. He shrugged.
'This is a good city,' he said. 'I eat well, live well, and if I want to be entertained, it's out there. Life here is good and the action never stops.'