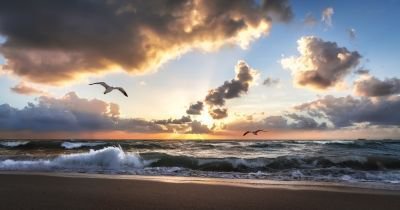 My younger brother and I live two different lifestyles. He is a retired steelworker and gospel singer who has a passion for slot machines. I am a still working gadabout journalist and writer who plays poker.
I will be going to Myrtle Beach tomorrow to play poker on a gambling cruise ship. This will be my first gambling cruise ship since I left Florida years ago. Back then, I would make regular sails on the Vegas Express and another gambling cruise ship that sailed out of Hollywood, FL.
My brother and I did have two experiences that were similar. He and I both gambled on cruise ships during violent tropical sea storms of near hurricane force.
'I went on the ship at Myrtle Beach with my brother-in-law Nick and our wives,' he said. 'We got out to sea and a storm sprung up with heavy winds and 10-foot waves.
'Women were sitting at their slot machines with their heads down throwing up into paper bags,' my brother said. 'I was hanging onto a pole trying to stand up.'
His story brought back memories of a cruise I took on the Vegas Express a few years ago. The Vegas Express was a two-deck vessel that could accommodate around 400 gamblers. It sailed nightly out of Hollywood, FL and I was a frequent customer since I was working in nearby Lake Park on a weekly newspaper.
The weather was threatening that Friday afternoon but I thought I'd chance the cruise anyhow. I boarded with the other passengers and enjoyed the seafood buffet along with the on-deck entertainment.
When the ship got past the seven-mile international border, the casino opened for business. I made my way to the poker section and took my seat at a Texas Hold'em game.
WHOMP!
The Sea Express went sideways and gamblers collded into each other. A man in his 80s seated across from me nearly sailed across the table, but he didn't lose one of his chips.
As the seas grew higher, we kept playing poker. Some of the passengers were getting seasick and the crew was handing out paper bags. The 80-year-old took one but kept playing.
WHOMP!
This time our ship went up and down like a yoyo. The dice table was torn from its moorings and dice and chips went scattering in all directions.
'This is the captain speaking,' a voice came over the loudspeaker. 'We are now turning back.'
The casino remained open while we sailed back to port and I can report that when the final hand of my hurricane journey was dealt that I was a winner.