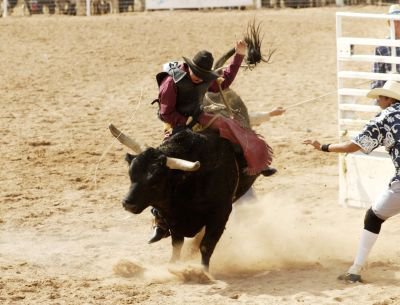 Benny Binion, the force behind Binion's Horseshoe in downtown Las Vegas, had a soft spot in his heart for rodeo cowboys.
When the Professional Rodeo Cowboys Assn. held its rodeos in Las Vegas, most of the contestants stayed at the Horseshoe. Benny always gave them a terrific break on the cost of a room, meals and drinks and the cowboys appreciated it.
Benny was a cowboy himself. He grew up in a covered wagon that his family owned in Texas and often slept under the stars using his saddle for a pillow while he punched cattle and did all the things a cowboy is required to do on the trail.
The cowboys returned his generosity by gambling at the Horseshoe. In my younger years, I was a saddle bronco rider myself. While I never achieved the professional status, I rode bucking horses in weekend rodeos in Arizona and New Mexico for years until a green-broke horse appropriately named Meano threw me about 20 feet and broke my right arm next to the elbow. That ended my career as a rodeo cowboy but it didn't interfere with my love for horses.
When I lived in Phoenix, I would drive to Las Vegas for a weekend and stay at the Horseshoe. During rodeo week, I would often find the Horseshoe filled with young guys in black Stetsons, jeans and high-heeled boots.
Most of the cowboys enjoyed a drink and they would gamble at just about any game on the premises. They played poker, blackjack, dice, roulette, baccarat and the slots. Benny and his son, Jack, made sure they received comps for food and drinks. His favorite slogan was, 'I serve good food, good booze and good gambling,' and he always kept his word to his customers.
A bronze statue of Benny on a horse was erected a short distance from the Horseshoe which is located on Fremont Street next to Las Vegas Boulevard. It's a good image of Benny, capturing his smile and his cowboy attitude toward life.
Doyle Williams and his brother, Red, owned the Skyline Ranch just off Baseline Road in Phoenix. While Doyle was laid back and handled the business end of the ranch, Red was pure and simple a hell-raiser who lived to have a good time.
Red was a gambler. Doyle and his son, Eddie, were bull riders. They even held a bull riding school at the ranch. Young aspirant bull riders would pay a fee to ride Doyle's Brahma bulls. Once a week, the riders would congregate at the ranch to compete for cash money by hanging onto a Brahma for eight seconds.
Those kids were tough. One night a 1,500-pound bull slammed into the fence, driving the rider's face into the railing. An ambulance transported the injured rider to the hospital where he underwent surgery to repair the damage. After he healed -- and his scars were plainly visible -- he returned to the Skyline Ranch.
Doyle and Red greeted him. They weren't prepared for what he had to say.
With a big grin, the kid said, 'Doyle, I want to ride a bull. Set me up for Saturday, please.'
Doyle just shook his head. 'If that's what you want,' he said.
I couldn't believe it. I made sure i was at the ranch the following Saturday to watch him ride. He did fine and made the PRCA riding circuit. No wonder Benny Binion respected rodeo cowboys. My hat goes off to them as well.
I played a role in helping Red when he got into trouble with the law. I was working as a reporter at the Phoenix Gazette when I received a phone call from Doyle one morning.
He needed a favor. Red had gotten into some trouble with the police and was scheduled to appear in court that afternoon for sentencing.
'He's divorced and he's raising two kids,' Doyle said. 'If you could say something to the judge, it might help.'
I covered the court beat and knew the judge who was scheduled to sentence Red. I promised Doyle i would be in the courtroom.
That afternoon I showed up in Superior Court. A very subdued Red Williams was seated in the defendant's chair with his attorney. The judge was about to pronounce sentence when I raised my hand and asked to speak. The judge gave me permission.
I made a plea on Redl's behalf. I said I didn't know much about his personal life or what he had been charged with. But I said I knew Red and his brother and knew he was a good man. I asked the judge to give him a second chance.
'He's just a cowboy, your honor,' I said. 'And you know those cowboys. Sometimes they get a bit rambunctious.'
The judge sat there in silence for a long minute. Then he smiled.
'Mr. Williams,' he said, 'this man just saved you from going to jail for two years.' He placed Red on probation and I can say Red never got into trouble with the justice system again. I think Benny would have been proud of me.