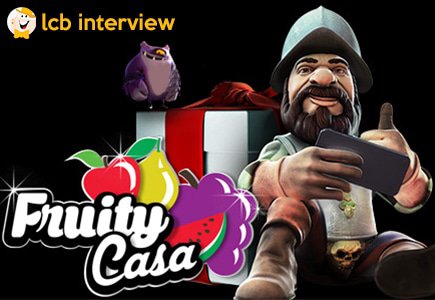 1) Could you please tell us something about yourself and your role within Fruity Casa?
- Hi, thanks for welcoming me here, it's so exciting! :) I'm Jelena Isakov, been around in gambling for almost 5 years. Currently and hopefully for much time to come, I'm Affiliate and PR Manager of Fruity Casa Casino and it's affiliate program - Fruity Affiliates! My duties are to speak and collaborate with affiliates, like LCB is, take care of their accounts and our review on their websites, but also to spread the word about Fruity Casa on social media like Facebook, Instagram and Twitter. Of course, to give the interviews as well, which is beside conferences, my favourite part of this job :)
2) Why should players choose you among the pool of numerous highly rated casinos?
- Simply because Fruity Casa is represented by me and I know what I'm doing :D Now seriously - every person who likes to gamble should try out different casinos and finds the one or ones that suit him/her the best and meet his/her different criteria and expectations. There's no online casino perfect or the best for everybody, but there are certainly casinos, like Fruity Casa that offer lots to choose from regarding games, software, banking methods, promotions, languages etc, together with a good support and trustful team, where a player can feel like a special and appreciated member. That's why players should choose us - there's something for everybody and there's everything for somebody :)
3) What could members expect from enrolling with your casino?
- First of all - great welcome bonus of 150% up to €250 + 10 Free Spins on Gonzo's Quest, on top of that. Beside it, every new registered player automatically gets 500 Loyalty Points after making a first deposit. These points can be redeemed into a bonus money as soon as they reach 1000 and players are earning more loyalty points by wagering their deposits.
Then, they can expect lots of daily and weekend bonuses, if they subscribe to our newsletter!
Lots of games, cheerful and colourful environment, kind and helpful support, lots of fun :)
4) How many languages are available at your platform?
- Fruity Casa is currently translated into 8 languages: English, German, Swedish, Norwegian, Finnish, Polish, Spanish and Portuguese. There is probably more to come. Fruity Affiliates, website of our affiliate program is currently translated into English and German language. We know that players feel more comfortable with navigating through the site written in their native language, therefore we're trying to include as many languages as we can.
5) Can you tell us something about software providers your casino is powered by?
- Variety of games and softwares is one of the greatest virtues of Fruity Casa. There's quite a nice range of popular and little less popular software providers: NetEnt, NextGen, BetSoft, Nyx, Leander Games, Amaya, Aristocrat, Thunderkick, Elk Studios, Ezugi, 1x2 Gaming, 2 by 2 Games, Quickspin, Multicommerce and White Hat Gaming!
6) Since you offer an extensive list of games that suit everyone's taste could you tell us if there are any plans for adding some new ones in the near future?
- Actually, we already do add new games very often, usually as soon as they are launched. This applies especially to NetEnt games, because we don't want to miss a thing!
Our newest game is "A Dragon Story" by NextGen and I've already tried it, has some great features: free spins, superbet, gamble and Brave Sir Williams bonus game, together with cheerful, cartoony look!
7) Which games are the most popular with your players?
- Fruity Casa's most popular games can be found in the section "Top games". Starburst is always there, together with Twin Spin, Gonzo's Quest, Jack and The Beanstalk, Dracula, Big Bad Wolf, Fruit Shop, Judge Dredd and some other (already) classics!
8) Do you have any plans for the future regarding new promotions and offers?
- Absolutely! We're planning to make big promotion for UEFA EURO 2016, but I cannot tell you yet what exactly is cooking up in our fruity kitchen! Of course, you'll get all the details on time!
9) Please let us know where you are based at and how many staff members you have on team. Any plans for expansion perhaps?
- Most of our fruity team is based in Venlo, Holland, but there are some team members based in the UK and Malta, while I'm based in Serbia, like LCB HQ :) Currently we have about 10 staff members and plans for expansion are always actual and considered. BTW. I like your office in Belgrade, it's nice and comfy with a great fun room, with table football and darts!
10) What is your remark being on the LCB list of approved casinos?
- Being LCB's approved casino is certainly an honour and privilege, especially considering the fact that there's over 1100 online casinos listed and reviewed on LCB, but only 27 of them are approved seal bearers :) LCB is trustful portal with long tradition and many loyal members, so meeting all of your criteria to enter approved list definitely is a success we're proud of. It's something special to be part of the small, but chosen group!
11) Would there be any changes in the list of restricted countries?
- It depends on how the countries will legally regulate online gambling at national level and if there's gonna be some changes or licences required - this applies to currently allowed countries. You never know if the authorities of some country will decide to involve taxes and licences, so online operator can't allow their citizens to play until they issue the licence (if it's worth it of course). In case of currently non-allowed countries, unfortunately I can tell you for sure there's not gonna be recent changes.
12) Is there anything interesting you would like to share with our readers?
- I have 5 tattoos. I have graduated law. LCB forum was always an ideal example of gambling community to me. I can't lift my ring finger without lifting a pinkie (little one).
I consider myself talented in writing acrostic poems. My favourite movie is "GIA" and I'm sure I watched it over 15 times. I'm currently playing 3 point&click games: Machinarium, Still Life 2 and Nancy Drew: Ghost of Thornton Hall. These are some interesting facts about me and since I'm Aries it's not surprising that my answer is all Me, Me, Me, Me, Me! (laugh)
13) And one personal question. What attracted you to the gambling industry? What have you found the most challenging?
- Honestly nothing, because I didn't know anything about it when I started. I simply needed a job while I was studying law, without thinking and choosing too much. But not much after I got into it, gambling industry definitely changed my career route and made me built myself into that direction, forgetting about lawyer profession I was dreaming about for years, more and more. Gambling seemed so exciting, a little bit underground, new, mysterious and at the same time casual, informal and friendly work ambient. It still is for me, that's why I love it. Plus, I love it's international character which includes meeting lots of different people from all over the world and lots of traveling!
14) Besides being in the gaming industry on daily basis, what is your idea of having fun?
- Traveling, visiting new countries, meeting new people, going to the good parties, spending time with friends, but if I have to chose ideal fun it would be either road trip with the car roof open (a synonym for freedom for me) heading to exotic beaches with a white sand or a camp fire with a nice company, guitar and drinks!
15) What would be your ideal team building event? Paintball, escape room or barbecue?
- Hmmm. All three offered are great idea for a team building or any kind of social event, but I'd choose escape room, because I like games which include thinking, clues, riddles, conclusions, team work.. I once tried escape room called "Enigma" with a couple of friends, where you have 60 minutes to find Enigma machine, use it to crack the Germans' message and send it to your allies. Objects in the room excellently evoke look of one German headquarters from the WW II. Freakin' awesome, I recommend and look forward to another room we're planning to solve or escape from!