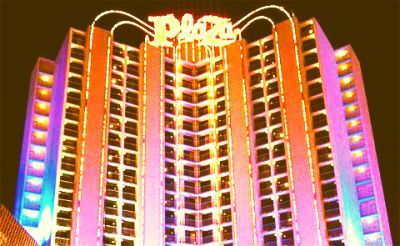 You may have heard about a Promotion that took place at the Plaza Casino in Las Vegas this past Monday in which, in celebration of Tax Day, the casino was offering a 28% Bonus (in the form of Free Play) on all jackpots. This Promotion was discussed somewhat at length on our sister site WizardofVegas.com.
Furthermore, I also published a Wizard of Vegas Article (barely) in advance of the Promotion:
The reason that I want to draw attention to this Promotion is to highlight the fact that, other than the act of physically going and playing the Promotion, looking for positive expectation Promotions at Brick & Mortar Casinos is not a whole lot different from looking for Beatable Bonuses on Online Casinos. One could argue that it takes more work to find Promotions for Brick & Mortar Casinos as they tend to not be as long-lasting as those of their online contemporaries, and therefore, one must continuously be looking through the websites of B&M's for favorable opportunities. However, with that being said, the process itself is otherwise very much the same.
Identifying Beatability
The first step to determining whether or not a Brick & Mortar Casino is offering a beatable promotion is to simply explore the games offered by the casino and do the Math on those games. In the case of the above-linked thread, that simply involved adding 28% to the returns for anything that would result in a jackpot. As you can see in the thread, The Wizard of Odds did this himself using his Video Poker Return Calculator for a variety of games that could be found at Plaza Casino, with the $5 denomination (as would be expected) proving the most lucrative.
Unfortunately, The Plaza eliminated the $5 denomination machines from play, and some would argue, that they were removed as a result of that very thread. There is some anecdotal evidence that I have heard second-hand that such might have been the case. However, while the biggest single money-making play (in pure dollars and cents) was eliminated from the Promotion, mostly due to the fact that you could bet $25/hand, that play was not, by any stretch of the imagination, the only positive opportunity at Plaza Casino on that day. Interestingly enough, many of the other opportunities actually came in at an even greater advantage in terms of percentages.
For example, there was one play available that offered an advantage slightly in excess of 10%, but I am not going to disclose on what precise machine that was. Additionally, there was another play worth far more than that with a much higher hit rate (probability of jackpot) that I am absolutely NOT going to disclose.
The point is that, when it comes to a Promotion such as this one, an individual looking to take advantage of such a promotion need not only pay attention to the Expected Return (read: Return-to-Player) of the Base Game, as those who would immediately migrate to the $5 Video Poker (had it been available) would do. The key is that a person has to think outside the box to determine the best play the same way that the $5 denomination Video Poker Expected Return with the Bonus was determined, and that requires asking oneself a simple question: What effect does the jackpot Bonus have on the overall return of the game?
Interestingly enough, two of the best plays available for this Promotion (percentage-wise) on their face had a lower Expected Return than the $5 Video Poker paytables, but that doesn't always matter. Another positive aspect of this is the fact that, while The Plaza may not run another Promotion such as this ever again, other casinos may offer this Promotion and are very unlikely to kill these games in advance due to the low Base Return. Even better is the fact that there are other machines and games, not available at the Plaza Casino, that would be even better in Terms of Dollars per Hour Expectation than the machines that were actually played there...the ones in question simply are not available at that particular casino.
Identifying Bankroll Needed
When it comes to Online Casino Bonuses, one positive aspect is that you do not necessarily need to have a huge bankroll in order to try out some Bonuses. It is true that it is preferable to have a greater bankroll available to you, especially so you can do as many Promotions as possible at any one time, but if you tap out on a given play and do not have any more bankroll for the time, you are not done forever. Once you have sufficient funds to try another Online Promotion, then you are able to get on there and do that. There have been many lucrative Promotions offered by Online Casinos that have literally gone on for years, and even though the smartest of the smart players have been beating them for years, they have apparently not effected the bottom lines of the online casinos substantially enough for them to get rid of the Promotions.
The big difference in Brick & Mortar Promotions is the fact that they are fleeting. For example, the Plaza Promotion was from 00:00-23:59 on that Monday, so if you tapped out on whatever bankroll you brought for it and could not get more funds, then you have wasted an opportunity to earn some money on that Promotion. One excellent tool for identifying an approximation of needed bankroll for a particular promotion, assuming that you are playing a game in which the probabilities are known, is the simulator at BeatingBonuses.com. You can set the parameters of the game using a, 'Custom Paytable,' and go from there to determine your probability of Gain, Bust and Average Return over any number of simulations you desire. Sometimes you will plug numbers in and the House Edge comes off slightly wrong, but personally, I just try to find a bankroll amount that has less than a 1% probability of busting...then you know what kind of bankroll you will need.
It is absolutely critical that these numbers are identified because you do not want to waste an opportunity at a Brick & Mortar promotion by, 'Tapping out early,' it could be months before we see a Promotion similar to what the Plaza did again, it could happen tomorrow or it may never happen again; one simply doesn't know.
Immediate Returns
I have said this before, but one aspect of Brick & Mortar Promotions that is a definite positive is that the Returns are immediate or almost immediate. You go there, you play the Promotion, and then you get paid when you hit a jackpot. In my view, that's much preferable to waiting perhaps months to realize the entire payout from a good play. With that said, Online Bonuses are still terrific to play, very convenient and the near-continuous availability of them is fantastic...but Brick & Mortar Promotions are often the most satisfying as you get to reap the rewards faster.
It is a lot of work, time and travel, but the feeling one gets from a success is incomparable. Equally incomparable are the hundreds of dollars per hour in Expectation one can occasionally achieve from an especially lucrative Promotion.