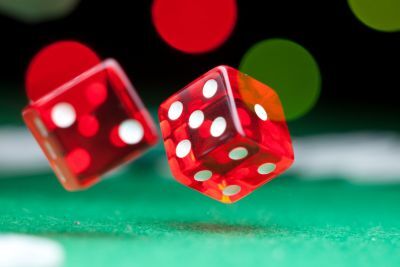 Hollywood seems to have a problem when it comes to making a good movie about gambling. One of the most authentic films on gambling I have ever seen is 'The Only Game in Town' starring Elizabeth Taylor and Warren Beatty.
i actually saw the film while living in Las Vegas. The movie plot has Taylor playing a Las Vegas showgirl and Beatty portraying an aspiring piano player who is hooked on dice.
He meets Taylor and sparks fly. Their initial meeting develops into a romance and they move in together.
Liz falls in love with Beatty and wants to help him pursue his music career. He is playing a piano in a casino and she starts saving his money to pay to enroll him in a well known music school a couple of thousand miles from Las Vegas.
Beatty stops gambling -- but only for a while. One night the urge to shoot dice overwhelms him. He gets into an argument with Liz over where she has hidden his money. When she refuses to turn it over to him, he goes into a rage and tears up her apartment looking for the cash. Finally, in a burst of tears, she goes into the bathroom, takes the cover off the top and throws the hidden money to him. Then she storms out of the apartment leaving him alone.
The acting is first-rate. I never heard Elizabeth Taylor stutter before, but in her emotional conflict with Beatty, she stutters and it rings true.
The climax of the film is stirring. Beatty goes to Caesar's Palace or some other casino on the Strip and begins shooting dice. There is a red-headed dice player there with a raucous laugh who gets on Beatty's nerves. He begins losing and continues losing until he is down to his last $100 bill.
There is a time lapse. Beatty is on the outside of Caesar's Palace and he floats a $1 bill in the water, giving the impression that he lost all his cash. He goes back to the apartment. Liz is there. They don't speak to each other.
Then Beatty delivers a monologue. He tells Elizabeth that he thought the only thing in life worthwhile was gambling. Making money at the tables. And he tells her about losing and then he empties his pockets on the table and tosses thousands of dollars in front of her.
Only a gambler can appreciate the feelings this scene evokes. He tells Taylor that now he realizes what is truly worthwhile. It isn't the dice. It isn't the money he won. it's her. That is the ending. As I left the theater, I noticed more than a few people wiping their eyes.
I knew a girl in Las Vegas that reminded me of Liz Taylor. She was born in Hawaii and worked as a dancer at one of the exotic night spots in the city.
We met, became a couple, and she moved in with me. We watched the movie together. After the film, I said, 'Let's find a dice table. You shoot the dice, I'll supply the money.'
That night we went to Caesar's Palace. The place was jammed with people. We had to wait until we found a spot at a table.
She took the dice, smiled at me, and threw a winning seven.
We played for more than two hours. She rolled the dice well, and when we were finished playing, we were up more than $700. I gave her half of the money.
A few days later, she came to me. Her father had suffered a heart attack on the island of Maui.
'I have to go back home,' she said, hugging me. 'I will miss you.'
I saw her off at the airport. She took a seat next to the window and was still waving goodbye when the American Airlines jet began rolling down the runway.