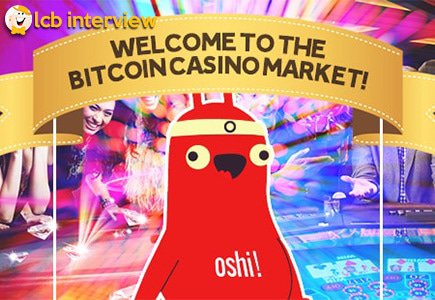 Oshi.io is among the latest Bitcoin friendly casino brands to enter the market on the SoftSwiss platform. Interestingly, players are connected to their favorite games by way of the same principles found at top non-gambling related companies. The casino launched in November 2015 with a unique approach to the development and LCB had the opportunity to get down to the basics with the Oshi founder and CEO, Nick Garner. We wanted to know about everything from his vision for the brand to its 'Un-LasVegas' like concept. Intrigued? So were we!
Q. When did Oshi officially launch and what was the vision for the brand?
A: We quietly launched Oshi back in November 2015. The idea was to get a 'minimum viable product' launched and from there develop the site iteratively so we could test and learn along the way. So far this has worked really well and I feel were on a very good trajectory.
That leads me to the vision for the brand. Originally, I had no particular vision… Other than to not replicate everybody else. Having worked in Betfair and Unibet on the marketing side for six years, I knew that the only way to compete would be to rethink the casino experience from the ground up.
The alternative would be a cookie-cutter website and vast marketing budgets, pushing a marginally different looking brand than the next casino. Since I didn't have £2 million sitting around for a fairly risky bet, my team and I chose to take a product driven, iterative approach to building the brand.
Now the team has been working together for over six months, we've built a collaborative vision for Oshi. Very simply it's to make it easier for customers to find and play the games they love. That's why navigation has been a huge part of the DNA of Oshi.
Q. Which areas of your previous iGaming experience have contributed to the development of Oshi?
Broadly, it's been those years of marketing various iGaming brands, along with being involved in multiple technology projects that have given us the knowledge foundations for where Oshi is today.
Q. Please elaborate on the 'Un-LasVegas' concept.
A: If you ever been to Las Vegas, you'll know that the bright lights, noise and general buzz are all about an off-line environment. They are there to attract people from the sidewalk into somebody's casino.
Why would an online property try and copy the whole modality? It doesn't make sense to me and so we have done our best to tone down the 'noise' on the site to make the games stand out more.
Of course, there are certain visual signals that customers instantly recognise as being a casino and it's always important to keep those. For instance certain colours like deep reds, black and dark blues are instantly associated with casinos. So there will always be some 'Las Vegas' in Oshi.
Q. Tell us more about the team behind the brand Oshi
A: The three most important people in the business have all got iGaming backgrounds.
Nick Garner: (that's me writing). I was search engine optimisation manager for Betfair between 2006 and 2010, then I became head of search in Unibet between 2010 and 2012. Then I set up my own iGaming SEO agency; 90 Digital and in 2015 resigned as CEO so Aferdita Pacrami could run the business. That gave me the time, money and freedom to start building Oshi.
One of the things I've realised is that marketing is a critical component for building Oshi up, but more important than that is the actual site experience.
I fundamentally believe there are huge numbers of people who want to gamble. Give them a better experience than the next person, you make marketing flow more easily and you have less friction when it comes to getting customers on board. So bizarrely I really don't think about marketing much any more. It's all about the website.
Tom Finlayson: he was mobile development lead for Unibet between 2009 and 2014. Tom and I used to hang out together in Unibet and we both bemoaned how casinos all looked the same and maybe we could do better…
When he left Unibet, Tom worked with us through my SEO agency and in that 'ether' of ideas, the components for setting up an online casino gradually came together.
I've always felt operators are controlled by the technologists, yet the technologists are never invested in the outcome of that business. Ultimately a casino is a transactional website and the better it performs, though happier customers will be. So it made sense to ask Tom to be a shareholder in this brand.
We have built a completely new technology stack which sits on top of our white label partner SoftSwiss that allows us to do things no other casino site does. This includes advanced game filtering and categorisation, along with instant video previews of games.
Because of Tom's leadership, we've been able to build out a really good team of extremely clever people who have been working on some very exciting machine learning personalisation technology. Of course, it's all wonderful except that customers have to love it otherwise it's a fail. That's why we take such an iterative approach to technology, constantly releasing fixes and enhancements.
Aferdita Pacrami Dita is the CEO of 90 Digital, my iGaming digital marketing agency. She has responsibility for all of our marketing activities.
One of our great competitive advantages has been the number of different clients the agency has worked with. Through the years, she has been able to amass a huge amount of knowledge on what actually works, that is really cost-effective.
Based on this cumulative experience, I would say her main strategy is around reputation i.e. having a really good reputation online, putting the virtues of the site experience first and always thinking about hitting that 'sweet spot' which gets us lots of attention and customers, but doesn't cost too much to do. For instance, working with affiliates and going that extra step on helping them do a really good job with us is a huge priority.
Q. Explain to LCB members why you look to non-gambling related sites such as Amazon, Google and Netflix for inspiration for a gambling related site.
A: IGaming is a relatively rich industry and history shows us that when sectors grow in wealth, they get lazy. That's because there is no massive incentive to change.
However, you look at the e-commerce industry and at the margins they work to, along with the competitiveness of the sector, it just makes sense to look at these organisations for direction.
When you look at iGaming, the major incumbent brands all emerged between 1997 and 2003. Of course there are exceptions, but in general the many winners have grown rich and have become swamped in technical debt (old technology) and inertia because of the complexity of their organisations and their technology.
Upshot is an almost complete lack of true innovation, despite great intentions.
However, when you look at organisations like Google, Steam, Amazon, even Auto Trader they are constantly making real improvements to customer experience and organisational structure, because they know they don't they will die.
Interestingly, Google who have every reason to stop innovating, are exceptional. That's because they're constantly improving and developing their core product: search. They know if they don't keep ahead of everyone else, somebody will come in left field and rapidly steal their market share.
All of these businesses came through because they did something fundamentally better than the next website. And our core mission with Oshi is the same. Fundamentally improve customer experience for people who want to gamble.
That's why we've looked very closely at the very essence of why people gamble: finding the games they love to play. So the vast majority for efforts go into this very simple thing.
Q. What aspects of the design and layout were critical to connect players to their favorite games so efficiently?
A: I think we've only just begun with our mission. Were making progress and features like our advanced game search are a step in the right direction, but if you were to look at who does it brilliantly… It would be Steam, the games site, or Google.
Steam has an amazingly vibrant community with huge amounts of customer driven data to help reinforce their personalisation engine. For a customer, the experience is just very intuitive and flowing.
If you haven't been on Steam, maybe you've done a search on Google. Google takes the idea of finding the right things for the right people to an extreme length. Google own 90% of the world's market share for search, because they nail the right results for the right people.
That's what we want to do with casino games. Different people have different attitudes to volatility, they like different colours, different music, different reel speeds and they work off a multiplicity of devices.
So it's difficult to verbalise, because great customer experience is the accumulation of hundreds of little things put together.
If you as a customer can go on the site and forget were there, because you're immersed in the games you love to play, then we've done our job. It's ironic that we want to become invisible, but it's the case.
Q. What features of SoftSwiss's platform appealed to you?
A: They are really good on operational stuff i.e. payments, customer services and all those other things which people don't think about, but will get really upset over if they don't work properly.
To me all of that is basic hygiene, but what really attracted me to SoftSwiss above others has been their technology focus. Deep down they are a technology business that happened to be in iGaming.
And with us, were in the same place. IGaming is what we do, but we don't look at iGaming for inspiration.
SoftSwiss have a really modern technology stack, which has allowed us to build our own technologies on top of their systems that enable Oshi to be what it is today.
Moreover, there is a lot left that we can build upon. We also feel very confident about SoftSwiss for years to come, because they have been very smart in the way they architect technology. That means far less risk around technical debt, which is a huge issue for so many businesses.
Q. What words of encouragement do you have for online gamblers that have yet to take the plunge into the world of cryptocurrency?
A: Firstly… It's a very simple and safe means of payment.
If you care about privacy, you'll know that every normal gambling business will do background checks on you. It takes time, it's a lot of hassle for both you and them and if the operator doesn't have the right licences or if you're the wrong jurisdiction, after all that effort, you end up being denied an account.
There is no 'know your customer' with Bitcoin casinos when you pay in Bitcoin. All of that 'KYC' is done when you actually purchase Bitcoins in the first place. Once you have got those Bitcoins, you can do what you like with them.
Obviously we don't knowingly accept customers from certain licensed jurisdictions, but by the way Bitcoin works, we will never know where they originate from. It's not something we like, but it's just a fact.
Getting Bitcoin is really easy. You get a wallet onto your phone, buy Bitcoins, go to your Bitcoin casino of choice, pay with Bitcoins, hopefully win, cash out instantly and convert back into whatever currency you like. It's a very easy quick process. We have some guides with loads of external references on the site walking you through all of this.
Simply; It's amazing how liberating and easy using Bitcoins can be.
Q. We understand that there are a few finishing touches in the works so what features can players expect to see in the coming weeks?
A: Preface my answer by saying there will always be something new and improved on-site. It's in our DNA as a business to constantly test and improve our customer experience.
In the very short-term we've got the first iteration of our categorisation project done. Every game has up to 93 separate attributes picked from a list of 1500 different attributes that a game could have.
By cataloging games properly, it opens up the opportunity to list them in all sorts of ways no one else can. The best analogy I can give you is if you are searching for a car, cars have attributes, you care about certain attributes of cars i.e. four doors, 2 L engine, diesel, power steering, colour et cetera and with these attributes you can quickly get a shortlist of cars that suit you. You can now do the same thing with games.
In the long term, we are also working on 'freshness' . This is where there is always something new for you to interact with on the site every time you login.
Another huge theme is gamification. It's one of those 'holy grail' ideas where we create a framework for customers to go and do things so they get a deeper experience of the site and the games on it. A good example is using free spins in such a way that a customer would test series of games, we could see how engaged they are and offer them a second batch of free spins on the game they love the most. There is almost an infinity of gamification frameworks we could use.
But overall, we just want to be invisible to customers so they can play the games they love to play.
Q. The casino currently features games from Amatic Industries, BetSoft, Endorphina and of course, SoftSwiss. Do you intend to integrate games from other providers in the near future?
A:We have enabled Quickfire games and Netent games will be live by the time you read this.
There's been a lot of work in the background to make it very easy for us to add new providers and new games quickly, whilst having all of the categorisation and other features that are unique to us.
One of our next big projects will be on boarding a sports book and integrating a flow of content associated with various sporting events. That's a few months away, but it follows the theme of improving something so customers can engage with it more.
Q. As a new brand, why should our members take a gamble on Oshi?
A: As everyone knows, you can go and play the same games on hundreds of different casinos. The difference between one casino and another is not the games, it's the way the games are presented and the service offered rounded.
We've just done our best to make the gambling experience as easy and pleasant as possible. We work with SoftSwiss, the biggest white label provider in the marketplace and we have always been transparent and accountable in everything we do.
So in short, if there are improvements we should make, please tell us and we will get to it. If you give us a try with 'real money' and you like what you experience, then great! In a small way we've helped make your world a little bit better.