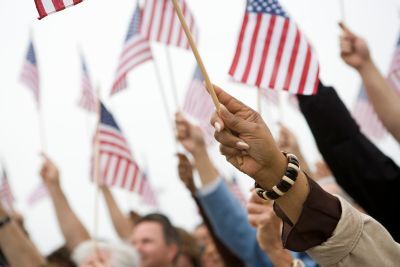 Gamblers and especially poker players weren't always well accepted in decent society. To the contrary, they were poorly regarded as wastrels and dregs on society. No self-respecting parent would permit their daughter to date such a man. Heavens no! That would be tantamount to letting your daughter cavort with a criminal.
Well, things have changed. Amarillo Slim Preston helped change them. Slim, whose real name was Thomas Preston, was a genial cowboy from the plains of West Texas who had a quip and a laconic grin for the press as well as the public. He was just a Texas boy, he drawled, who liked to play cards. And he'd say it with a wink. How could anyone dislike a person who joked about the sin of gambling.
To add to poker's luster, people discovered the Presidents of the United States often relaxed by playing poker as well as golf. And some of them took the game pretty seriously.
Richard Nixon was a Bible-reading Quaker as well as a serious poker player. When he was an officer in the Navy and the country was at war in 1943, he served as a Lieutenant on a base where one of his fellow officers was Jimmy Stewart, who ranked him. It was Stewart, a beloved American actor, who taught him to play poker.
In a book titled 'The Real Nixon' by Bela Kornitzer, Stewart recalled, "One day I noticed Nixon lost in his thoughts. He was seemingly concentrating on some problems." Finally he asked, 'Is there any sure way to win at poker?' I explained that I didn't know of a sure way to win, but that I had a theory for playing draw poker. It was that one must never stay in unless he knows he has everyone at the table beaten at the time of the draw. Nixon liked what I said. I gave him his first lessons. We played two-handed poker without money for four or five days, until he had learned the various plays. Soon his playing became tops. He never raised unless he was convinced he had the best hand."
According to Stewart, Nixon never showed his hand, even in friendly games, preferring to mix his cards up in the muck. One of his fellow shipmates said, 'Nixon was as good a poker player as anyone we had ever seen. He played a quiet game, but wasn't afraid of taking chances. He wasn't afraid of running a bluff. Sometimes the stakes were pretty big, but he had daring and a flair for knowing what to do." His fellow officers predicted that whatever he chose to do in civilian life, he would succeed at -- and he did until Watergate felled him.
His Navy winnings at poker helped finance his first political campaign against Congressman Jerry Voorhis. He slowed down his poker once he was elected vice president and eventually gave up poker entirely.
A President who thoroughly enjoyed poker was Missouri's Harry Truman who coined the phrase 'The buck stops here.'
Truman was on board the cruiser 'Augusta' just before the end of World War 2 and poker was the main activity on that ship. He played so much poker with the press corps that Secretary of State James Byrnes, who was traveling with him, asked reporters to leave him alone. The press hooted and howled. 'Mr. Secretary,' one said, 'we don't start the games. HE does.'
The President summoned reporters to an 8 a.m. meeting with him after several days at sea. They thought it was for another poker game.
Wrong. He informed the press that America was about to drop an atomic bomb on Japan to end the war and saver lives. He had been using the poker to relax himself while making that decision. As a matter of note, once the reporters had filed their stories, Truman was waiting for them to begin another poker game.
Even George Washington, a meticulous record keeper, was a poker player -- and not a very good one from the records he kept. In one of his journals, he noted his poker losses carefully, down to the dollar, while commanding his troops during the Revolutionary War. The game he played as 'Post and Pair,' a variation of poker.
General Dwight Eisenhower was a generous poker player who didn't like to see his officers lose. Although he played the game well, he had an officer who was such a constant loser that Ike worried about him. One day Eisenhower called his fellow officers in for a meeting and told them they had to help the poor officer recoup some of his considerable losses. That night everyone
played poorly and let the hapless officer win -- then Eisenhower ended the poker games by asking General George Patton, the commander for the sector, to issue a ban. The loser was outraged.
'Just when I start learning how to play this dang game, he ends it,' the officer grumbled.
Neither John F. Kennedy nor Barack Obama were poker players or gamblers. Sen. John McCain, an aspirant dice player, and Donald Trump are gamblers. Let's see what the 2016 Presidential election brings. Let the games begin.