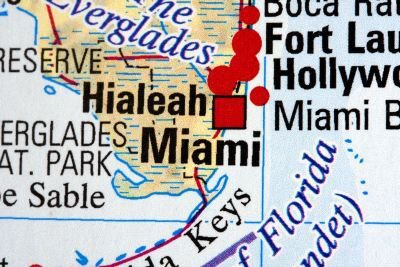 Johnny Cash's song 'Orange Blossom Special' contains a line, 'Goin' down to Florida, to get some sand in my shoes.' It's one of my favorite songs and I followed Johnny's advice a while back and went down to Florida to find some of that sand.
The Sunshine State is a great place to gamble. It has jai lai, greyhound dog racing, thoroughbred horse racing, gambling cruise ships, and casinos.
While the Florida State Legislature kept a lid on poker for a long time -- the state limited the amount of money that could be in a pot to $10 in the casinos that were open -- legislators finally saw the light and took the lid off.
My first experience gambling in Florida came when I worked as a reporter in West Palm Beach. Donald Trump's famous estate Mar A Lago is located along a dazzling white sand formation in Palm Beach.
There were gambling cruise ships sailing out of ports near Fort Lauderdale, Hollywood and Miami on a daily basis. For less than $20, you were admitted to the ship and treated to a free buffet. On board, Las Vegas-style entertainment was provided and you could play all the gambling games from dice to poker to slots, blackjack, baccarat and roulette.
Gulfstream Park and Hialeah Race Track provided horse racing and there were greyhound dog tracks up and down the Florida coast. The Indian tribes operated gambling casinos near Hollywood and in other parts of the state.
Florida has greatly expanded its casino operations in recent years. Today the race tracks also provide gambling casinos that feature poker and all the other casino games. When I accepted a job as associate editor of LottoWorld, a national lottery magazine in Naples, FL., I used to sail out of Ft. Myers on a three-deck gambling cruise ship that featured a free buffet, live band and all the games I wanted to play.
There are few things more pleasurable than the gentle motion of a ship at sea beneath a sunny sky. I used to strip down to my swimming trunks and soak up the sun on those cruise ships while waiting for the vessel to arrive in international waters where the gambling action would start.
One of the best places in Florida to play poker is the Hard Rock Casino in Hollywood. The casino features one-table sit-and-go games where for a modest entry fee, you can win anywhere from $1,000 to $1,400.
The Hard Rock also has a sports book with telecasts of live horse racing from tracks throughout North America. The off-track betting is next to the poker room and you can play poker and bet on the horses at the same time.
It has been a couple of years since I visited the friendly Sunshine State. Since I live in Charleston, S.C., I am only a couple of hours from Jacksonville, FL. where I understand there is casino gambling. I am planning a trip to Florida in the near future and will share my gambling experiences with the members of this website.
A few years back, I went to work as a public relations writer for Steven Muss, owner of the Fontainebleau Hotel in Miami Beach. Muss and several other Miami Beach hotel owners had put up several million dollars to bring casino gambling to the beach city.
The hotel owners invested $6 million in a special election to legalize gambling in Miami Beach. They hired a professional staff and we made an all-out effort to persuade the citizens to vote for our proposition. It was a great election. While we carried the voters in Dade and Broward County, the Bible Belt narrowly defeated us.
Muss and the other hotel owners were great guys to work for. They took the results of the election good-naturedly. I don't know if efforts are being made to resurrect the idea of legalizing gambling in Miami Beach, but times are changing. And like Johnny Cash sang in his unforgettable song about Florida, maybe it's a good idea for all of us to get a little sand in our shoes.