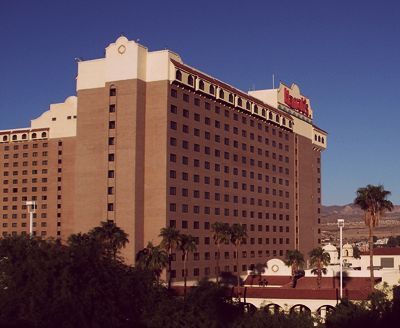 I have just returned from a five-day junket to Harrahs Casino Laughlin. I am not sure if the gaming or player action was more exciting! Being a Diamond Rewards card member I have the privilege to go to Laughlin every month through the great program Caesars Entertainment offers for a free flight package and comped room. I have been offered free flight packages for me and a guest to other destinations but nothing quite compares to the hospitality of Harrahs Laughlin.
The perks begin from the moment your flight departs with a free cocktail, beer or wine of your choice. Once we land in the tiny airport that is a refreshing change of pace from O'Hare in Chicago, we step off the plane where a big commercial bus is waiting for us. No need to worry about retrieving luggage, it will be delivered to our rooms within a couple hours. Us Chicagoans breathe in the fresh warm sunshine and are amazed that though the current temp is 100 degrees the dry heat is a huge difference to what our brutal humid weather would be.
The Welcoming Committe
It takes about a total of 10 minutes to get to our destination and during that time we pass through two states! Considered the "Tri-State" because we technically land in Arizona, arrive in Nevada and are 20 miles from California. Plus, it is only an hour and a half bus ride to Las Vegas. What more could a traveling tourist ask for right?
Peering out the window there are those glorious mountains, swaying palm trees and the Colorado River. Reaching the front entrance of Harrahs is the welcoming committee as we step off the bus. An employee with a warm smile greets us and hands us a bottle of water in one hand and a lucky necklace in the other. We proceed to the table straight ahead (still outside) where another host asks for our last name and hands over an envelope with the key to our room and check out instructions. A check-in process that takes about 15 seconds from start to finish! Proceeding to the Casino doors another greeter holds the door open to welcome us.
It is my fourth time here and have started a tradition with starting off by eating at Guy Fierri's El Burro Borracho Mexican restaurant. The food is mediocre, the margaritas are worth it and the tradition of going there as soon as we arrive is a habit that is hard to break.
After dinner I make a beeline to my two favorite machines – Hyper Poker and Crazy Times Pay Poker holding my breath the are still there and are not occupied. Like a ray of light that shines upon the two available machines that descends from the poker Gods I swear I hear angels singing as I cast my eyes on them! I think the machines recognize me by welcoming me with a couple four of a kinds and four aces too but no kicker or multiplier…but then again tomorrow is another day and folks what a day it is!
Day 2 is My Best Day
I have a reputation for getting up at the crack of dawn and sneaking out of the room to get an early start on the Casino floor. When I say "early" it is like 6am or so! My dear friend Froggy whom I took with me is still in deep sleep as slip out the door. After playing Hyper for an hour or so I switch to Crazy and oh oh oh I am so glad I did! I hit a $1,600 Jackpot playing three line dime denomination by hitting four aces and the kicker time 4! I wanted to kick myself in the arse because I forgot to bring my phone down with me and couldn't take a picture to share with you all.
Wasn't long after Froggy comes down and we head to the Sunday brunch. Diamond guests are offered champagne mimosa or a "tropical flower". Thinking it was a tad early for drinks I opted for the tropical flower instead. Well the joke was on me because it wasn't a flower at all but rather another champagne drink. After offering it to Froggy and she turned it down I had no choice but to drink it…….i mean what else could I do!
Speaking of drinks as we all know drinks here in Nevada Casinos are always free as long as you are playing, but nothing says free like it does at Harrahs Laughlin. The service is impeccable and the drinks flow none stop. Being a Diamond member i can select from their premium liquor stock. I order Grey Goose vodka and cranberry juice and let me tell you they are far from weak. Some of the cocktails servers will even automatically bring another drink without asking and also give a bottle water on the side.
The Pool
After breakfast we play a bit more and head up to the room to do a bit of LCB work. Seriously are we dedicated gals or what! There are two pools one for families, the other adults only. We get suited up and head down to the adult pool which is nice to not have any little ones splashing, screaming, running and basically not being annoying. Don't get me wrong I adore kids, but there is a time and place for them and the casinos are not one of them!
The pool overlooks the Colorado River below and a breath taking mountain range in the distance. The temperature is a bit cooler today at 90 degrees (hahaha yeah cooler). I had my eye on a particular couple that I knew I had to just talk to. Appearing to be in their mid 70's or so it definitely looked like they had some Vegas/Laughlin stories to share throughout the years. Both had a golden tan, she with her bleached blonde hair perfectly set, teased and styled, long acrylic nails painted white and him with that De Niro frown, shades and handsome silver hair. She couldn't have been more than 5' 2" tall and he may have had 3 inches on her.
I approached the wife who was sitting on the steps in the pool. She had a rock on her finger that was blinding and thought it would be a good ice breaker to talk to her. With a mai tai in my hand I approach her and say the bling on your hand is so sparkling it caused me temporary blindness. She laughed and said "diamonds are a girl's best friend" for which I replied "the bigger the better". The three carat solitaire diamond was from her husband who sat on the pools edge just above her but not terribly close because he was a "man's man" you know. I told him he spoils her and he just sorta laughed and said "yeah too much".
I told her I worked in the Casino industry and would be writing an editorial about my experience and would include them in it. She was thrilled to pieces and said "make sure you say my name is Angie". I asked Angie how she compared Vegas today from back in the day. Oh there is a huge difference she said. She went on to say that one of the big differences are how people dress. Back in the early 70's people dressed to kill in their finest while today anything goes. She recalls how one night while walking the Strip in Vegas all dolled up and in high heels she and her friend were thought to be hookers! She just laughed and said those were the good old days. Her husband joined the conversation in a warmth that didn't match his De Niro frown and began to reminisce about his old stomping grounds in Chicago which I had learned they were on the same play as I was on the way in!
Later that evening I saw Angie playing a Slot machine not far from me. She was almost unrecognizable with her full make-up on and glitter high heel wedge shoes. I went up to her and said "love those shoes by the way are you a hooker"? Knowing she had a good sense of humor she giggled and said "oh my you are doing wonders for my ego"
Playing the Slots
Although I am primarily a Video Poker player I do dabble with Slots for a change of pace particularly on a gambling excursion. I looked for new Slots that I haven't seen back at home. One Slot was a comfy two seater with a big screen display named Flamenco Fever by Konami software. The second I sat down I was off to good start and hit not one but two bonus rounds. Playing $2.25 per spin I racked up over $1,000 in 10 minutes. So far I have won $2,600 for the day….not bad, not bad at all.
Taking the Water Taxi Down the River
Every night we went ventured down the strip of Casinos via water taxi. It cost $4 for one way but here is a tip, if you are a Diamond member go to the rewards center and get half price off tickets. There are two water taxis during the busy season that come by every 10 min or so to pick up players. First stop for us was the Aquarius Casino. The best variety for Video Poker is definitely here with all coin denominations available. After hearing that they had one of the best buffets in Laughlin me and Froggy gave it a whirl. Unfortunately, the variety was so limited it gets low marks in our opinion.
We hit the Golden Nugget and had dinner at the Claim Jumper on our third night there and they had a nice selection of the latest Slots. While there I did manage to tryout the Gremlins Slot by WMS software. It has two modes: Gizmo or Gremlins that the player is free to choose. I chose the Gremlins mode and have to say it was one of the most adorable slots I have played in quite some time. As far as luck goes I had none and after dropping $100 in the machine without any major hits I had to walk away from it. I never had any luck at any other Casino during my stay here.
The last Night
On our final fourth night there we decided to stay at Harrahs. It was a bit cooler in the low 80s, windy and cloudy so decided the pool wasn't a good option. We worked in the room until 2 o'clock or so got dressed up and decided to treat ourselves to a nice dinner at the Range Steakhouse. What was really cool is I had accumulated enough comp play points to redeem them for dinner. We got a great table that overlooked the Colorado River. The service was great and the food even better. I had heard mixed reviews on the food, but in my opinion thought it was really quality stuff. I had lobster tail, red potatoes and grilled veggies while Froggy had filet minion and we shard baked lobster mac n cheese which was delish! After dinner they server brought over a small plate of complimentary chocolates that was right up my alley!
The Drive to the Airport, Oysters and the Mail Order Bride
Now you would think that while waiting for the shuttle bus to pick us up at the crack of dawn (7am) the trip is over and not much excitement is going on………so, so not true. This is when the people watching comes in and let me tell you it was one of the most entertaining I have ever seen. Here is this guy around early 50's or so with obviously died dark brown hair and what appeared to be brilliant blue contacts in his eyes. He was sporting a bit of a beer belly, wore a shirt that reflected "Dedicated Service at Menards" in which I am pretty certain is where he worked.
He skyped called a woman and this is when the entertainment part of the show begins, not only for me but nearly half the crowd in ear shot of him. By the gist of his conversation you definitely got the impression it was no ordinary relationship. His phone one of the larger screens and it was to catch a glimpse of the girl he was talking to. She couldn't have been much older than her mid-twenties, Pilipino and currently living there. This online relationship gave all the makings of a "mail order bride" deal. He was enthralled with this young girl while she seemed to be bored to tears. She tried several times to hang up while he insisted she stay on the phone with him during the entire time up until we boarded the plane. He talked extremely loud discussing green cards and visas to get into the US and the frosting on the cake was when he said to her not once but several times "I ate 14 oysters last night honey; you know what that means don't you honey"? Omg everyone began to look at each other like is he for real! What was sad was the girl was so unimpressed she went silent and he kept thinking they lost connection….no she just wanted to throw up I am sure was thinking just show me the green card buddy by her lack of interest! We had to listen to him on the bus, at the check in, at security and at the gate with nonstop chatter to what he thought was a girl dug him as much as he dug her.
All in all it was a fantastic trip, I ended up $1,200 ahead and always seem to have the Midas touch when I go to Laughlin. I have a pretty tight traveling schedule this summer but so may not be able to get back there until the Fall sometime. It is nothing like the thrill and action of Vegas but there is a certain charm that is definitely worth experiencing at least once. Remember it is just a short bus ride from Vegas to Laughlin and please if you eat any oysters while there……. keep it to yourself will ya!