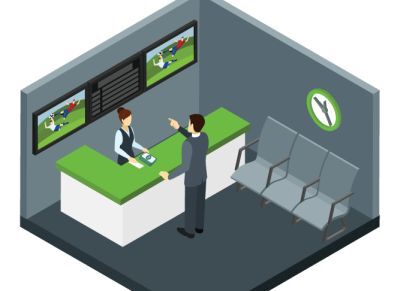 As everyone knows, one of the most fundamental concerns that Online Casino players have is whether or not they are participating at a fair casino, dealing in fair games with fair software and whether or not said casino is going to pay out when a withdrawal is requested. Recently, there has been a development that would lead one to believe that Online Casinos are not the only entities that can perhaps short change players, but that there are also agencies involved with Brick & Mortar Casinos that are fully capable of doing the same.
CG Technologies have recently been found to have short-changed players to the tune of $700,000 by way of short-changing them on 20,000 winning bets over the course of about four years. While it is true that CG did pay players that caught the short pay and brought it to their attention, they did exactly nothing with respect to the bettors that did not find or report the short changing. These are the kind of issues that would cause an Online Casino to be blacklisted, especially since they attempted to block the investigation. After attempting to block the investigation, CG eventually convinced the regulators that the problem had been fixed, even though it had not, and bets continued to be short paid.
The bets that were affected, apparently due to a software error, were Parlay, 'Round-Robin,' type bets which makes it difficult for an average player (even though our Wizard of Odds site discusses how some half-point Parlays can be advantageous) to notice because the average player is just happy to have won...they're something of a long-shot bet.
In their Complaint, the Nevada Gaming Control Board seeks payments of $100,000 for each of the six counts that it charges CG Technologies with. In my opinion, this sort of penalty is underwhelming given that it does not even represent the amount for which players were ripped off. While it is true that a generally similar error also resulted in a few overpays (obviously for a lesser amount than the underpays, or it certainly would have been noticed much faster) the casino industry needs to be held to a higher standard than that and should be forced to pay fines many times over that.
I would like to state that the casinos themselves had nothing to do with the error, but just for the sake of full disclosure, CG Technologies run the sports books at Silverton, M Casino, The Palms, The Venetian, Hard Rock, Cosmopolitan and Tropicana. While it is quite possible all of their problems have now been rectified, I would probably do my Sports Betting elsewhere when I am in Las Vegas...just to be safe. Once again, the casinos themselves had absolutely nothing to do with it as the operation of the Sports Books is an entirely different thing.
By the way, this is not the first time CG Technologies has found itself in hot water with the Nevada Gaming Control Board as, just a couple years ago, they were hit with a five and a half million dollars fine when it was found that their former sports book supervisor, Mike Colbert, was running an illegal national sports betting ring. Of course, the word, 'Ring,' is a bit of an overstatement because what was actually determined is that the supervisor knowingly allowed three messengers to place bets on behalf of an out-of-state customer who was a high-rolling Sports Bettor. While out-of-state citizens (and people visiting the country) are most assuredly allowed to place bets at Nevada casinos, they must be present at the casino in order to do it, or be physically in the state using a mobile app.
The reason that the illegal betting complaint was taken so seriously is because that actually rises to the level of a Federal Offense. In fact, it is patently illegal for an out-of-state individual to so much as call the casino and receive any Lines on a sporting event. (illegal for the casino to give them, that is, not for the person to ask that I know of) Ultimately, what this case did, however, in conjunction with the recent findings and allegations of the Nevada Gaming Commission is effectively establish a pattern of mismanagement and misbehavior on the part of CG Technology.
While there are certainly many more examples of Online Casinos behaving inappropriately than there are for Brick-and-Mortar Casinos, (a cursory glance at our Blacklist proves that much) these sorts of incidents at Land-Based casinos are clearly not impossible, and therefore, it is partially incumbent upon the player to make sure everything is on the up-and-up with respect to payouts. If you are a player or Sports Bettor, make sure that you have a complete understanding of precisely what it is you are betting on as well as absolutely knowing what the payout should be in the event that you win. There can certainly be honest mistakes committed from time to time, in fact, I would surmise that at least one payout mistake happens every day on Table Games at a given casino, but a smart player needs to be aware and ready to rectify such mistakes at the time that they occur.
In addition to this, which is a comparative rarity, while it is not quite as common now, illegal detainment also takes place at casinos with alarming frequency (the frequency should be zero) and this is generally the case (when it does happen) with suspected Advantage Players. Vegas-Based Attorney Bob Nersesian deals in these cases and a quick search of his name on Google will yield some results and specifics with respect to cases he has handled.
In fact, one such Article you might find on Bob Nersesian is an Article that I wrote on our companion site, Wizardofodds.com, so feel free to take a look at that, if you like:
The bottom line is that cheating can occur anywhere and, while there are different Gaming Control Boards and other Licensing Agencies (as well as sites such as LCB) that are here to help if you have a legitimate problem, you as a player are your own first line of defense.