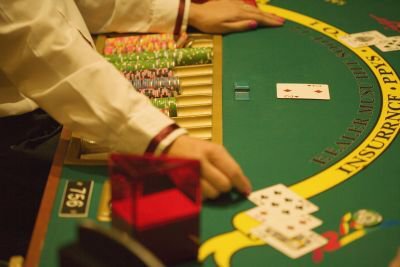 The first game I ever played in a gambling casino was blackjack. Also known as 21, blackjack is one of the world's most popular gambling games. There are few casinos around the world that do not offer blackjack to their customers.
I was a private in the U.S. Army when I had my first experience playing 21. The Army had assigned me to eight weeks of temporary duty at Aberdeen Proving Grounds, Md. to become a specialist in supply school. My paymaster issued me some travel pay and I set off cross-country to enroll at the school.
Since I had a few days before I was ordered to report for duty, I decided to go a few miles out of my way and visit Las Vegas. I was not a gambler and my plan was to drive through Las Vegas, have lunch and continue on to my destination.
I had $360 in travel pay in my pocket and lunch cost me $80. I lost the money playing blackjack.
After completing my TDY (temporary duty) schooling, I served the rest of my time on a Nike-Hercules missile site in Southern California. When the Army gave me an honorable discharge, I became a newspaper reporter on several newspapers before joining the Los Angeles Herald-Examiner as a general assignment reporter.
Being an avid reader, I spent many of my leisure hours visiting a used book store in Hollywood. The owner, Nate Cohen, was a colorful character who learned my reading habits and who would find off-beat books for my reading consumption.
One day after work I visited his book store and he handed me a book.
"I don't know if you're a gambler, kid, but if you are, you should read this book,' he said.
Titled 'Beat The Dealer,' the book was written by Edward O. Thorp, a math professor at the University of Southern California. I had visited Las Vegas several times and had lost at blackjack every time I played.
Using a computer, Thorp had developed a system of counting cards coupled with a strategy for doubling down and splitting pairs that he said could help the reader win at 21.
'How much for the book", I asked.
Nate shrugged. 'You're a good customer. No charge. Keep it and good luck," he said.
I read the book that night and studied Thorp's strategy. The next day at work, I confronted my friend Dave Molina, a copy editor, and told him about the book. Dave read it and became excited.
"This sounds great," he said. "My weekend is free. Why don't we head up to Las Vegas this weekend and try it out?"
Friday was payday and I said, "Let's do it, pardner!"
That night Dave came over to my apartment and we played blackjack, using the charts Thorp had devised in his book. Thorp's strategy called for splitting eights, doubling down on just about any two cards when the dealer had a 'bust'card showing, and increasing the size of our bets when the deck was rich in aces. We played until midnight and were convinced that his system could work.
On Friday, we set off for the four-hour drive to Las Vegas. All the way up while I drove, Dave read portions of the book to me, asked questions and checked my answers with Thorp's strategy. We pulled into Las Vegas around 9 p.m. and checked into a room at Binion's Horseshoe.
After leaving our luggage in the room, Dave headed for the bar and I found a blackjack table. In 1971, all the blackjack tables used single decks. I found a table, bought some chips and began to play.
About an hour after I sat down, Dave ambled over to my table toting a Coors Beer.
"How ya doing, Buddy?" he said. When he saw the number of chips stacked up in front of me, he muttered, 'Oh my gawd!'
Dave watched me play for a few minutes, then he dropped into a seat and bought some chips.
By 3 a.m., we were over $900 ahead. It was the first time I had ever made a substantial win gambling in Glitter Gulch. We were absolutely thrilled.
We continued playing on Saturday, sticking to Thorp's strategy. The strategy was brilliant and when we left Las Vegas on Sunday for the trip back to Phoenix, we were over $1,300 ahead after paying for our room.
The popularity of Thorp's book caused a lot of blackjack players to change their game. The book sold over 700,000 copies and the Las Vegas casinos began booking some substantial losses.
Casino management decided to take steps to frustrate the card-counting strategy. They first began shuffling up after only a few hands were dealt. When that failed to improve their profits, they began using two decks and then four decks. Eventually, they would increase the number of decks to six and place them in a shoe, which is the strategy they follow today.
The casinos also started banning known card counters from playing blackjack. Thorp countered by revising his book and using an advanced strategy. While it was not as effective with six decks, it did improve the player's game.
While I have not played blackjack in years, I still enjoy the game and feel Thorp's strategy still works at 21. I will be going to Las Vegas in a couple of weeks and plan to try my luck at 21. Wish me luck. As to Edward O. Thorp, all I can say is thanks for helping me beat the dealer.