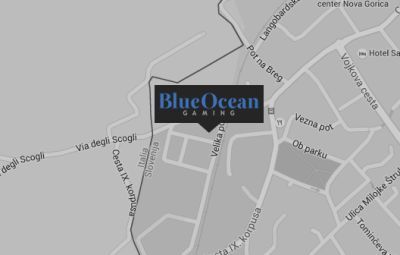 Driven by the need to find out more about BlueOcean Gaming - one of the fastest growing casino providers in the iGaming industry, LCB seized the opportunity to explore the company's inner workings in an interview with its capable and charming account manager - Mateja.P. Before becoming a valuable member of the BOG team, Mateja polished her professional skills working for respected companies in Slovenia and Canada. She was kind enough to tell us anything and everything we wanted to know about this versatile company.
BlueOcean Gaming emerged on the scene back in 2007, with the initial idea of developing casino software. Since then, it has grown to become a worthy competitive company armed with an arsenal of versatile services such as online casino, poker, trading and sportsbook software, as well as leasing of gaming licenses, payment solution, customer support and affiliate program structuring and management.
1. Tell us the story of how BlueOcean Gaming got its start, where your offices are located and how many employees you currently have.
The story of BlueOcean Gaming started already in 2007 with an intention to develop casino software, but soon the operations expended, and we started not only to provide casino software, but also poker and sportsbook software, live casino, leasing of gambling license, payment solutions and more. With offices based in Slovenia and Malta, there is a team of 25 gambling software developers, designers, account managers and accountants who help clients throughout the entire process of starting their own online casino, and afterwards with ongoing software development and retention activities to grow the clients business.
2. Which are the most successful products and services?
There are many products and services we offer, definitely the one we see as the most successful are:
- Game List of more than 500 games available for our clients, that includes game such as Gonzo S Quest, Starburst, Dr.Jekyll & Mr.Hyde, Money Farm, African Sunset and many more. All this games are available through a single API integration, which is easy and fast to do. New systems/games are added every month, so our Game List is expanding each month.
- Gaming Platform: The gaming platform is flexible, customizable and open to third-party game integrations via API protocol. The platform consists of admin and front end, which enable the operator to fully manage the online casino, from player registration, payments, bonuses to marketing and beyond.
3. When did the company begin producing Xplosive Slots brand and how many titles are currently in the portfolio?
We started to produce Xplosive slots in 2015, because we realized that building new and exciting online content is the only way to keep our clients well ahead of the chasing pack. Currently there are 20 titles in the portfolio, all of the with features such as Bonus games, Free spins, Expanding wilds, HTML5 and Flash supported.
4. Can we expect a dedicated Xplosive website soon and where can players find the games?
At the moment a dedicated website is in progress, but players can already find the Xplosive games on multiple online casinos, such as Luckystar.io, Wcasino online, Sunsuncasino and others.
5. With over 350 casino games available to your clients, which software providers feature content on the BlueOcean Gaming casino platform?
On our platform we have available NetEnt, Microgaming, GameArt, Betsoft, Xplosive slots, Playtech and Laifacai. All of this providers can be activated for our white label casinos or integrated through an API (seamless or wallet).
6. Who is the provider of your Live Casino products and where are the games streaming from?
Live Casino providers are the following:
Evolution: streaming from Malta and Latvia,
Ezugi: streaming from Costa Rica, Belgium and Cambodia
GGL: Costa Rica
Gold Deluxe: Philippines
Asia Gaming: Malaysia
NetEnt live casino: Malta
Playtech live casino: Latvia and Philippines
7. In terms of customization, what aspects do operators have control over?
Customization can be done mostly on a white label solution, which includes front end, backend, payment method, and licensing, game systems, free rounds, and bonuses, customer support, CRM and more. Here the customization can be mostly on the front end, meaning that a client can chose one of our templates, and do changes, like replacing the logo, colours, background, images, banners and texts. Of course, if client requests it, additional customization can be done. Also our development team is able to develop special features on request.
8. The company leases its Curacao gambling license so how important is this offering to your clients?
Leasing of our Curacao gambling license is extremely important for us and our clients, as it allow us to offer more solutions to our clients, such as payment methods, server hosting, activation of game systems who require the license (for example Microgaming) and more. But most of all, it means that our clients operate legally in the markets who accepts our Curacao license.
9. Speaking of licensing, how do you ensure that your clients always feature genuine games?
At BlueOcean Gaming we know that the only way for our clients to be successful is if they have the best products in the business, and by offering them genuine games we believe that we are on the right way. Since our company is constantly growing and month by month we have more clients, there is no space for mistakes or room for shortcuts.
10. For those that don't know, GameArt is a sister company of BlueOcean Gaming. What are the fundamental differences between the two?
BlueOcean Gaming is an online gambling software provider, who can offer clients turn-key solutions, games (slots, live casino, poker, sportsbook and virtual sports), payment methods, licensing, reporting tools, customer support and much more….the "whole package" basically.
Meanwhile GameArt core business is the development of high quality slot games and gaming contents for online operators, land based casino industry and also for video lottery terminals. Also GameArt can provide customized games and gaming platforms based on clients requests.