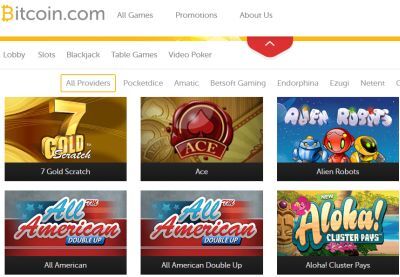 Very fresh on the scene, Casino.Bitcoin.com was created as part of Bitcoin.com in partnership with SoftSwis mid 2016. Envisioned as a safe and dynamic gaming space where players can indulge in diverse content from the best providers, betting bitcoin and other currencies and sharing their thoughts and experiences on the forum, the casino is steadily moving towards great future in the iGaming industry.
Below, CEO Roger V. and Gary D. give a detailed account of all important casino operations, bitcoin related facts and how they view the current states of gambling affairs in the US. Keep reading to find out more about this exciting, new gaming website!
1. How did Bitcoin.com decide to make the move from a Bitcoin promoter and informational site to officially launching its own casino?
Bitcoin.com is a really great domain, and launching our own casino seemed like a natural move to make given the ease with which Bitcoin can be used to overcome some of the traditional hurdles of online gambling, as well as earning additional income to fund other aspects of the site. Our hope is that people who haven't used Bitcoin before will visit our site, see Bitcoin's potential, then immediately have a use-case for it at our easily accessible casino! We also accept fiat deposits in GBP, EUR and USD, of course, but Bitcoin is the currency we believe in most!
2. What is your target market and where do the majority of your players come from?
Our target market can be defined both as those who have never used Bitcoin before, and those who have experience with BTC and are looking for a great venue to try their luck, & blow off a little steam in the process! We have players from all over the world, except the USA, because people who live there aren't allowed to spend their own money how they want online as a result of government interference.
3. "Despite what you may have heard, America is not a free country!" Who is responsible for this clever landing page for US site visitors?
Our CEO, Roger Ver - along with the rest of our team - feels very strongly about restrictions on individual freedoms which are imposed by the State. In this case, the American government is attempting to limit the freedom of two entities to trade freely with each other and we wanted something that would reflect the absurdity of this situation. Roger engaged with the team over at Ideas By Nature and collectively they came up with the landing page for US visitors. Roger wanted to point out the hypocrisy of US politicians banning people from using their own money to gamble online, while the state and local governments in the USA are busy running lotteries of their own. The absurdity of the situation is astounding to anyone who takes a moment to think about it.
4. You offer a variety of deposit methods but is Bitcoin the only withdrawal option and are deposits in other currencies converted to Bitcoin?
Bitcoin is not the only withdrawal option at our casino. Any currency which is deposited can be withdrawn in that currency, and as a condition of SoftSwiss' license all withdrawals must be made using the currency & system utilised to deposit. Deposits in other currencies are not converted to Bitcoin, with one optional exception: deposits in EUR can be converted to Bitcoin using a service called Cubits - which converts EUR prior to any funds being received by us - and this can be done automatically using the "Bitcoin" deposit option in the EUR deposit section. Doing so allows play using EUR. Withdrawal must be made via Cubits back into BTC, however if a player creates an account with Cubits they can use this method as a conversion tool. Also – and this will take a little more work coding everything - we hope one day to have all our games denominated in Bitcoin.
5. For players that may not know, can they access all 1,000+ games using Bitcoin currency?
Unfortunately, not all 1,000+ games accept Bitcoin as a currency to play; games provided by NetEnt and Quickfire only accept fiat currency. However, we are currently working with SoftSwiss to implement a system whereby the games will be filtered by the user's active currency. One this is implemented, when a player sets their active currency to BTC, for example, they will only see games which are accessible using Bitcoin and vice-versa. We hope that this will make the user experience more enjoyable for our players, and we think that the game providers which don't support Bitcoin directly yet will come around once they realize what they are missing.
6. Tell us about your use of the SoftSwiss platform and being 'Provably Fair'.
SoftSwiss have established themselves as a forerunner in the online casino industry and we felt that utilising their platform and collective experience was the best option for us, both in terms of set-up and platform / player security. Setting up and running an online casino is no small feat and we are happy to have been able to draw on SoftSwiss' vast knowledge in order to bring Casino.bitcoin.com to the masses! Games offered by SoftSwiss are provably fair and this can be checked by clicking the 'Provability' button on the right edge of the screen to access the provability widget. Players don't have to trust the casino operator, or the regulators in whatever jurisdiction.
7. How do you remain competitive in the online gambling market and is it a difficult balance to appeal to players gambling with Bitcoin versus more mainstream currency?
It's not possible to simply 'remain' competitive in the online gambling market; you have to 'make' yourself competitive! Providing an excellent welcome bonus is one great way to do this, and one of our players recently wagered his welcome bonus into a win of €40,119 on a single €24 bet! We don't feel that it's particularly difficult to appeal to players gambling with Bitcoin versus those utilising more mainstream currencies; by accepting both BTC and fiat - and crucially offering welcome bonuses in both - we think we've managed to strike a pretty even balance to attract players of all our accepted currencies. That being said, Bitcoin.com is the premier source for everything Bitcoin related, so the vast majority of our players are those who are interested in Bitcoin.
8. Do you think being a licensed casino gives you an edge over other unlicensed Bitcoin operators?
If the site is designed properly, there is no need for any licensing at all. The players can independently verify that the games are fair, and don't have to trust some regulators in a far off jurisdiction who 99% of the time never actually check anything anyhow. Gaming licenses are just a relic left over from the days before the internet. I look forward to a future in which people are allowed to decide for themselves what sort of games to create, or play. That being said, we do think that being a licensed casino gives us an edge over unlicensed Bitcoin casino operators in some respects, mainly due to the fact that users have come-back if they have any issues and don't have to rely solely on the integrity and honesty of the casino operator.
9. Where are the customer service headquarters located?
The customer service headquarters are located in Minsk, Belarus. Customer service is mainly provided by SoftSwiss but Bitcoin.com has employees located around the globe who can assist when necessary.
10. Are there any upcoming plans for the casino that you can tell our LCB members about?
As mentioned previously, our most pressing plan is the implementation of a system whereby the user's active currency will filter the games that are available to them. In the near future we also plan to add support for dozens of other crypto coins thanks to a Shapeshift.io integration. On top of that, we're looking into the possibility of easier integration and conversion between Bitcoin and fiat currencies, with a few other nice features lying in wait down the line which we think all players will appreciate, LCB members and otherwise. Stay tuned! :)