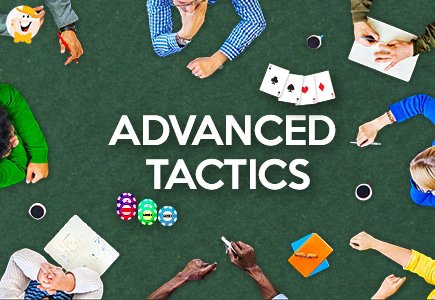 When it comes to taking Advantage of Online Casino Promotions, as I have discussed here on multiple occasions, the key is to find a Promotion with a Positive Expected Value and to play it properly in order to assure that such Expected Return can be realized. However, one disadvantage that can come with attempting to take Advantage of such Promotions is a fundamentally reduced likelihood of success as opposed to the likelihood of failure.
We see this all the time with Online Casinos Promotions as the fundamental concept of playing many of these properly invokes taking a, 'Long-Shot,' with a high amount of Bonus money and, that failing, our actual deposit to increase our bankroll to a sufficient level such that we can satisfy the playthrough that is required on the Bonus + Deposit and escape the play requirements with a n profit.
The owner of this website, in fact, was able to build a large part of this vast and extremely successful Online empire by taking advantage of Promotions in the olden days of Online Casino play during which there was not a tremendous amount of playthrough required. In other words, at that time, these Bonuses could be both taken and completed with an Expected Profit such as Video Poker, Blackjack and perhaps many other low House Edge (high return-to-player) and Low Variance games.
Unfortunately, even for the most savvy of Online Casino players, that is not the case anymore. The only way to beat the vast majority of Online Casinos now is to take advantage of high Variance opportunities to rapidly increase one's bankroll which, by and large, are only available due to some kind of oversight on the part of the casino. However, the Marketing techniques that are employed by Land-Based Casinos nowadays are such that a savvy player might be able to play at those at an Expected Profit.
I have already discussed the potential for long-term positive offers that enable a person to engage in a positive play for as long as it may last, but now I will discuss offers in the short-term. With respect to the vast majority of Land-Based casino offers, such offers are based on a metric called, 'Average Daily Theoretical,' (ADT) that are based upon your first day of play at a given casino.
With respect to taking Advantage of this element, it is not always easy. The first thing that it will require is a reasonably close proximity to the casino such that all of your Offers can be picked up and the general availability to do so. Furthermore, generating such offers might necessitate a somewhat high theoretical loss amount which will require a person to play a certain amount of, 'Coin-In.'
Furthermore, even playing a casino in this way does not result in a profit for every individual House that a player could play at, however, I am not inclined to give specific information for all of the individual Land-Based Casinos I know other than to say that you will typically get offers of such value that you will get your Expected Loss on the initial day of play back.
The initial day of play is also an important concept to remember because your, 'Average Daily Theoretical,' is a metric that is invoked for every day that you were in a particular casino, regardless of whether or not you did ny actual, playing. In other words, if you were to go to a casino and play one day, but on a later day, use some of your points to eat at one of the restaurants than that second day is going to constitute a, 'Trip,' that works against your Average Daily Theoretical loss.
One fundamental flaw with Average Daily Theoretical, however, is the fact that an individual that is either new to a given casino or has not been there in awhile can go in and play a lot of coin through that will later generate offers for the following cycle that, taken as a whole, have a positive Expectation for the player.
Once again, I am not inclined to get into any specifics of what these offers and overall Expectation might be, because that is classified information that I have no right to disclose, but suffice it to say that (based on a single visit) the offers will often be more than enough to exceed your Expected Loss on that initial visit. In the event that you have both the ability and inclination to pick up those offers, then you may be able to play in Land Casinos, albeit temporarily, at a positive Expected Value.
The reason why is simply because your offers reflect what the casino believes that you are likely to lose each individual visit, and in most cases, if you actually played in a fashion that resulted in such an Expected Loss, your offers would still not result in you being profitable. However, what you will actually be doing is playing more than usual on your first day to result in offers that have taken that level of play into consideration.
The long and short of it is that, unlike Online Casinos these days, Land-Based Casinos are willing to hand you what are effectively Promotions that will result in you having a high Expected Value even with a low level of play or theoretical loss relative to what you are getting back. Once again, I will leave finding and identifying these opportunities up to you, but rest assured, they are out there.