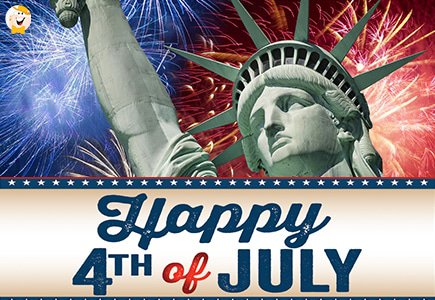 Here it is the fourth of July, 2016.
This is the day set aside for Americans to celebrate their independence. My mother was born on the fourth of July, or at least that is the story she told us. My maternal grandmother wasn't great
on dates and there could have been a mix-up, but that's the story she told and we all accepted it.
The casinos all have their special promotions and programs in play for the fourth. I am heading out for Talking Stick Casino near Scottsdale, AZ. today. i am on a losing streak, as all players experience from time to time. Hopefully the streak will end today. At least that is the thought in the back of my head.
Gamblers love holidays. They rarely spend that time at home with family, although there are exceptions. They would rather be where the action is and that, of course, exists in a casino setting.
There is really no course for a losing gambler except to play his way out of his losses or to give up the game.
Doyle Brunson, the legend of poker, recently admitted that he is addicted to gambling. Hey, it's been his way of life since the early days when he aspired to be a star basketball player. He hade set records in high school and college and seemed to be on his way to a great future when he suffered a debilitating accident while moving some merchandise in a freight train.
The accident killed his chances of being an athlete so Doyle switched his attention to poker. That was more than half a century ago and he is still going strong.
No, it's the fourth of July. People will celebrate the holiday with fireworks, hot dog roasts, and inter-family action that is part of what makes America come alive for most of us.
While I hope you are on a winning streak, i also hope your priorities are in order. Treat your family, friends and strangers well. Try to understand what separates a winner from a loser, and do the things that turn you into a winner.
It's great to know what cards to play and which ones to avoid. But the trick is to do it all the time, every time, no exceptions.
Sometimes a gambler tries to overcome the odds. While that may add an element of excitement to the game, it doesn't change the odds. Your bankroll generally suffers and you leave the game sadder and hopefully a bit wiser.
Happy July 4th. Dream your dreams and live them big. Let the games begin.