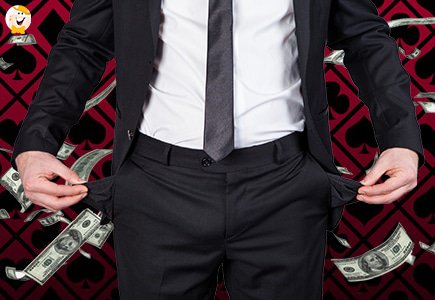 Nobody knows where gambling got its start. But knowing the nature of mankind, I would be willing to estimate that it started early with primitive man.
I can see Thog and Orr in my mind's eye. They have adjoining caves and Thog comes back from a hunt with a meaty deer ready for skinning and eating. Orr is out of food and his concubine Melinda is upset over her man's lack of hunting skills.
She suggests a game over the campfire that night. Maybe it involves rocks or sticks. Who knows? But it's a game of chance with some skill and a lot of luck involved. The deer ends up being divided between thes two men, or it goes to Orr's property. Voila! Gambling has made its entrance upon the human race.
As my readers on this website realize, I recently went through a losing spell after making some big wins with a couple of bad beat jackpots. A player becomes weak after a major win, by the way. He has all this money at his fingertips and there are only so many hours in a day. And all of know how the devil plays with a man's idle ind.
So the winner starts taking foolish chances. He begins drinking or he plays in a higher limit game. After all, he is a winning gambler and his skills know no bounds. At least, that is his premise and he decides to test it.
Some wise man -- either Ben Franklin or Socrates -- came up with the saying, 'A fool and his money are soon parted.' Alas, that is a fact. Winnings can quickly vanish when poor decisions are made.
Take my case. I had a nice $19,000 win in Jacksonville, FL. at the Best Bet Casino when my four aces were cracked by a diamond royal flush. The winner collected half that amount and I walked away with over $19,000 in cash.
That was a couple of months ago. Since then I have been up and down, winning one day, losing the next two. It didn't bother me at first. I had all that cash to go through. But when my bankroll started diminishing, I became concerned.
To be a winning gambler, your brain must function at the highest level and you need to have a proper perspective on yourself and your foes. It isn't enough just to know what cards to play -- you have to play them. And you need to remember that you are not only playing your hand, you are playing your opponents, whose skill levels may match or surpass your own.
After two losing sessions at the poker tables, last night I came up with a win. I was relaxed, the cards came my way, and I made a few miraculous catches on the river. It was a lucky night for me.
Today I have decided, 'No poker'. Nope. I will simply relax in the Arizona sun, catch a tan at the pool, and do some writing. The games can wait until tomorrow.