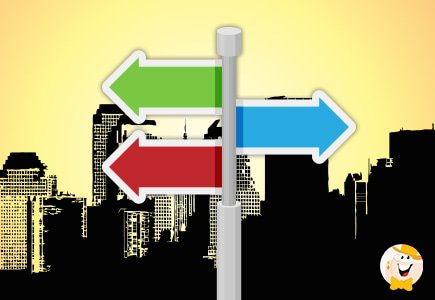 I was recently talking to a Non-AP friend of mine who was bemoaning some sort of misunderstanding involving a Promotion at the casino closest to him. It is most assuredly the case that he was not Advantage Playing the Promotion, although there are almost definitely ways it could be played at a slight Advantage...if he would just listen to me!!! In any event, he basically played a lot more coin-in than usual, which resulted in him losing more than usual, (otherwise he probably would not have been complaining to me) all based on something that a Player's Club Representative told him.
I am not going to name the casino in this instance because I am only getting one side of the story, so for me to name the casino would be unfairly prejudiced against the casino because I have no idea what took place from their perspective or, as is possible, my friend misunderstood that which he believes resulted in a misunderstanding. The long and short of it is that he was playing in a Promotion whereby, upon earning a particular number of Player's Club Base Points, he would get to spin a virtual reel for a guaranteed prize. In any event, he was of the understanding (as there are multiple wheel spins for different levels) that ALL prizes at the top level would be in the form of Free Play, and furthermore, that there was a certain minimum in Free Play that could be awarded at that level.
As it turns out, my friend reached that level of Points earned for the day and, upon spinning the virtual reel, found that he won a Match Play that not only has a lesser value than Free Play, (on the same face amount) but also unlike Free Play, results in the necessity of placing actual money out on a Table Game equal to the Match Play. As if that wasn't bad enough, the Match Play ended up being for substantially less (in percentage terms) than the minimum amount of Free Play he was told he would receive for that wheel spin.
My friend actually had two problems at this point, for one, the Match Play would be awarded in the form of one coupon for the entire amount, but he was just shy of having that amount in cash on him. It turns out that he got absolutely crushed trying to earn the points, (even more than Expected for what you might call a, 'Randomly picked slot') and he did not want to pay any ATM fees at the casino. However, the bank would have been an inconvenient drive for him.
He actually explained this to a different Player's Club representative and was told that he would probably be allowed to use the coupon for a lesser amount as long as he was able to Match that amount, of course, that diminishes the value of the Match Play coupon, and if he wanted to maximize its value, he would have to use everything that he still had on him in cash! Growing increasingly frustrated, he pointed out that a different representative had told him that it would be Free Play, that there was a minimum Free Play award that was even possible, and what that amount was.
Apparently, according to what he says, IF you get awarded in the form of Free Play, then that is the lowest possible award, but the Match Play offers can be lower...and some rewards are neither Free Play nor Match Play...I bet he'd have been really unhappy then!
Anyway, he called me wanting to know what to do, so I explained how the Match Play could be hedged with a Doey-Don't with another participant in Craps and how the Twelve either could or could not be hedged for an additional amount at his option. I suggested that if there was anyone he was on trusting enough terms with at the casino that they could perhaps temporarily finance the remainder of what it would take to give the Match Play its 100% value as well as to make the Hedge bets. I also told him to explain to the person how, if the Match Bet lost, then the person would not be out anything and how much extra he could offer the person if the Match Play won.
It is true that the value of the Match Play would be further diminished because now he is cutting part of that value to someone else with the only upside to him being that, at least, he's not going to lose all of his money going for the Match Play AND he doesn't have to go to the ATM. Although, I was also quick to point out that the ATM fee is likely less than what he would have to give up in value getting someone to back him on the Match Play. The truth is, he really just wanted to play slots some more without having to go to an ATM at the location of one of his banks.
Ultimately, he did encounter someone he knew at the casino who, given that the person was not a Table Games player, actually also had to talk to me so I could explain exactly what the situation was along with explaining that the person could not actually lose anything. They ended up doing it and the Match Play side of the bet, of course, lost, but my friend only ended up being out the difference between what he needed to make the Match Play 100% value as well as the amount that they hedged on the 12. He didn't make the best possible play, but he made the best play for his objective, anyway.
In the end, he was still unhappy with the casino because he felt that the first representative explained it to him, 'Unequivocally,' to use his word, that the result of the Virtual Spin would definitely be Free Play and that it would definitely be for a minimum amount or more. I cannot help but have a little bit of difficulty being fully convinced of his side of things because certainly the Player's Club representative in question had to have seen a spin result that was not Free Play, and as a result, would not state that.
However, I cannot discount my friend, either, because I was not there to hear what was said. The only thing that I suggested to him is that the best thing to do with respect to something involving needing to ask the Player's Club a question is to wait until two people from the Player's Club give you the same answer as well as, preferably, a supervisor. Generally speaking, it is not a good thing to rely on the statements of one person.
One thing that I felt the casino should have done, and that my friend proposed, is to rip up the Match Play coupon and give him that amount in Free Play instead, even though the amount be less than he was told he'd be guaranteed on the spin in Free Play. Don't misunderstand me, the staff of the casino are not going to all collectively retire as a result of this guy's action, but he's a pretty consistent loser who, in terms of Average Daily Theoretical, I would suspect is worth at least somewhat more than the average patron of this casino...his Mail Offers would certainly seem indicative of that, anyway. If I have anything to do with the casino in this situation, I'm going to give this guy the benefit of the doubt and simply convert the Match Play amount to Free Play if that is going to make him happy...especially since he (short of hitting a jackpot) is likely going to just lose it all back and then some more!
The staff of this casino were either unable or unwilling to do this for my friend, and it was because of that, mostly, that resulted in me having to listen to an absolute tirade about how ridiculous the casino was being in this respect. Personally, I actually tend to agree. For one thing, I do not understand why you want to give someone who is strictly a Slots Player a Match Play coupon for Table Games to begin with, interestingly, the worst thing that can happen if you are the casino is the guy ends up enjoying Table Games, so now you have the guy playing a game with a reduced Negative Expectation because of the lower House Edge. My offers to him would be all Slots all the time, especially if that is what he wants!
He even went all the way up to the Player's Club Manager who was on duty at this time who told him that, when it comes to the Virtual Wheel spin, he is stuck with what he has and nothing can be done to change that. I'm going to go ahead and call complete BS on that, worst case scenario, nothing could be done to change it AT THAT MOMENT, but there is no reason that they could not have suspended the Match Play for him until a later day or time when someone with the authority to make a decision of that nature could be contacted, again, if my friend would have been willing to agree to that.
Therefore, I accept the possibility that nobody there at the time could make a decision of that nature, even though I think that is fairly stupid. When it comes to something as simple as a patron wanting to request Free Play instead of Match Play, there should be someone there capable of doing that especially since giving him Match Play is also fairly stupid for both him and for the casino! I mean, it makes sense to the extent that it has a lower value than the Free Play, but I would personally be of the position that I want to keep my Negative Expectation gamblers extremely happy, so never would have had Match Play as part of the Promotion to begin with.
Besides, according to his retelling of events, the amount of Free Play that he would have been willing to take is LESS than what the casino says the minimum amount of Free Play would have been had he gotten Free Play. The casino, not by any means, was giving away the House on this one. Even if they had given him the Free Play with a face value equal to the Match Play coupon, the value of that would have only amounted to about 25% of his Actual losses so far that day.
He then went on a litany in which he attempted to explain other instances in which Promotions had not gone the way that he felt he was informed they would as well as any number of other perceived slights that the casino had done. I had not the inclination to listen to all of this, especially when he got to discussing every individual buffet item that he found, 'Disgusting,' from every time he had ever eaten at the buffet, so I eventually put a stop to all of it when I said, 'Vote with your feet.'
He asked me what I meant, and I retorted by inquiring as to when his next Free Play offer was. He told me when it was and I asked if he was going to go in and get it to which he replied in the affirmative. I followed that question up by asking if he planned to just get the Free Play and leave with whatever happens or if he continued to play for some amount of time thereafter. He informed me that he would probably continue to play.
Here's the thing: To continuously get pummeled on Negative Expectation games in Negative Expectation situations is bad enough. Naturally, many people (myself included) find some Negative Expectation games entertaining, but strictly speaking, nobody SHOULD play them. The individual in question is this recounting of events had a negative experience at the casino and felt that they did not do what they said they would, and then when he offered what he perceived to be a reasonable solution, they declined to do that which both wronged and inconvenienced him. After that, I got to hear the laundry list of everything he perceives as negative that has taken place at that casino in its entire history.
Here's the thing: I'm not saying that he is right or if he is wrong. (Fortunately) I was not there to have helped him deal with all of this which, again, is why I am not identifying the casino by name. My point is that there was a way to give the guy at least part of what he wanted that would come at no great cost to the casino, and they seem to have refused to do that.
In my eyes, that is mistreatment if everything that he says is true, especially for a player of his relative caliber. However, even if he hadn't been wronged in any way and the misunderstanding in the original interaction was entirely his fault, he still perceives himself as having been wronged. If you have been wronged by a casino repeatedly, then it doesn't matter if they actually HAVE wronged you, it is the perception that you have been wronged that matters. If, at that point, you cannot simply take whatever remaining offers the casino has for you and not give them any play after that, then you should stand back and ask two questions:
1.) Do I genuinely actually believe my experience with this casino has been positive overall?
And, if not:
2.) Is it possible that I have a problem because I cannot stop going to a place that I believe mistreats me?
If you think that you have been mistreated by a casino, or anywhere else, and you have not voted with your feet yet, it's probably time to ask, 'Why not?'