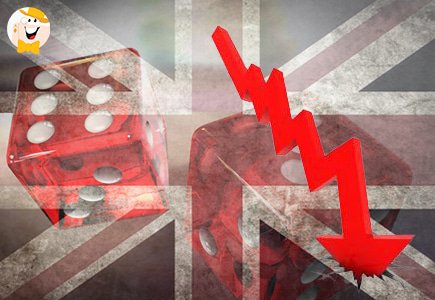 For those of you who might think that gambling is falling out of favor amongst the people of the world, rest assured that Great Britain makes it obvious that such is not the case. For the fifth consecutive year, according to the British Gambling Commission, British citizens have broken the previous year's record for overall gambling losses by British citizens and visitors.
The 1.4 billion pound increase in gambling losses compared to the last reported period, to the tune of a total of 12.6 billion pounds, comes on the heels of not just a, 'Natural increase,' in the gambling proclivity of British citizens, but there are also a number of relatively new forms of gambling available to them.
One example of new forms of gambling is that of Fixed Odds Betting Terminals, which were recently legalized in even small shops that are allowed to have as many as four machines that can take up to 100 pounds in bets from a given patron every twenty seconds. These machines, taken individually, were able to produce nearly 50,000 pounds in losses from gamblers just last year alone. The final result of that, based on over 35,000 machines, is 1.7 billion in losses just from these, 'Fixed Odds Betting Terminals,' alone.
For those of you unfamiliar with the concept of, 'Fixed Odds Betting Terminals,' some of them are as simple as what other people would simply call, 'Electronic Roulette,' 'E-Roulette,' or, 'Video Roulette.' These machines differ in almost no way from similar machines that are available in the United States and in other countries, though most jurisdictions in the United States treat them the same way as they would treat slot machines, especially with respect to the payouts that would result in a W2-G. (mandatory reporting on total payouts exceeding $1,200) Furthermore, these machines differ in almost no respect as a Roulette game (provided the Roulette game is sufficiently random and played on solid software) with respect to Online Gambling.
While the gamblers can make a sum of bets that total $100 with every spin of the Roulette wheel, this could take place either by way of an Even Money bet, or a combination of bets including individual numbers. However, there are certain individual bets that an individual could not stake more than $100 on (such as a single number) because these machines are restricted to payouts of no greater than $500 on any individual play.
There are other Fixed Odds Betting Terminals that have different games, despite the fact that Roulette is far and away the most popular. These other terminals may include greyhound racing games, horse racing games, Bingo games, and a wide variety of slot machine games.
I have discussed, 'Convenience Gambling,' both here and on Wizard of Vegas Articles before, and that is essentially what these establishments amount to. Given that an individual location is authorized to only possess up to four machines, and there are nearly 35,000 machines in Britain, the ultimate result is that there is at least 8,750 individual licenses out there for these types of machines. Naturally, for the majority of British citizens, it is going to be much easier and more convenient to make a trip to one of these establishments, especially for people just, 'Getting their fix,' rather than making an actual trip to a full-on casino.
If this Legislation and Regulation could be compared to any state in the United States, the closest comparison might be West Virginia. In that State, licensed, 'Slot parlors,' are permitted to house up to five devices in the event that they are a public business, and then up to ten devices in the event that they are categorized as a private club or not-for-profit entity. One major difference in West Virginia, however, is that their machines only House Slot Machine games, Video Keno games, and sometimes Video Poker games, but the State of West Virginia mandates that the Expected Return of each individual game may not exceed 95%. Furthermore, as opposed to the British games that might only have one game on a given terminal, all of the games in West Virginia are on multi-game devices. Finally, the games in West Virginia may not include Roulette as that is not a permissible game for these machines.
The aspects of these machines that are the same is, most importantly, their wide availability. Furthermore, the fact is that the citizens of Great Britain and the citizens of West Virginia both lose a ton of money to these machines. A study that I conducted for WizardofOdds.com as to which states had the greatest proclivity for gambling easily put West Virginia in the top Ten, largely on how much revenue these sorts of machines do.
We see it now in Britain as these machines account for 13.5% of all of the gambling losses in that country for the most recently reported year. That's obviously a staggering figure, and these losses are taking place in venues that, for the most part, could not even remotely be mistaken for casinos. The same is true for the, 'Slot parlors,' in West Virginia and other States within the United States.
Of course, while not everyone that frequents such establishments has a gambling problem, certainly the accessibility of these establishments is very inviting for people who cannot help but gamble. Where many hours would have to be dedicated to travelling in order to get one's gambling fix, including the possibility of having to arrange for overnight accommodations, these sorts of establishments are literally, 'Right down the road,' for many of the people who choose to frequent them.
Arguments can be made by both sides as to whether or not such place should be allowed to continue to exist. For those who would argue against the existence of such establishments, they are going to maintain that these sorts of establishments amount to nothing more than the proprietors, and by extension since they get taxes and licensing fees, the State (or country) preying upon those who are addicted to gambling. Arguments in favor of these establishments, and perhaps, the softening of regulations can be boiled down to the fact that these establishments are reliable sources of tax revenue, that people should have the right to do whatever they wish with their own money and also that there are a number of programs out there to assist those who believe they may have a gambling problem.
Of course, without these machines, Britain would have theoretically not beaten the record from the previous year, so clearly, there must have been gains in other loss areas for gamblers.
The first of these areas is Online Gambling, in which those gambling in Britain lost a total of 3.6 billion pounds, representing approximately 28.6% of all British gambling losses for the period in question. Of course, this is actually the first year that Online Gambling losses were fully reported, so it is difficult to actually know whether Brits actually lost more to Online Gambling than they had in previous years, or alternatively, how much more they lost since these numbers had never been fully reported in any previous year.
The National Lottery also contributed roughly 26.2% to the overall losses by Brits and visitors in gambling for the reporting period. That is actually somewhat different than lotteries in the United States who, in most cases, end up with more money in losses even when a given State has legalized Commercial Casinos. In fact, during recent years, the lottery revenues for most of the states have only grown rather than subsided regardless of whether or not an individual State has Commercial Land-Based Casinos.
As we know, subject to certain regulations, Online Casinos can operate fully above-the-board in Great Britain which makes the country a very attractive outlet for operators, (at least until Brexit, now we will have to see what happens with that) and therefore, those Brits who want to enjoy the ultimate in Convenience Gambling (by not leaving their home at all) are able to do so in a completely legal and regulated manner. Once again, this goes along with the trend of, 'Convenience Gambling,' being the most lucrative form for proprietors and resulting in the most losses as we see that the Online Gambling losses are more than double those that occur at the Fixed Odds Betting Terminals.
Of course, not everyone is so excited that the Brits are continuing to lose record amounts of money as evidenced by a push by many to reduce the amounts of money that can be bet every twenty seconds at Fixed Odds Betting Terminals from 100 Pounds all the way down to 2 Pounds. That obviously seems like quite a jump downward, but these groups are legitimately concerned that these FOBT's are primarily targeting who they describe as, 'The vulnerable.' Once again, it is my personal position that it is incumbent upon a person who believes that they need help to seek out that help, but that said, if anyone out there believes even for a second that they may have a gambling problem (and are losing) then I would strongly suggest that they seek out that help.
The industry is obviously going to counterpoint that such a reduction in the Maximum stake allowed to be wagered will cut down the attractiveness of these machines for many and that people will cease to play them as a result. Interestingly, $2.00 (USD) is the maximum that is permitted to be bet at the, 'Slot parlors,' of West Virginia, though one caveat to that is that there is no waiting time of twenty seconds between gambling events, in fact, some of these machines are capable of playing as many as 1,000 Keno Draws per hour, which would come out to about 5.6, or so, every twenty seconds for a theoretical total bet of a little over $11 in that timeframe.
With all of that said, being able to bet $100 in the United States on one decision would certainly be considered a serious amount of money with respect to Slot Parlors. However, what makes it even worse in Britain is that maximum permissible payout of 500 pounds on any given event because it makes it very difficult to stay ahead, even in the relatively short-term, by, 'Getting lucky.' To wit, the Law of Large Numbers is Expected to come into play even faster for an Even Money or close to Even Money Proposition that it is for a long-shot, at least for a long-shot a player might enjoy a short-run in the second or third Standard Deviation to the right of the Mean and keep himself at a profit for at least a short period of time.
Of course, given the licensing fees as well as any taxes on the money that the proprietors of such establishments make, as well as the taxes on the profits of the entities that actually manufacture the terminals themselves and any licensing fees associated therewith, it is easy to see why the country might not be particularly inclined to reduce or further restrict the way that the citizens of the country are allowed to gamble. Why would they? Doing so would just essentially take money out of the country's coffers.
We will have to wait until next year to see if the Brits can set yet another record, which would be their sixth consecutive, with respect to money lost to gambling. While I certainly cannot guarantee anything, provided that no major piece of Legislation that is hostile to the freedom to gamble (such as reducing the maximum bet per event on FOBT's to two pounds) comes to pass, if I had to place a bet, I would guess that the Brits manage to beat the record again. Of course, Online Gambling will be an apples-for-apples comparison given that it is a full year of reporting vs. another full year of reporting, so the difference in the two numbers probably will not be as staggering next time around.
If you held a gun to my head and forced me to guess one way or another, I would say that gambling losses are up anywhere from fifty to a hundred million pounds (0.05B-0.1B) next year.