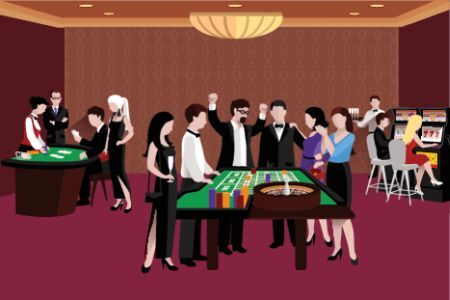 When I reflect back on my early years of poker, I am amazed at how the game has changed.
Back then, we never knew what mineral water was. Alcohol fueled the games. There were few poker players who didn't drink. Games would start out with an ample osupply of beer, wine, whiskey, rum and other libating liquors that were available to the players.
Poker games would last as long as the alcohol held out. I can remember two, three and even four-day games that went on without stopping. Althugh some of the players would retire to a motel room or their cars to snatch a little sleeep, many of us would nap between hands at the poker table.
We often played dealer's choice poker and the deal would be passed around to the various players. Women were often part of the poker games. They didn't play for the most part, but they definitely became involved with the players -- especially the winners.
An old cowboy songwriter composed a ballad, 'Cigarettes, Whiskey and Wild Wild Women' that was recorded by Tex Ritter and Bob Nolan and the Sons of the Pioneers. It goes, 'Cigarettes and whiskey and wild wild women, they'll drive you crazy, theyl'll drive you insane.'
Well, I became quite involved in poker. When I was hired as a reporter on Los Angeles Herald-Examiner, I woould often drive to nearby Gardena to have lunch in one of the poker rooms. Often there would be a seat available, and my lunch period would last longer than I was authorized. This caused some discussions with my City Editor and me with my promises not to take as much time off for lunch in the future -- a promise I tried to keep.
Gardena had its share of wild women as did Las Vegas and Reno. They would hang out at the bars or in chairs behind the green felt tables where cash exchanged hands. Like the soiled doves of western fame, they would be available when a gambler retired from a game and could often be seen accompanying a tired but relaxed poker player into his car for a drive to nowhere.
These birds of paradise were not prostitutes. They were friends of gamblers who came bearing perks of pleasure. Of course, they expected the gambler to compensate them for that pleasure, but it didn't always happen. Just most of the time.
I remember accompanying two fellow newsmen, my editor Jack Karie and a reporter named Jack Kowalec, to Las Vegas. We were working for the same newspaper in Phoenix and Karie got us a room at the Thunderbird, then owned by a Phoenix builder named Del Webb.
Karie quickly ran through his money playing blackjack. I had carefully budgeted my cash for the trip and when Karie asked to borrow some cash from me, I was not thrilled. I gave the money from hm and he promised to return it. Instead he somehow found me in another part of the casino and I handed him over another loan.
Hours later Jack Karie found me and returned the loans. As I pocketed the money gratefully, he said he would be staying at the casino where we were playing. We stayed there all night. In the morning, I went to Karie's room. An atrractive showgirl was leaving as we walked into the room.
'Mr. Webb introduced me to Jack last night,' she explained. 'He's very nice. ' She smiled. 'Since you're friends, I'll tell you what happened last night. Jack had won quite a lot of money playing blackjack. While I was in the bathroom, I saw him hide his money in the light fixture -- the nerve of him to think I would steal money!.'
'Anyhow, I didn't say anything. But after we got comfortably settled, I smelled smoke and said, 'Jack, isn't that your money burning?'
'He shouted, jumped to his feet and tore those burning bills out of the light fixture. It was so funny.'
Jack later became a probation officer for Superior Court Judge Ed Hughes in Phoenix. He was one of the best men I have ever known -- a fearless objective reporter who wrote stories in a straight and forward manner, and an author of police stories for the pulp detective magazines that were popular from the 1960s through the 1980s.
He was responsible for hiring me onto my first Phoenix newspaper, and he was a great buddy when it came to going on a trip to Las Vegas. I never related the story the showgirl told me about him. I thoought it was more respectful to keep that knowledge to myself.