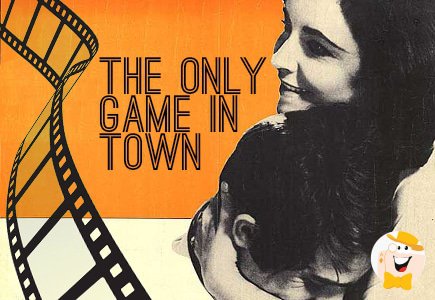 Hollywood has made a lot of movies about gambling and specifically about Las Vegas. Some of them have been poor, some decent and one or two have been excellent.
'The Only Game In Town' was one of the exceptional ones. It starred Warren Beatty and Elizabeth Taylor and was shot in Las Vegas and around Hoover Dam.
Beatty plays a talented piano player who is addicted to dice. He has been unable to leave Las Vegas to pursue a music degree because of his passion for dice. Elizabeth Taylor is an aging show girl who has a relationship with a Los Angeles businessman. She and Beatty meet, sparks fly, and she decides to try to help him get his music degree and lead a better more uplifting life.
I saw the movie some years ago while living and working in Las Vegas. The plot was compelling, the acting was first rate, and the photography showing Hoover Dam and the casino settings was first-rate.
If you haven't seen 'The Only Game In Town,' I highly recommend that you get a copy on-line or from your favorite video store. I know you'll enjoy it.
Las Vegas has many different games to offer the public. It always amazes me when I visit Las Vegas and see the large number of casinos that I have never entered. There are casinos upon casinos, occupying every square foot of extra space that is available to developers. I think a person could live in Las Vegas a year and never visit all the casinos that are available.
For the past two years I have been the Content Guru for these websites. It's a job I enjoy immensely. While I have focused mostly on poker, I have also written about systems for horse racing, dice, roulette and slot machines.
The poker games I have chosen to write about are the most popular games enjoyed by the public. I am referring to Texas Hold'Em and mixed games like Omaha High-Low and seven card stud high-low.
These are not the only poker games offered to the gambling public. Over the years, poker has offered a wide variety of games, many of which I have played in various settings ranging from private homes to fraternal organizations like the Elks Club and the American Legion.
One of the games that was popular a number of years ago in Nevada, California, New Jersey and other places where poker is played legally was five card lowball. That was one of the first games I played for money and I won a major lowball tournament at the Riviera Casino in Las Vegas.
Stanley Reeks, a prominent Las Vegas tournament promoter, produced the 'Draw for the Gold' tournament. He actually held three major tournaments -- Draw for the Gold, Draw for the Silver and Draw for the Bronze. I didn't have enough money to pay for the buy-in, so Reeks advanced me an amount of cash to cover my entry fee, for which I gave him 20 percent of my action.
Lo and behold, of all the players Reeks funded, I was the only one who came through for him. After the tournament was over and I had paid him off, we laughed about that.
Texas Hold'em is not the only game in town if you visit Las Vegas. It will require a bit of searching, but you can have fun doing it. For example, you can watch live circus acts at Circus Circus. Or you could visit Caesar's Palace and see an incredible 360-degree wrap-around theater where you can experience the virtual reality of the Grand Canyon or some other adventure that will remove you from reality and take you on an adventure you will never forget.
One thing I miss about the new Las Vegas are the old lounge shows. In the old days, which means in the days the Mob controlled Las Vegas, there were headliner acts that woould do free lounge shows in many casinos from the major ones to the small ones like the Silver Slipper or the Thunderbird, which no longer exists.
For the price of a drink you coould be entertained by the Four Freshmen or the Beach Boys or maybe the Crewcuts with their national hit 'Shaboom.' Sometimes there would be only a handful of people in the lounge and you felt like you were the most important person in the world.
One of my cousins was a member of a pop ghroup called the Four Coins. They recorded several hits inclluding 'Shangralai' and 'made a good living playing their hits in Las Vegas, Phoenix and other cities that were good tourist destinations.
I don't think Las Vegas will ever go out of style. And I doubt people will ever stay away from the city because it offers the only game in town. The people who operate the casinos will see to that.