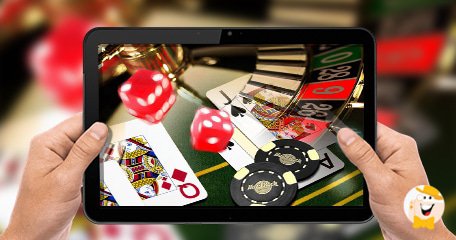 Are Online Casinos Becoming More, 'Real?'
There are a few legitimate criticisms that can be made about Online Casinos from a playing standpoint, and we are all aware of many of them, including the fact that certain disreputable operators have a tendency to slow-pay, no-pay, run rigged games or operate using pirated software. Of course, it is for that reason that sites such as this one and Wizardofodds.com exist, in order to help the community of online gamblers vet casinos to separate the disreputable operators from the honest ones.
One thing that neither site can influence, however, is what specific games and bets are offered at online casinos. For my part, my primary complaint about online casinos is that they often do not match the experience of brick-and-mortar casinos in terms of the games and bets that are offered.
This is especially true with video poker as most online casinos do not offer much in the way of variants. Anyone who has ever visited VideoPoker.com (a non-wagering site) or spent any amount of time in land-based casinos knows that there are a wide variety of offerings such as Ultimate X, Super Times Pay, Spin Poker, Ultimate Four of a Kind Bonus, Ultimate Aces and many others. The fact remains that the holders of the proprietary rights to such games, namely IGT, are either unwilling to dispense with the rights for those games to be offered online, either that, or the software providers and/or casinos are unwilling to pay for those rights.
That is true not just with video poker, but with all games. Many of the slot titles that are staples in land-based casinos, such as Quick Hits by Bally Technologies, cannot be found online. Fortunately for the slot players, online casinos do offer a wide range of slot choices so players are likely to find something similar to a slot that they may like in land-based casinos.
Keno is another game that the online experience pales in comparison to brick-and-mortar casinos. Variations such as Atomic Ball, Caveman Keno, Triple Power Keno and many others are not available at most (if not all) online casinos. Instead, most of the online casinos have one or two simple and generic Keno games.
Fortunately, it seems as if online casino software providers, namely PlayTech, is making some headway when it comes to offering side bets that mirror the land-based casino experience. They have recently announced that they shall be offering the 21+3 side bet for their live dealer blackjack.
This is a huge announcement because it represents one of the first times that a popular side bet in land-based casinos is going to be offered online.
The operation of the side bet is very simple, the player shall form a hand using his/her initial two cards as well as the dealer's up card and the resulting three-card hand shall determine whether or not the player wins. Players shall be paid for a hand consisting of a three-card straight, or better.
This bet adds an element of excitement for many blackjack players because the potential payouts on the side bet can represent a significant multiple of the amount bet. In fact, the PlayTech version of this game shall pay 100-1 on a suited three-of-a-kind.
Naturally, suited three-of-a-kinds don't happen very frequently. For a six-deck shoe right off the top, for example, any first card is good, so now we look at the probability of the other two cards resulting in the trips:
(5/311 * 4/310) = 0.00020744736
Which means that the player can expect to see such a result roughly one in every 4,820.5 hands. The RTP that comes from that pay alone is also 2.074%, so players who fail to hit that result (or any other three of a kind, for that matter) will not perform terribly well on this high variance side bet.
Speaking of RTP, yes, one of the WizardofOdds Ten Commandments of Gambling is, "Thou shalt not play side bets," and the reason why is simply because they generally have a much greater house edge than the base game of the game in question. There are some exceptions, for instance, the, 'Pair Plus,' bet on three-card poker can have a house edge more in line with the base game, depending on the paytable, but those exceptions aren't terribly common.
21+3 is a side bet that has enjoyed many placements in land-based casinos over the years largely due to the fact that players are willing to forgive the high house edge in the hopes of scoring a big win. This side bet also has the potential to take certain hands that would be poor starting hands (such as 7-8) and cause them to pay well if they are suited and the dealer matches the suit, or alternatively, if the dealer ends up with a six or nine which causes the side bet to resolve with a winning straight.
WagerWorks Software also offered the 21+3 side bet at one point, and perhaps they still do, I do not yet know what paytable PlayTech plans to use, but the WagerWorks blackjack used the 95.86% RTP version of the bet. We can only hope that PlayTech will be a little more generous than that, perhaps they can at least get the house edge under 3%?
Conclusion:
I will conclude by saying that it is a promising step in the right direction for more online casinos to be offering side bets and game variations that are common to land-based casinos. While side bets such as this one generally have terrible odds compared to the base game, many players enjoy them and are free to do so. The only thing that we can do here at LCB, as well as at WizardofOdds.com, is let the players know what kind of house edge they are bucking by playing these games.
There is some question of whether or not this bet is countable, but I first have to determine whether or not the PlayTech live blackjack uses a continuous shuffling machine. If they do, then there will be nothing to write about. If they don't and they cut pretty deep, then it could be possible to play this side bet at an advantage. The side bet, for land-based casinos, was explored on APHeat.net and not found to be very promising:
However, it was found that colluding players could theoretically beat the side bet for reasonable enough amounts as to make it worth it. We will have to wait and see what happens with that, but if anything about it looks promising, I will follow up with another article.