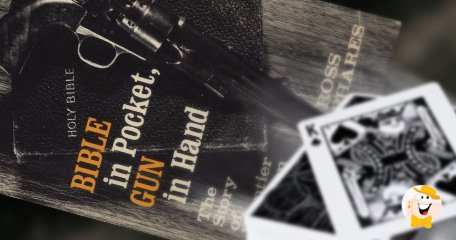 "Hey, didja hear about Doyle Brunson? He's started teaching a Bible study class!"
That's the way the word started out. Doyle Brunson, multiple winner of the World Series of Poker, had gone to religion, his friends said. Some opined that Texas Dolly was touched in the head. Others simply shrugged and went about their business, wondering if it was true.
Well, it turned out to be 100 percent true.
Doyle's wife was a believer who had established a prison ministry in Las Vegas. She visited prisoners on a regular basis, handed out Bibles, prayed with hardened criminals and led them to salvation.
I remember talking to Doyle about his Bible study classes. He affirmed that yes, indeed, he was teaching the Bible to some fellow poker players including Chip Reese, an Oklahoman who was ranked as one of the world's best 7-card stud players.
Doyle added, with a Texas smile, 'You'd be surprised at the number of poker players who find themselves praying."
Doyle's Bible study group met on a weekly basis for years in Glitter Gulch. While I never attended any of the meetings, I understand they were well received. The gamblers who did make their presence took Doyle's teachings sseriously and some even began attending church on a regular basis.
Ross Phares, an author, wrote a book called 'Bible In Pocket, Gun in Hand: the Story of Frontier Religion.'
The book was a true historical account of how circuit-riding preachers settled in the western frontier in the 1800s and brought religion to the settlers.
While they traveled light through territory that was famous for Indian attacks on lone horsemen as well as wagon trains, they always carried at least three items in their saddlebags: a Holy Bible, a gun and a deck of cards.
Why cards? Nobody knows who started it, but some of the circuit riders were part-time poker players who knew how to start a new church. They would ride into town, hitch their horse at a rail in front of a saloon or gambling house, and enter the establishment.
There they would generally find a table of men playing poker while saloon girls served them drinks. The minister would take a seat at the table, play a few hands of poker, and then introduce himself.
He would tell the gamblers he was planning to establish a church in the territory and would ask them respectfully if they cared to contribute to launching the church.
Very few gamblers refused such a request.
Call it superstition or an inherent built-in faith, but they would dig into their pockets and come up with money to help the minister get the church started. Many churches from Protestant to Catholic were launched that way and even some Southwestern colleges and universities were born out of such an effort.
I know a lot of gamblers who are believers. And I know some believers who happen to be gamblers.
Being an occasional Bible reader and believer myself, I have often leafed through my Bible searching for Scripture that would warn me against the sins of 'gambling.' So far, thank goodness, I have not discovered such Biblical verses. Some are borderline, but none of them tells me outright that gambling is prohibited by my Higher Power.
Doyle is in his 80s now and I suspect he is still teaching that class. I hopew hew keeps it up. I know I have done my share of praying in certain situations in a casino, and I suspect it will remain that way as long as there is a deck of cards, a pair of dice, or a fast horse.