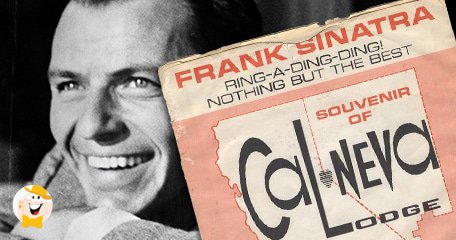 Cal-Neva Lodge and Casino was a hideaway for the rich, the famous, mobsters and Frank Sinatra's infamous Rat Pack.
Located on the north shore of Crystal Bay next to sparkling Lake Tahoe, the 10-story hotel with its 6,000 square feet of casino space drew some of Amebest known faces. Sinatra, who at one time owned 50 percent of the gambling enterprise, saw to that.
I visited Cal-Neva only once. It was in the early 1970s. I had developed a system for blackjack that worked well in Las Vegas and I wanted to test it at Lake Tahoe which was known for its female blackjack dealers. My trip was not successful but I fell in love with the beauty of Lake Tahoe and its incredible location where the borders of California and Nevada meet.
Cal-Neva was one of the first luxury casino resorts to be opened in Nevada. It was named Nevada's Best Getaway in 1998 and cited as one of America's 50 Flagship Hotels.
Actress Clara Bow even gambled there. She made headlines in 1929 when she cancelled $13,000 in checks she had written to cover gambling debts, claiming she thought her chips were worth .50 cents each when they were worth $100.
Today the Cal-Neva is no longer in operation. The owners of the property declared bankruptcy under Chapter 11 after losing most of their customers to Las Vegas and Indian-owned casinos.
There are still hopes of re-opening the resort as a historic casino where Xavier Cugat and his Orchestra performed and where Marilyn Monroe spent her last weekend before committing suicide with an overdose of drugs in 1962. The current property wners have a permit allowing construction until Oct. 15, 2018.
Sinatra owned the Cal-Neva from 1960-63. During that period, he and his Rat Pack -- Dean Martin, Sammy Davis Jr., Joey Bishop and Peter Lawford -- frequented the premises and rubbed elbows with Marilyn Monroe, Joe Dimaggio, Sam Giancana, Juliet Prowse, Lucille Ball, Desi Arnaz, and many other celebrities from Hollywood and New York.
Jimmy Hoffa even reportedly got involved and allowed some of the Teamsters Fund money to be used to expand the resort.
Sinatra eventually lost his gambling license when the Nevada State Gaming Control Board discovered Sam Giancana, a notorious mobster, on the premises. It didn't help when Sinatra claimed Sam was there only to see his current girl friend Phyllis McGuire, a vocalist. They yanked Sinatra's license and forced him to sell the place.
The Cal-Neva also served as a romantic rendezvous for President John F. Kennedy and his brother, Bobby. JFK used the resort to meet wealthy socialites and prostitutes for sexual trysts. Even his father Joseph Kennedy reportedly stayed there for business and recreational purposes.
During his ownership, Sinatra renovated the resort and added a celebrity theater which he named after himself. He also built a helicopter pad on the roof and used underground tunnels to usher in celebrities and gangland mobsters who didn't want their faces made public.
The tunnels were a throwback to the 1920s when they were used to smuggle in liquor during Prohibition.
Judy Garland was only 13 when she performed at Cal-Neva. That was in 1935, nine years after a fire believed to have been set by an arsonist did over $200,000 damage to the casino. No arrests were ever made for that incident.
Lake Tahoe is a magical place even though some of the glamour has vanished because of the closing down of Cal-Neva. I hope the place re-opens. It will definitely be one of my stops if it does.